Reflections on my first year at the Mount Washington Observatory
2022-01-11 19:42:18.000 – Jackie Bellefontaine, Weather Observer/Education Specialist
Last Thursday marked my first full year at Mount Washington Observatory. I joined the team as a winter intern last year and became a Weather Observer & Education Specialist in March.
The past year has been very formative for me professionally and personally, a lot of which I credit to my life at the Observatory. I've been exposed to so many unique experiences, from taking weather observations in harsh conditions to chatting about my work from the summit with students.
I'll never forget my first experience with hurricane-force winds on the summit. Just two weeks into my internship, winds gusted to 157 mph! That feeling of opening the tower door to sustained 130 mph winds and hearing what that kind of wind sounds like was incredible. Though we haven't hit a wind gust that high since, I still look forward to high wind events (even the relatively "unimpressive" 80 mph days!). Every day at the Observatory is always so unique and I'm grateful for each one I get to experience.
When not working at the weather desk or taking measurements outside on the observation deck, my co-workers and I have a lot of fun in our spare time on the summit. My favorite memories so far include hiking down to Lakes of the Clouds Hut, hanging out with State Park, nightly dinner conversations, playing and getting very excited over Mario Kart, and simply watching our favorite shows on the couch. We're all big ol' nerds on our shift, which makes deciding what to watch very easy. Star Wars? Of course! The Witcher? Absolutely!
I've also had some of the best times giving virtual programs as our shift's Education Specialist. It's fantastic seeing students from both local schools and across the country joining in and engaging. I've fielded some great questions from curious minds and been able to present on topics that I'm passionate about. It's very rewarding seeing students and general audiences get excited about science and our work at the Observatory.
I consider myself a life-long learner, and there isn't one person at this Observatory that I haven't learned from. For that, I'm so grateful. Seeing my fellow observers and valley staff carry out their work and handle situations with such dedication, especially while also grappling with the COVID-19 pandemic, is inspirational. Being able to learn from my colleagues and witness their own experiences has helped me grow as a Weather Observer, and as a person. Looking forward to all the incredible experiences yet to be had up here on the Rockpile!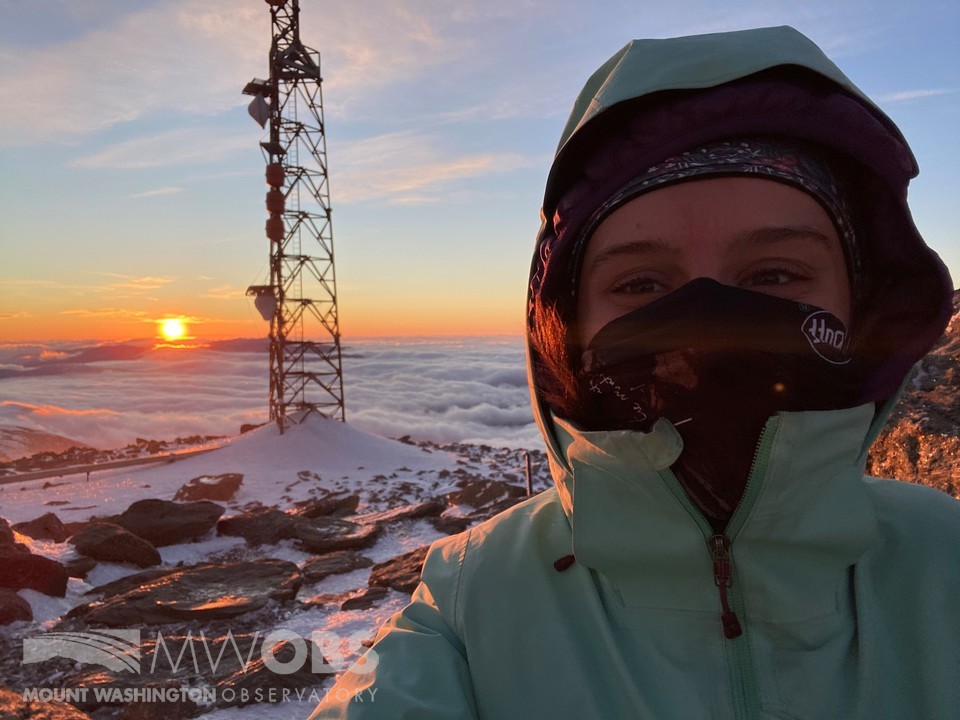 Jackie Bellefontaine on her first day as an intern in January 2021.
Jackie Bellefontaine, Weather Observer/Education Specialist
Ellen Estabrook
Adjusting to Life on the Summit By Charlie Peachey Working on the summit of Mount Washington is not your average job. There aren't too many other places where the employees work and live together for
Ellen Estabrook
A Surprise Aurora By Francis Tarasiewicz After 17 months of working at New England's highest peak, it finally happened. On the night of November 12th, 2023, I was lucky enough to view the famous and
Ellen Estabrook
A Glimpse at METAR Reports By Alexis George, Weather Observer & Meteorologist METAR observations are submitted every hour of every day at Mount Washington Observatory. METAR is a format for reporting weather information that gets