Response to a Common Question
2018-03-12 21:59:41.000 – Ryan Knapp, Weather Observer/Staff Meteorologist
In the 12+ years I have worked on the summit, the most common inquiry I have had to answer via email, direct messaging, social media comments, or otherwise is some iteration of, "I plan to hike/visit Mt. Washington on so-and-so day. What's the weather forecast for that day? And what would be the easiest trail on the mountain?" While I know I will likely have to answer this a few more times over the course of 2018 (and beyond) I figured I would share my response so I might help out one or a few of those individuals out there wondering the same thing.
We (the Mount Washington Observatory) unfortunately do not provide extended forecasts due to the variability of the summit weather nor do we provide personalized forecasts due to liability issues. However I can certainly run you through how to prepare for and get to know the weather and trail conditions for your hike.
The first thing to examine is what the weather typically is for that time of year by looking at our normal, means, and extremes:
http://www.mountwashington.org/weather/normals.php
. This will give you a rough idea as to what to expect overall on any given month.
summits forecasts:
https://www.weather.gov/gyx/AllLocationsText?loc=MOUNT%20WASHINGTON
. You can also try a computer generated forecast through sites such as accuweather, weather.com, or any other site you might be familiar with by entering our zip code 03589 (note though that not every website or app recognizes us as a known location) or the zip code/city names of neighboring towns/cities/villages (Conway, Berlin, Twin Mountain, etc). Automated forecasts for the summit have a difficult time providing a realistic outlook as the algorithms used tend to put our location lower in elevation and slightly further south. This results in the automated app/website typically making us appear calmer, warmer, drier, and clearer with numbers way far off from reality (I have tested several apps and none have aligned with reality for the summit). However, using an app/website with extended forecasts can help out in giving a generalized idea of what the weather might be; for instance, if the app is calling for precipitation in Conway, it is likely going to precipitate here too. So you can use an automated service for a rough extended forecast then turn to our 48 hour forecast for additional details as the date(s) of your hike approach.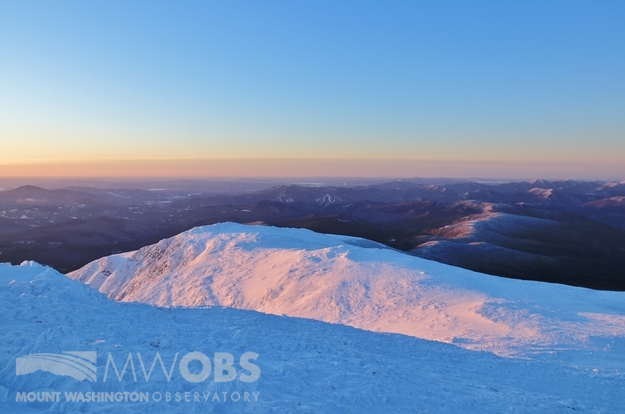 Looking towards Boott Spur Trail at sunrise 12 March 2018
As for checking trail and road conditions, I wrote an Observer Comment awhile back touching upon most of the resources that people should check before planning any trips in the northern half of NH. It was written after Hurricane Irene however most of it still applies. The full comment can be read on our
archive
and then searching for August 31, 2011 (or clicking
HERE
). To get to the sites referenced in the blog entry, just click on any highlighted/underlined words to be taken to the various websites. Since it is an older entry, some of the links no longer work, but the important ones and ones relevant to your hike are still working correctly and a Google inquiry can usually direct you to the updated links that might be broken. Additionally, you can look through the various resources and guidelines on the AMC page here:
http://www.outdoors.org/recreation/hiking/hiking-mtwashington.cfm
.
There unfortunately is
NO
"easy" way up/down the summit by foot. However, the most commonly used way to the summit is from the eastern side via the Tuckerman/Lion Head Trail routes as it is the shortest by distance. But read over trail descriptions and look over topo maps and you will see that you will be going straight up a glacial headwall for half of the trail. So short, but by no means easy. This trail starts at the AMC Pinkham Notch Visitor Center where it is advised to stop in, sign the log book, and get a last minute update on current weather and trail conditions. You will then take the Tuckerman Ravine Trail up until it forks with the Lion Head Trail Summer/Winter Routes. During the summer months, one can either take the Tuckerman Ravine Trail or the Lion Head Summer Route up/down (or make a loop out of them). However, during this time of year, the trail in the ravine is still closed due to snow/
avalanche
dangers, so Lions Head Winter Route will need to be taken up/down. There are plenty of online resources with information about what to pack for the season you are interested in however, regardless of the season, the
10 essentials
should always be packed.
Lastly, all summit facilities and transportation are currently closed for the winter season. When they reopen for the late spring to early fall season, all summit facilities and transportation (in case you are planning to take them down) only operate during the day and are all weather dependent (for instance, if it becomes icy, operations might become limited, close early, or not operate all together). Additionally, all transportation options are based around a first-come first-serve basis and only if space if available. So be sure to pack plenty of food, water, and adequate clothing as you will be responsible for not only getting up but back down as well. Have a turn around time and listen to your body/conscience. In every season on any mountain, it is ALWAYS safer to head back down than it is to continue up as trail conditions and more importantly, weather will always get worse the higher you ascend. Since we (MWO) operate independently from NH State Parks, Mt Washington Auto Road, The Cog, and the AMC, any inquires about their various operations should be directed towards them directly. The AMC page is linked above but the other pages are:
I hope this helps in your planning and I hope you have a safe and enjoyable hike on the so-and-so date of your choosing.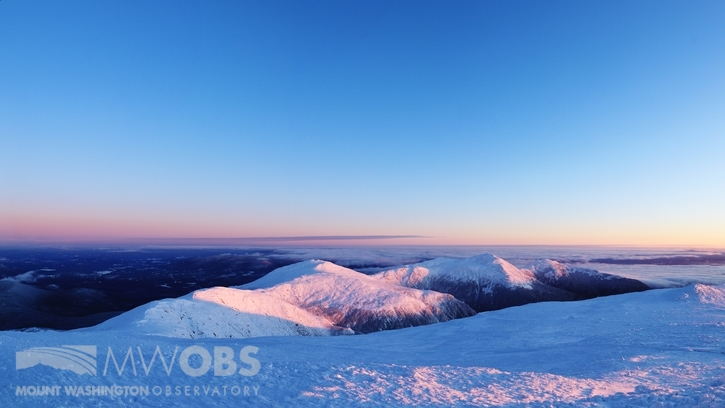 Looking north at sunrise 12 March 2018
Ryan Knapp, Weather Observer/Staff Meteorologist
Ellen Estabrook
Adjusting to Life on the Summit By Charlie Peachey Working on the summit of Mount Washington is not your average job. There aren't too many other places where the employees work and live together for
Ellen Estabrook
A Surprise Aurora By Francis Tarasiewicz After 17 months of working at New England's highest peak, it finally happened. On the night of November 12th, 2023, I was lucky enough to view the famous and
Ellen Estabrook
A Glimpse at METAR Reports By Alexis George, Weather Observer & Meteorologist METAR observations are submitted every hour of every day at Mount Washington Observatory. METAR is a format for reporting weather information that gets