Return to the Rockpile
2018-06-09 09:24:08.000 – Ian Bailey, Weather Observer/Education Specialist
Greetings everyone! Boy, it sure has been some time. My name is Ian Bailey, and I was an intern for the Observatory in 2015. On my last day of the internship, I remember riding down from the summit, fighting back tears. I was sad that my short but incredible adventure on Mount Washington had come to an end. And I promised myself that, one day, I would return to my home-away-from-home amongst the clouds.
Well, that day finally came! After graduating with my Master's degree in Atmospheric Science at Ohio University, I accepted the Weather Observer and Education Specialist position with the Observatory!
And it feels so good to be back!
It has been a bit of a whirlwind (pun intended) transitioning back to the Obs. I had learned plenty during my time as an intern. But the observer position carries a bit more weight with it, and I have been doing my best to digest everything I can. A bit has changed since my last time up here, and all of it has been exciting to learn about!
On shift change, things were pretty gray in the sky. We ascended the Auto Road underneath the clouds, stopping at one of the Mesonet sites to get some readings before continuing the rest of the climb. Soon enough, we found ourselves in the clouds with those chilly Mount Washington temperatures I had missed so much. We made it up without issue. And shift change proceeded very much how I remember it. It wasn't long before the memories came flooding back into my mind. And I could feel that excitement that had been dormant for the past 3 years starting to well up inside me.
We started off the shift in the clouds with fairly light winds (by comparison). But this was actually welcome weather for me, as it made learning how to actually submit the observations a bit easier to start off. "Fog Obs" don't have much to them, especially since at times you can't see more than 100 ft. or so in any direction. So the code that needs to be recorded and submitted is pretty short. But this METAR code can have quite a lot to it depending on what's happening around the obs. And even though I taught this code for 2 years at my previous job, I still have quite a bit to learn about the finer intricacies of the code required for the professional level. But I'm on it!
On Thursday evening, we finally got a bit of a break from the "Wall of White" just in time for sunset! It was a welcome sight to see the sun for a moment before going back inside the wall. And I realized how much I missed sunsets up here.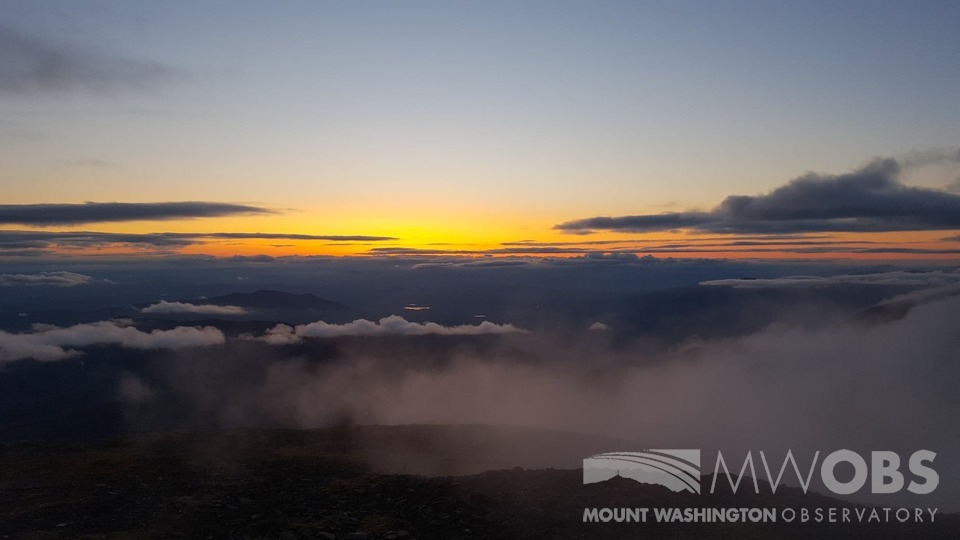 Friday afternoon we really got out of the fog, at and peak clearance we could see 110 miles out! Part of my training involves learning (well, re-learning) the distant mountains we can see and how far away each one is. So a new educational opportunity for me finally presented itself, and we got some pretty sweet views too!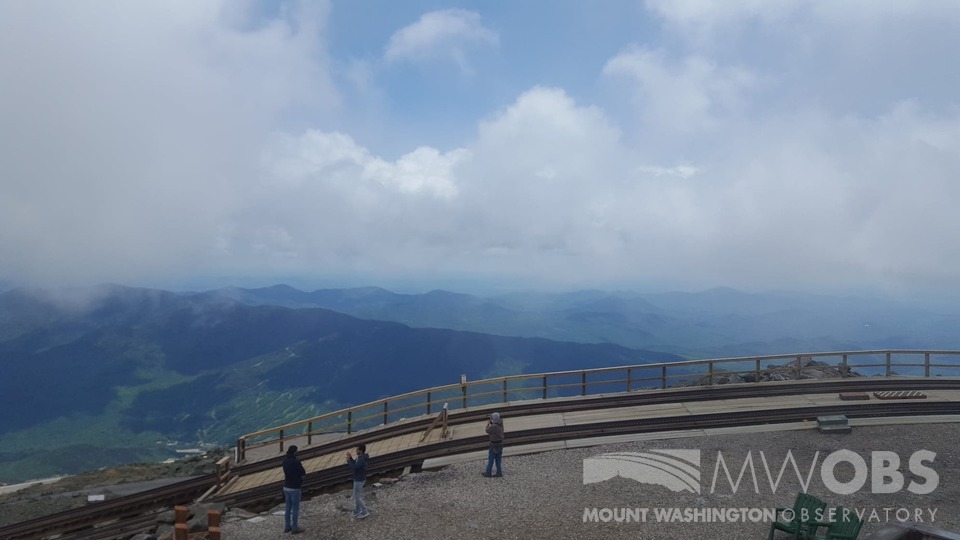 And the skies remained clear! With high pressure moving in and some cold, dry air with elevated wind speeds, it looks like we will be clear (a little in and out of the fog) for the next day or so. Sunset last night was fantastic! We got to see the Mountain's shadow! And the sunset gave a very nice color array.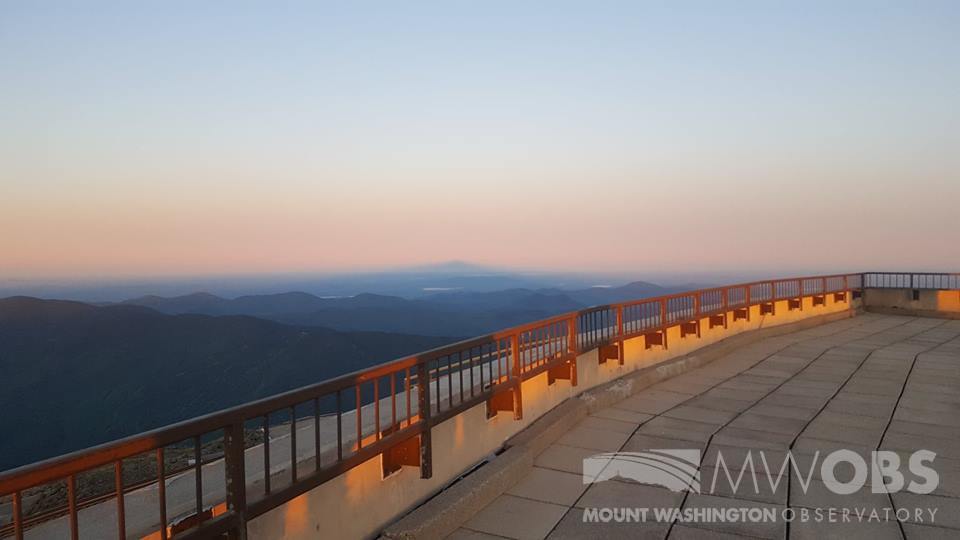 You can see the Mountain's shadow above, in the center of the picture on the horizon!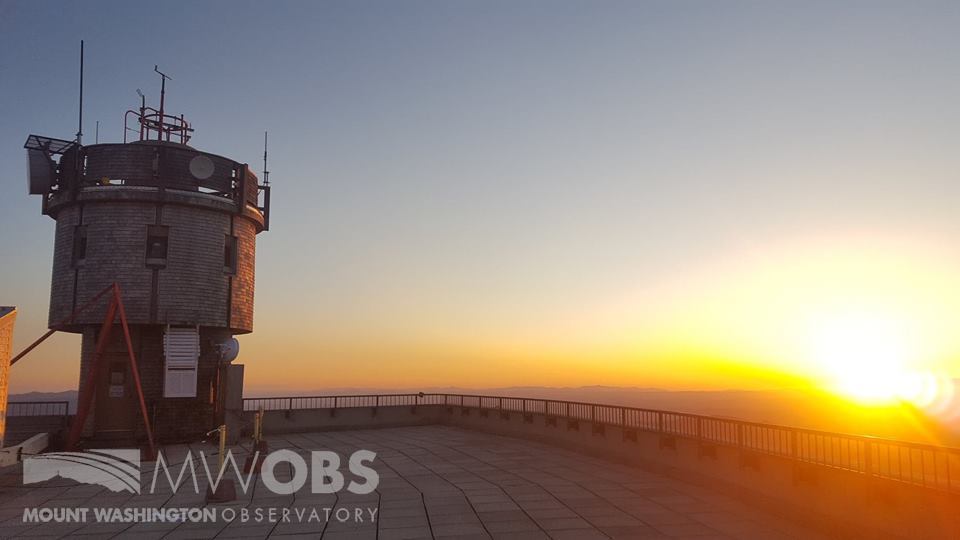 The shift has progressed well thus far. I have my nose crammed in the METAR book studying and taking in as much as I can. I've also learned how to do the morning radio show, "Live from the Rockpile", Facebook live broadcasts, and much more! It has been a lot to learn. But I'm so excited to be back that it doesn't really get to me, and I know soon enough I will have it all down pat!
This morning was my first live radio show. It was a lot of fun to disseminate a forecast in a more casual tone! I got to flex my Journalism muscles a little bit. And generally I love talking about the forecast. So it was a great experience to do that this morning. And once again we've cleared out, and it looks like high pressure will be lingering over us headed into Monday! So hopefully I'll be able to snap some more beautiful sky pics!
All in all, it has been a great shift so far. I love being back on the Mountain, working in a live weather room with other people who share my passion for Weather, Climate and Science in general. I expect things will continue to be wonderful through the rest of our shift, and I'm excited to face each new day and see what adventures the Mountain and the Observatory has to offer!
Until next time,
I'll See Ya From The Summit!
Ian Bailey, Weather Observer/Education Specialist
Ellen Estabrook
Adjusting to Life on the Summit By Charlie Peachey Working on the summit of Mount Washington is not your average job. There aren't too many other places where the employees work and live together for
Ellen Estabrook
A Surprise Aurora By Francis Tarasiewicz After 17 months of working at New England's highest peak, it finally happened. On the night of November 12th, 2023, I was lucky enough to view the famous and
Ellen Estabrook
A Glimpse at METAR Reports By Alexis George, Weather Observer & Meteorologist METAR observations are submitted every hour of every day at Mount Washington Observatory. METAR is a format for reporting weather information that gets