Say it ain't snow!
2017-04-03 15:23:44.000 – Tom Padham, Weather Observer/Meteorologist
Confidence is growing that yet another significant winter storm (in April) will be taking place as early as tomorrow morning across the White Mountains. Low pressure spawning a severe thunderstorm outbreak over the Southeast today will track through the Great Lakes, with a secondary low pressure developing along the southern New England coast.
Warmer air and plentiful moisture will be pushing into New England tomorrow, with cold air damming occurring along the east side of the White Mountains. With enough deep cold air in place, it is now looking more likely that mostly snow will occur across the Mount Washington Valley and points northeast into interior Maine. This forecast is a very challenging one, especially for the summit, with warmer air attempting to surge in on the west side of the mountain while cold air hangs on to the east.
With the newer trends of enough cold air in place for mostly snow across the higher elevations, once again we'll be seeing a very healthy amount of snow up here. 8-12" of new snow is possible across the summit and parts of western Maine, with some mixing with sleet and freezing rain possibly adding a bit of ice accumulation as well. If precipitation switches to more of a freezing rain/sleet mix then we'll likely see much lower snowfall, potentially 4-8" of accumulation. Staff meteorologist Ryan is certainly going to have his hands full with the forecast tomorrow morning!
Precipitation will be tapering off to isolated snow showers by around noon Wednesday, with only a short break Thursday before another strong system begins to affect New England as early as Thursday evening. This storm looks to have an even stronger push of warm air, resulting in more of a rain and freezing rain event for the summit of Mount Washington. Although we're now into April, winter isn't over just yet atop the highest peak in the Northeast!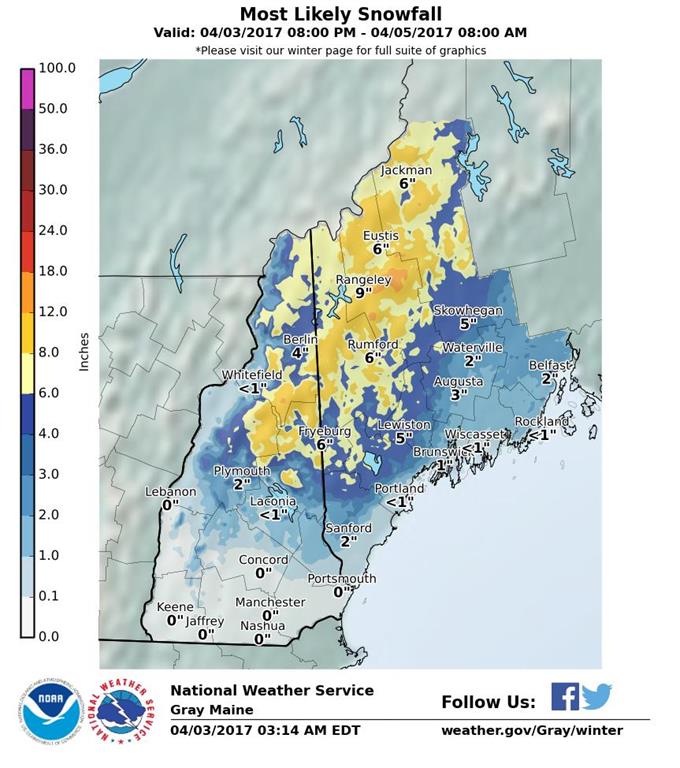 Forecast snowfall through Wednesday morning from the NWS across New Hampshire & Maine
Tom Padham, Weather Observer/Meteorologist
Ellen Estabrook
Adjusting to Life on the Summit By Charlie Peachey Working on the summit of Mount Washington is not your average job. There aren't too many other places where the employees work and live together for
Ellen Estabrook
A Surprise Aurora By Francis Tarasiewicz After 17 months of working at New England's highest peak, it finally happened. On the night of November 12th, 2023, I was lucky enough to view the famous and
Ellen Estabrook
A Glimpse at METAR Reports By Alexis George, Weather Observer & Meteorologist METAR observations are submitted every hour of every day at Mount Washington Observatory. METAR is a format for reporting weather information that gets