Snow coverage
2010-02-14 17:02:48.000 – Brian Clark,  Observer and Meteorologist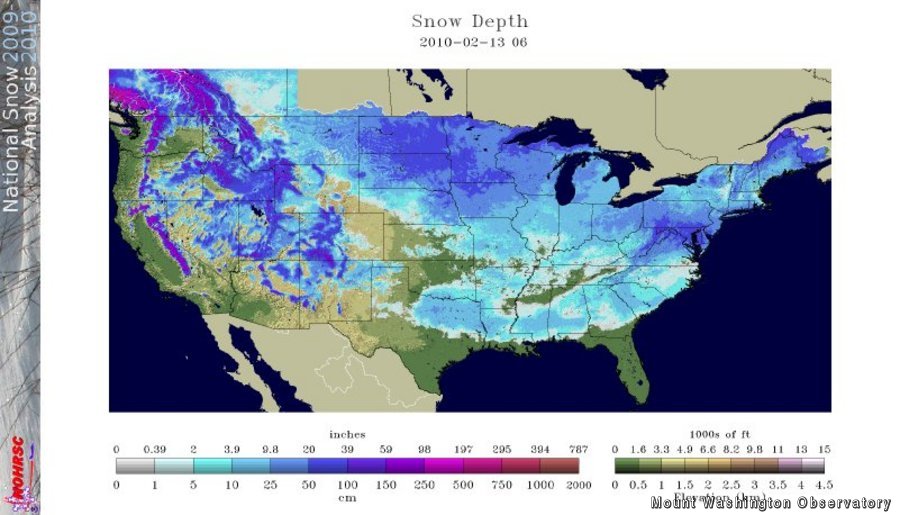 Snow depth over the lower 48 states
Regardless of whether it's by accident or on purpose, the comments that either shift writes ends up having some sort of theme to them thru the course of that shift. On my last shift the theme was the new world record wind. This shift, the theme is the lack of snow here on the summit and New England, and the incredible amounts of snow that have been falling in the Mid-Alantic. I am (sort of) going to continue that theme with today's comment.
The two storms that moved through the Mid-Atlantic last week (but left us high and dry, no pun intended) put a significant snow cover over an area that is notorious for not keeping snow cover very long. Also, a rare snowstorm that moved through the Deep South this past weekend had put down snow cover in places that rarely ever get snow cover at all. This led to some rather interesting news yesterday: 49 of the 50 states had some snow cover somewhere in the state. The only state preventing a perfect 50 was Hawaii, as you might expect. What you probably don't know is that the 13,800 foot Mauna Kea volcano often has snow on it year round. However, searches for some snow there turned up empty. It is suspected this is the first time that such a thing has happened since the late 70's, but apparently this isn't something that is normally kept track of. I also saw a statistic that somewhere around 70% of the lower 48 states of the U.S. are covered in snow right now.
Very impressive. Unlike our snow totals for the last month or so!
Don't worry though, the chances of us getting a decent snowfall Tuesday into Wednesday are getting better. This means the chances that you won't have to hear us complain about the lack of snow are getting better too!
Observer Footnote: Monday, February 15th, our Weather Discovery Center on Main Street in North Conway, NH will be holding a 'New Exibits Open House' with extended hours and special events. The extended hours will be from 10 am until 8 pm. There will be a live video connection with the summit of Mount Washington with one of the observers at 11 am and 2 pm and at 6:30 pm, there will be coffee and treats (provided by White Mountain Cupcakery) followed by a presentation and a live video link with the summit at 7 pm.
Also, from February 13 to February 28th in celebration of New England vacation weeks, the Weather Dicovery Center will be open daily from 10 am until 5 pm with two daily live video connections at 11 am and 2 pm.
For more information, click here, and we hope to see you in the audience at some point.
Brian Clark,  Observer and Meteorologist
Ellen Estabrook
Adjusting to Life on the Summit By Charlie Peachey Working on the summit of Mount Washington is not your average job. There aren't too many other places where the employees work and live together for
Ellen Estabrook
A Surprise Aurora By Francis Tarasiewicz After 17 months of working at New England's highest peak, it finally happened. On the night of November 12th, 2023, I was lucky enough to view the famous and
Ellen Estabrook
A Glimpse at METAR Reports By Alexis George, Weather Observer & Meteorologist METAR observations are submitted every hour of every day at Mount Washington Observatory. METAR is a format for reporting weather information that gets