Snow Field
2010-07-03 22:36:29.000 – Steve Welsh,  IT Observer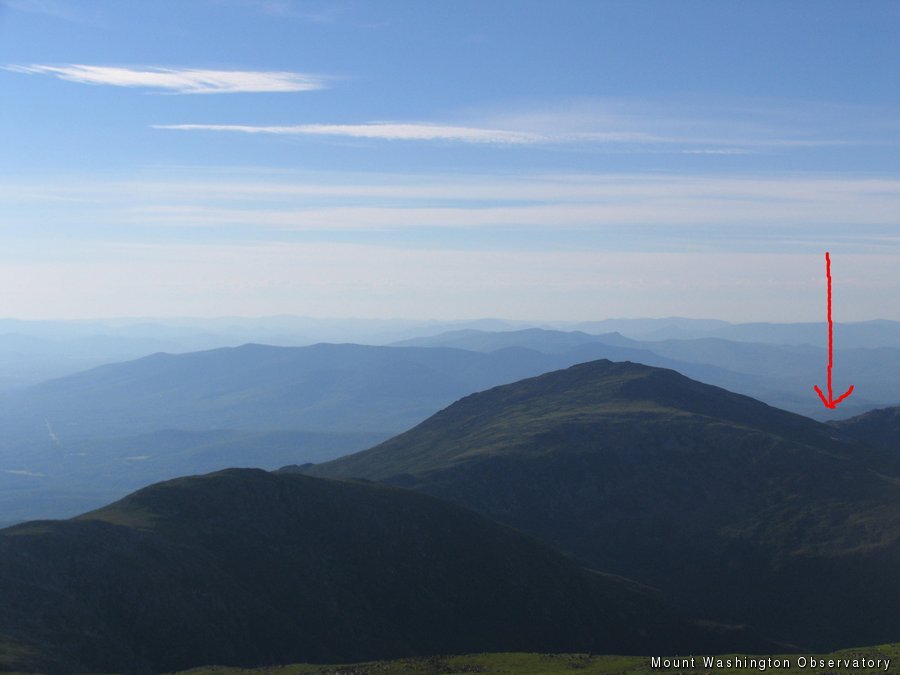 Snow Field
So how long will the Jefferson snow field last? As you can possibly just make out from the photo (hint it's the tiny white spec under the big red arrow) it's seen much better days and with 60 degree temperatures in the immediate forecast it will probably disappear very soon.
I'm working nights this week since Mike is away on vacation. So far it's been the usual fog and pitch black skies with very cool temperatures for this time of year. Tonight, however, is much different with stars above and fireworks below. A couple of hours ago it was really impressive with multi-colored flashes going off in all directions – it certainly brightened up the observation. Now if only the wind would ease off a little.
Must go as it's time to head outside again. Happy Independence Day!
Steve Welsh,  IT Observer
Ellen Estabrook
Adjusting to Life on the Summit By Charlie Peachey Working on the summit of Mount Washington is not your average job. There aren't too many other places where the employees work and live together for
Ellen Estabrook
A Surprise Aurora By Francis Tarasiewicz After 17 months of working at New England's highest peak, it finally happened. On the night of November 12th, 2023, I was lucky enough to view the famous and
Ellen Estabrook
A Glimpse at METAR Reports By Alexis George, Weather Observer & Meteorologist METAR observations are submitted every hour of every day at Mount Washington Observatory. METAR is a format for reporting weather information that gets