Snow is Quickly Melting on the Summit!
2015-05-12 18:44:44.000 – Michael Dorfman, Weather Observer/IT Specialist
The last few days have been beautiful here on the summit! Changing my heavy-duty winter EMS outfit out with my lighter-weight summer EMS gear feels so nice. I even managed to get a short-sleeve ob in this week! As temperatures have warmed, even hitting 90 in the southern part of the state, the snow pack on the summit has dwindled. The only snow that remains on the summit is in isolated patches, and even those patches will be gone soon. Looking north along the ridge of the Northern Presidential Range, it is extremely evident which direction our prevailing winds come from. The East side of the ridge has an impressive amount of snow on it, which will likely last for another month or two!
Our Tucks Zoom webcam has captured some impressive melting in Tuckerman Ravine. Below is a time lapse of that view. Note the crowded Saturday and Sunday at the beginning of the clip. Also, check out the wet snow avalanches that occur towards the beginning of the video! If you're interested in seeing this view every day (or at least every day our webcam on top of Wildcat has a clear view), we offer this view to our members, so become a member today! Non-members can still access the general view of the Ravines here, which refreshes every 5 minutes.
The before and after pictures are quite impressive as well! It's amazing what 12 days of melting can do!
This link
only works on Chrome browsers, but shows the below image in slider form.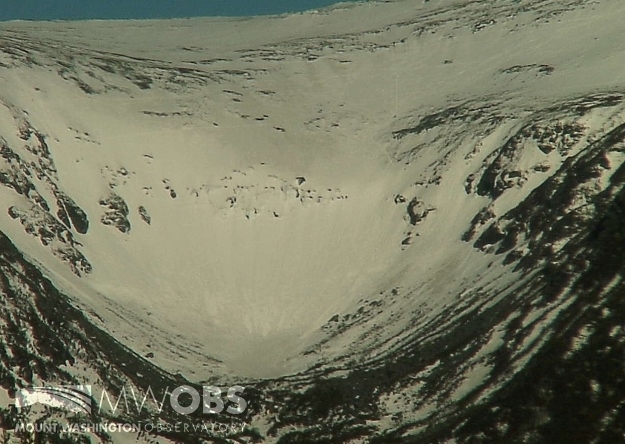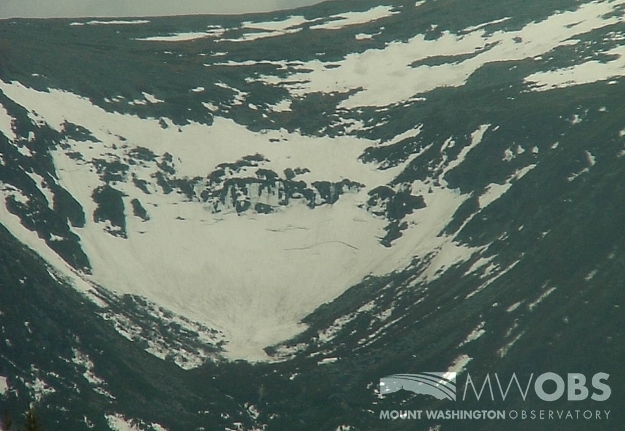 Summer is coming! We can feel it here on the summit!
Michael Dorfman, Weather Observer/IT Specialist
Ellen Estabrook
Adjusting to Life on the Summit By Charlie Peachey Working on the summit of Mount Washington is not your average job. There aren't too many other places where the employees work and live together for
Ellen Estabrook
A Surprise Aurora By Francis Tarasiewicz After 17 months of working at New England's highest peak, it finally happened. On the night of November 12th, 2023, I was lucky enough to view the famous and
Ellen Estabrook
A Glimpse at METAR Reports By Alexis George, Weather Observer & Meteorologist METAR observations are submitted every hour of every day at Mount Washington Observatory. METAR is a format for reporting weather information that gets