Snow Much Excitement
2020-10-19 16:25:50.000 – Sam Robinson, Weather Observer/Engineer
Hello again from 6288',
As many of you likely already know, the summit saw its first substantial snowfall of the season this past Saturday. What was originally forecasted to be a mostly high elevation snow event with rain for lower elevations ended up being an "early" season snowfall for northern and western parts of our region. I say "early" since technically on the summit we are behind schedule for significant snowfall but it was quite early for lower elevations, although not unheard of. We received no snowfall in the months of August or September, where on average we usually receive at least 0.1" and 2.2" in those months, respectively.
This storm was due to a coastal low moving up the eastern seaboard and then meeting up with, and tracking along, a stalled front to the east of our location. As the low rotated through our region it pulled cold air down from the northwest which lowered temperatures enough to change the rain over to snow. The dendritic growth zone of the atmosphere had adequate conditions to produce well-formed flakes and the rate of fall was strong enough to lower surface temperatures, allowing accumulations to occur even on paved surfaces. This storm was my personal first up here on the summit, and I had the opportunity to give my best shot at forecasting it on Friday. I knew due to it being "early" season that it would pose more challenges than a run-of-the-mill winter storm. The numerical models we commonly use to help forecast have seasonal algorithms that change as the seasons change to better reflect how the atmosphere and patterns behave. Another challenge was that most snowfall forecast models assume a 10:1 snow to liquid ratio. Since the precipitation was changing over from rain to snow during the course of the storm, the snow to liquid ratio was most definitely going to start out lower, closer to 5:1 or even 3:1 (lower the ratio, heavier and wetter the snow). None-the-less I used what I had and studied the different models to the best of my ability. Early snowfall amounts were forecasted around 6-8" but during the day Friday, mid-day model runs had less snow forecasted, and only high elevations were to receive snow. I thought this was suspicious since it was a bit of a drastic change so I held out for the afternoon model runs to come out. I was glad I did because the models had once again trended upwards.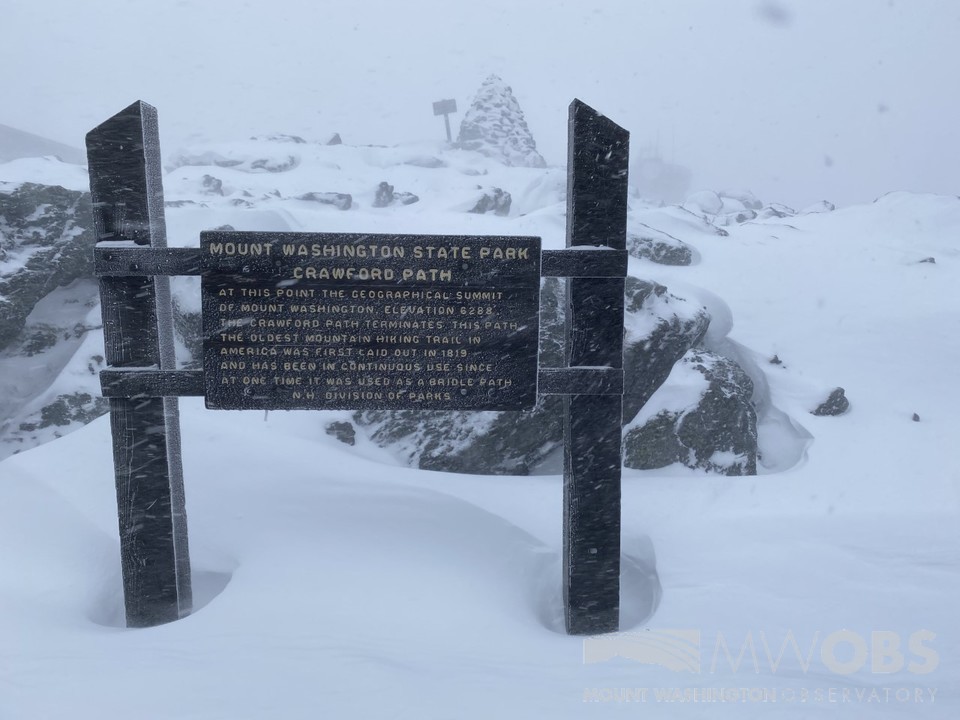 State Park Sign on Saturday Morning
My final forecast revision on Friday, for Saturday, was 6-9" with locally higher amounts possible. I had a gut feeling that snow could reach lower elevations but was less focused on that, as we forecast for the higher summits of the White Mountains since we experience much different weather than the valley, normally. On Saturday morning, my fellow observer Nicole and I ventured out to take pictures and experience the mayhem. Winds were increasing through the morning, eventually topping out near 100 mph, and when we ventured out the gusts were close to 80 mph. The blowing snow made for treacherous walking and visibilities were 20 feet or so at best. When gusts were stronger, it was hard to see 5 feet in front of you. The drifts made walking nearly impossible as some steps were on nearly bare ground, and some steps you would walk into a 3 foot tall drift. Quite the experience for my first snow storm.
Our first 6 hour snowfall measurement was about 6" and once melted down, gave us a snow to liquid ratio of about 7:1, which was about expected due to the timing of the measurement. The snow picked up once again during the morning hours and our early afternoon 6 hour snowfall measurement was 7" which also ended up having a snow to liquid ratio of about 7:1 once melted down. The snow depth on ground measurement was a challenging one, and required me to use my best judgment and an average of many different readings as one might expect. Winds were gusting to around 100 mph at the time so many spots of the summit were bare, while some drifts were close to 5 feet tall. A depth measurement of 12" was recorded before the snow tapered off, and continued to blow around the summit like crazy. I was sure glad I had upped my forecasted snow totals!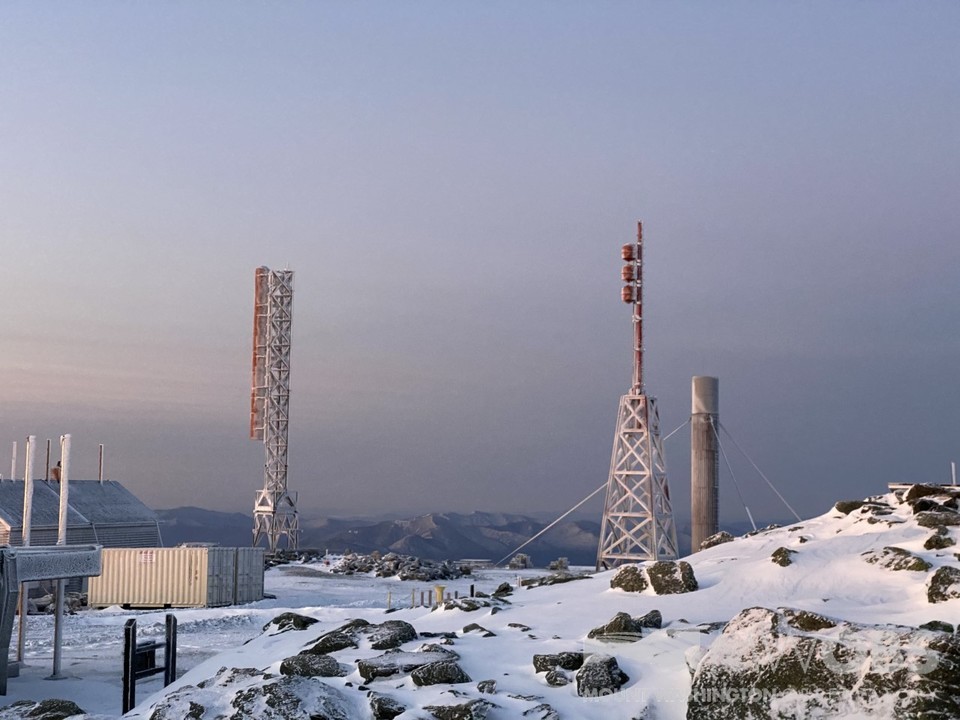 Snow Covered Summit with South Views on Sunday Morning
As for the rest of the region, snow totals ranged from roughly 1-2" at the lowest elevations to 8-9" along the international border and higher valley locations. Jefferson NH, a close valley neighbor to us reported 9.3"! Judging by snow depth maps after the fact, it also appeared that some higher summits across the region received a foot or more similar to us. I was quite amazed to see that NH DOT was out plowing and salting as snow had accumulated even on roadways throughout Northern NH. Even more amazing was that 0.2" of snow was reported as far south as New Ipswich NH, a town close to where I live in Northern MA. Many locations across New England also received beneficial rainfall amounts of 1" to close to 4" in some spots, which definitely helps the drought conditions we have been experiencing the past couple months. Also, as a winter sports enthusiast, I was delighted to see a handful of diehard skiers posting about their first tracks across the North Country. Since higher elevations did see more snow (in most spots), skiers were able to hit the slopes on many mountains while colorful foliage was still present at lower elevations leading to some awesome shots.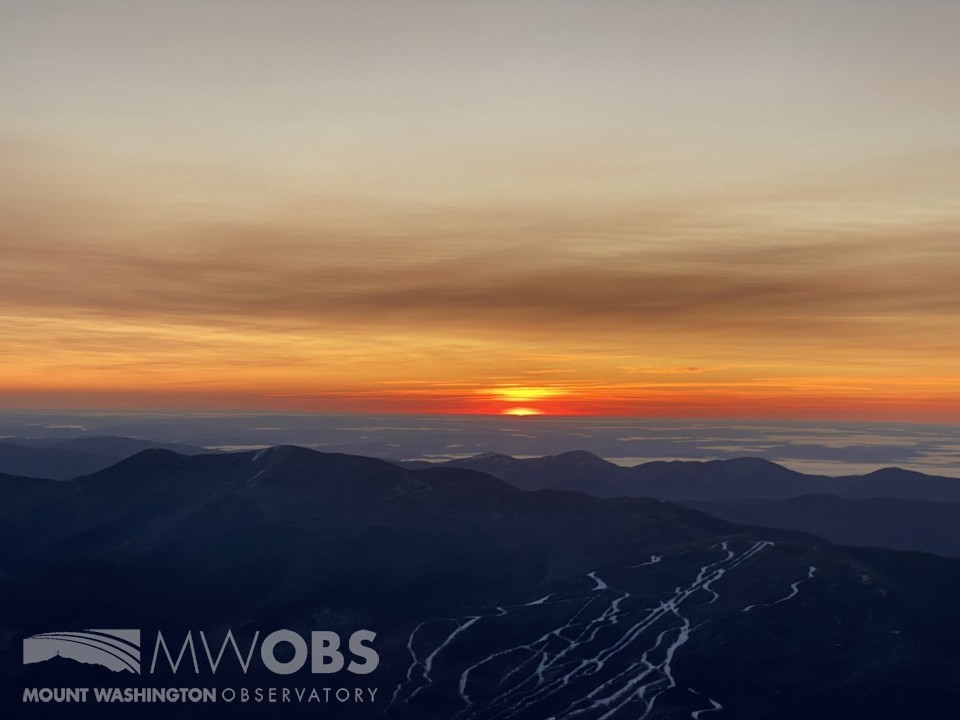 Sunrise over Wildcat Mountain on Sunday Morning
I look forward to more winter storms as winter is my favorite season and I love snow. I also look forward to writing more observer comments in the future. Thanks for reading!
Sam Robinson, Weather Observer/Engineer
Ellen Estabrook
Adjusting to Life on the Summit By Charlie Peachey Working on the summit of Mount Washington is not your average job. There aren't too many other places where the employees work and live together for
Ellen Estabrook
A Surprise Aurora By Francis Tarasiewicz After 17 months of working at New England's highest peak, it finally happened. On the night of November 12th, 2023, I was lucky enough to view the famous and
Ellen Estabrook
A Glimpse at METAR Reports By Alexis George, Weather Observer & Meteorologist METAR observations are submitted every hour of every day at Mount Washington Observatory. METAR is a format for reporting weather information that gets