"So, When Should I Come Back?"
2017-12-11 05:27:30.000 – Ryan Knapp, Weather Observer/Staff Meteorologist
One of the perks of being a
member
of the Mount Washington Observatory is the opportunity to spend a week on the summit as a
volunteer
. For weather enthusiasts, it can be quite exciting as a week can bring a plenitude of conditions. Dense fog one day gives way to unlimited vistas the next, calm conditions give way to hurricane force winds, thunderstorms with lightning striking summit structures, hail, heavy rainfall, and snow (even in summer months). For some, it can all be a bit overwhelming to take in, but most people I have met in my years here typically end the week asking "so, when can I come back?
For new volunteers, a summer week is required prior to a winter week. This is done to ensure someone new can handle the tasks, can get along with others, are OK with the facilities, are fit enough to self-evacuate if necessary, and familiarize themselves with what life is like at 6288 ft. If someone ticks all the right boxes, we start looking ahead as to when an individual can come back. Some are dead set on coming back in winter which to them is January/February when temperatures are
typically
at their lowest. If that is what they are set on, then it might be year or two before we see them again as several individuals are keen on those months. However, for those that actually ask when they can come back or when the best time to come back is, I typically provide a far different answer and it all depends on what they are looking for.
Is it cold they are after? In that case yes, January and February are the go-to choices. But I would follow up with a December week or a March week. December has gotten down to as low as 46F below (43C below) and March has been as low as 38F below (-39C). For those that counter that those monthly record lows occurred years ago I only have to point back to within the past year to show that December (2016) and March (2017) both tagged out at 35F below (37C below) with plenty of other below zero readings for both months.
Is it snow they are after? In that case, there are plenty of months to choose from. The summit has measured over an inch of snow every month of the year. First snow typically falls in late August/early September with melt-out occurring in late April/early May in any given year. For persistent snow on the ground, late October through early April is key. If looking for storms that dump snow, in my time here those occur in the fall and spring when warm moist air clashes with cold air. That's not to say the heart of winter doesn't get its share however, most of my memorable big snow events occurred in October, March, and April.
Is it winds they are after? In that case, any month fits that bill. However, if looking for events with triple digits, those are far more common from October through April. That is not to say the summer months don't see gusts in the triple digits, it is just less common. During the Oct to April span, every other day typically sees hurricane force gusts and a quarter of a given months gusts will exceed 100 mph. Our 231 mph gust – that took place in April. Next highest – those took place in December and March. Every month has had it fair share of high gusts but if it's the highest winds someone is seeking, just outside the heart of winter is key, at least statistically speaking.
So, what months do I personally recommend to returnees seeking advice? My personal top three choices are: 1. March, 2. April, and 3. October. Why these months? For any given week during these months, we typically see a great mix of fair weather and extreme weather. From a photographic standpoint, most of my favorite pictures I have captured while working here have taken place in those three months (including the ever-so elusive Northern Lights). And if it is the cold, snowy, and windy conditions they are seeking, I remind them that while winter weather for many in the lowlands is typically viewed as Dec/Jan/Feb because that is when it is occurring in their backyard, for the higher summits, our "backyards" winter is more of a November-April affair. So don't just focus on three months when there are six months to choose from and still get all those winter experiences they seek. However, no matter the time of year, spending any time on the summit is, in one word – AWESOME!
And what about those that can't do a week or two a year or for those that maybe want a briefer winter experience? We have other opportunities available; learn about them and register for them
HERE
.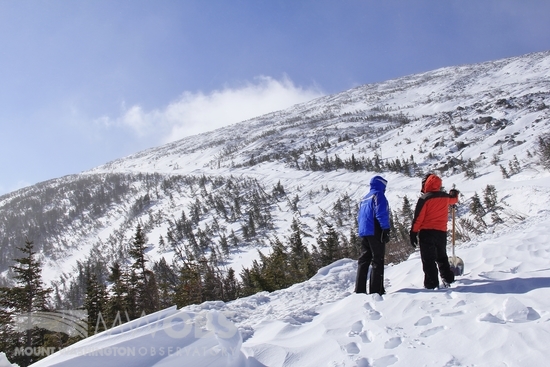 Assessing the Road After a Storm in March
Ryan Knapp, Weather Observer/Staff Meteorologist
Ellen Estabrook
Adjusting to Life on the Summit By Charlie Peachey Working on the summit of Mount Washington is not your average job. There aren't too many other places where the employees work and live together for
Ellen Estabrook
A Surprise Aurora By Francis Tarasiewicz After 17 months of working at New England's highest peak, it finally happened. On the night of November 12th, 2023, I was lucky enough to view the famous and
Ellen Estabrook
A Glimpse at METAR Reports By Alexis George, Weather Observer & Meteorologist METAR observations are submitted every hour of every day at Mount Washington Observatory. METAR is a format for reporting weather information that gets