Spending My Birthday on the Summit
2014-12-17 17:29:35.000 – Werner Griesshammer, Summit Volunteer
For several years I planned to spend the week of my birthday with my wife Conny as a volunteer at the Mount Washington Observatory, but every year something else came up. 2014 finally was the year! Last week's snow storm delayed shift change until Thursday and when we came up to the summit, we were engulfed in fog. But who would expect anything else on the mountain with the world's worst weather.
After a day with a breathtaking sunset Monday night, nature decided to surprise me with a spectacular sunrise on Tuesday as a birthday present. Standing on top of New England's highest peak and taking in the beauty of a clear morning cannot be easily put in words. While people in the valley woke up to clouds and fog we enjoyed the sun slowly rising over the horizon, dipping the surrounding peaks in a slight alpenglow.
If you want to share our experience, you have to
become a member
of the Mount Washington Observatory and sign up as a
volunteer
.
For a limited time only, newly-purchased or gifted Observatory memberships include a free holiday ornament. Please see our Membership page for more information.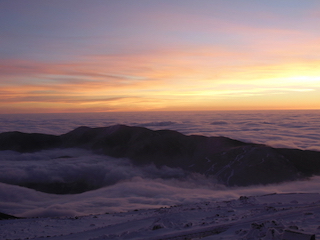 Werner Griesshammer, Summit Volunteer
Ellen Estabrook
Adjusting to Life on the Summit By Charlie Peachey Working on the summit of Mount Washington is not your average job. There aren't too many other places where the employees work and live together for
Ellen Estabrook
A Surprise Aurora By Francis Tarasiewicz After 17 months of working at New England's highest peak, it finally happened. On the night of November 12th, 2023, I was lucky enough to view the famous and
Ellen Estabrook
A Glimpse at METAR Reports By Alexis George, Weather Observer & Meteorologist METAR observations are submitted every hour of every day at Mount Washington Observatory. METAR is a format for reporting weather information that gets