Spring Is On The Way!
2015-05-01 17:23:02.000 – Tom Padham, Weather Observer/Meteorologist
Although this past week definitely took us back a bit, with the month of May now underway it seems that Spring is finally set to arrive across the higher summits. April ended on a very snowy note with 55 inches of snow falling through the month, more snow than we've seen since the month of January. All of this new snow along with the mostly below freezing temperatures led to an increase in snow cover above tree line, with a low of about 9 inches of snow depth on the 18th increasing all the way up to 19 inches to end out the month.
The beginning of May will bring much warmer temperatures to New England this weekend and into next week, with the stronger sun angle liking resulting in a quick melt out of much of the snow in place across the higher elevations. High pressure will result in plenty of sunshine by Sunday, with temperatures climbing to their warmest readings so far this year in the mid to upper 40s through Monday. Beyond this, a cold front will bring temperatures back into the 30s and 40s, with a mostly rain event on Tuesday causing further melting.
With the expected melting, the Auto Road and Cog Railway are working very hard to prepare for opening fully for the season. The Sherman Adams building will also be officially open to the public for the first time tomorrow. Although it may not look like it outside yet, Summer is just around the corner!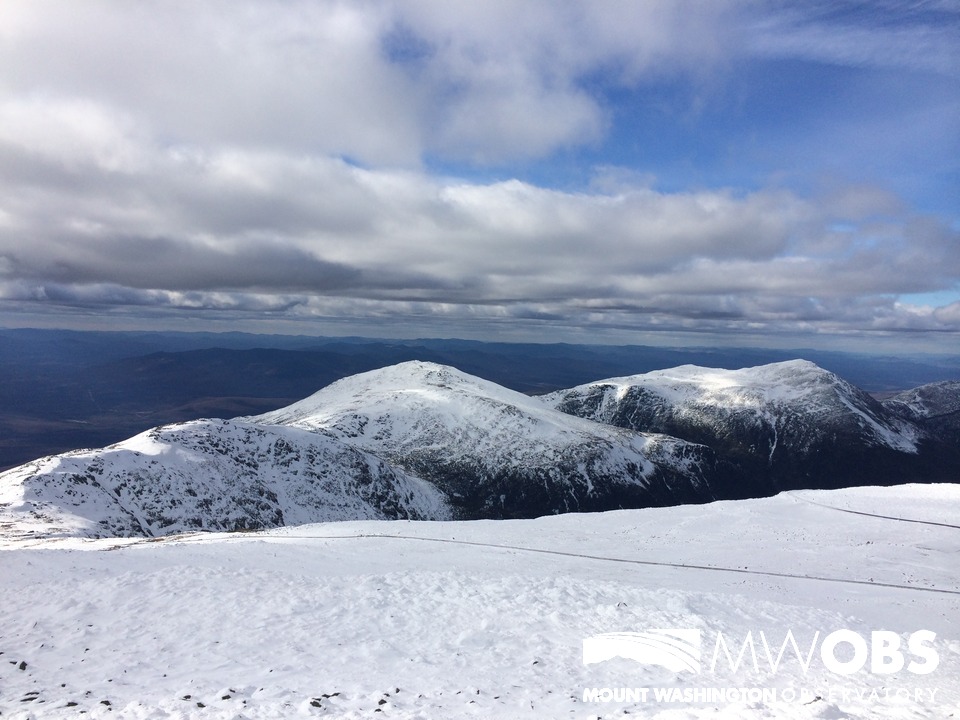 All this snow won't be lasting much longer!
Tom Padham, Weather Observer/Meteorologist
Ellen Estabrook
Adjusting to Life on the Summit By Charlie Peachey Working on the summit of Mount Washington is not your average job. There aren't too many other places where the employees work and live together for
Ellen Estabrook
A Surprise Aurora By Francis Tarasiewicz After 17 months of working at New England's highest peak, it finally happened. On the night of November 12th, 2023, I was lucky enough to view the famous and
Ellen Estabrook
A Glimpse at METAR Reports By Alexis George, Weather Observer & Meteorologist METAR observations are submitted every hour of every day at Mount Washington Observatory. METAR is a format for reporting weather information that gets