Spring rains are on the way
2012-04-20 17:36:42.000 – Mike Carmon,  Weather Observer/Meteorologist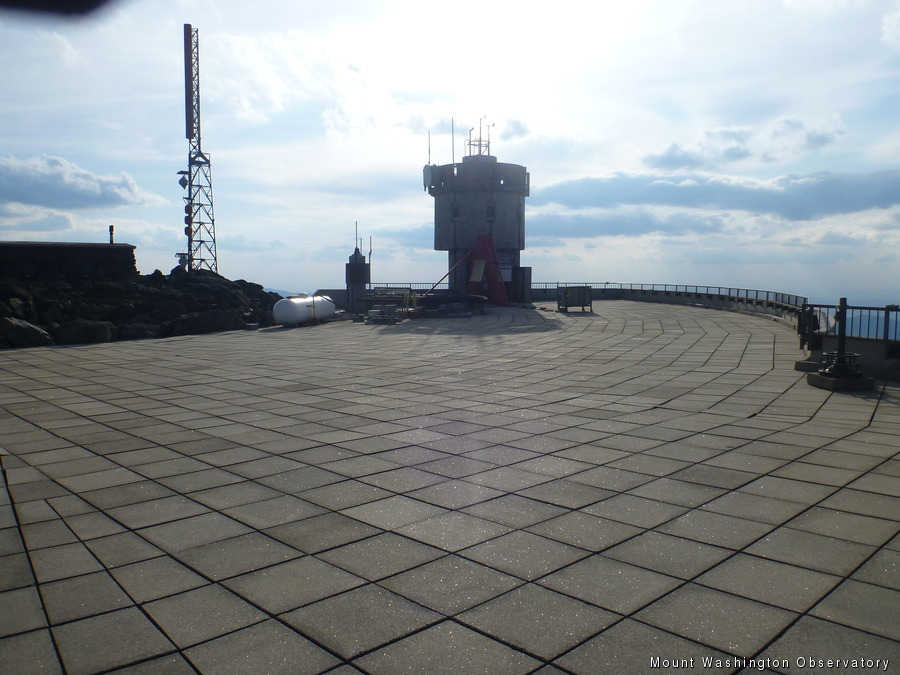 Summer Mode
The erstwhile springtime rainfall is well on its way!
We left the summit last shift in a Snow Cat, with over a foot of snow on the ground, and widespread drifts in excess of 4-5 feet.
But upon our return on Wednesday, as Brian mentioned in his comment yesterday, we made it all the way to the summit in a 4-wheel drive van without chains! Very little snow had survived the 50+ degree temperatures that embraced Mt. Washington last week.
As a result, the landscape has once again returned to a summertime setting, with only a few patches of snow left around the summit. The first three days of our shift have boasted mild temperatures, relatively low winds, and clear conditions.
However, the forecast over the coming days looks much more interesting, and enough to alleviate, at least partially, the drought that has plagued most of New England over the recent months.A low pressure system looks to produce a mix of rain and snow on the summit over the weekend, with even a few thunderstorms possible!
Right behind this low, a second low will trudge up the coast on Monday, and, being fed by a very moist tropical air mass, dump A LOT of rain on Monday. It's still far out into the future, but models have been very consistent over the past few days in predicting rainfall amounts in excess of 2-3 inches, possibly as high as 4 inches.
Break out the raincoats!
Mike Carmon,  Weather Observer/Meteorologist
Ellen Estabrook
Adjusting to Life on the Summit By Charlie Peachey Working on the summit of Mount Washington is not your average job. There aren't too many other places where the employees work and live together for
Ellen Estabrook
A Surprise Aurora By Francis Tarasiewicz After 17 months of working at New England's highest peak, it finally happened. On the night of November 12th, 2023, I was lucky enough to view the famous and
Ellen Estabrook
A Glimpse at METAR Reports By Alexis George, Weather Observer & Meteorologist METAR observations are submitted every hour of every day at Mount Washington Observatory. METAR is a format for reporting weather information that gets