Spring Weather Means it's Time to Fly (or Hike)!
2022-05-10 08:24:31.000 – Sam Robinson, Weather Observer/Engineer
As winter starts to lose its tight grip on the higher summits this spring, the Home of the World's Worst Weather has begun to show a bit of forgiveness. Overall, winds have relaxed a bit, temperatures have become less bone-chilling, and the snow and ice is beginning to disappear.
This seasonal improvement in weather tends to lead to increased recreational activity around the mountains but also more favorable conditions for aviation activities. Over the past few weeks, we have witnessed multiple training exercises from both American and Canadian search and rescue helicopters due to the unique terrain of the White Mountains, and the availability of the helicopter landing pad located just off the summit cone.
Our summit weather observing station submits hourly weather observations or METAR's (METeorological Aerodrome Reports) to the National Weather Service as part of a network of nationwide stations to help keep the aviation community safe. However, we are unique and differ from most METAR weather observing stations since most stations are located at airports. While we are not an airport and we are not helping planes land, nor do we have any runways, we do have the heli pad!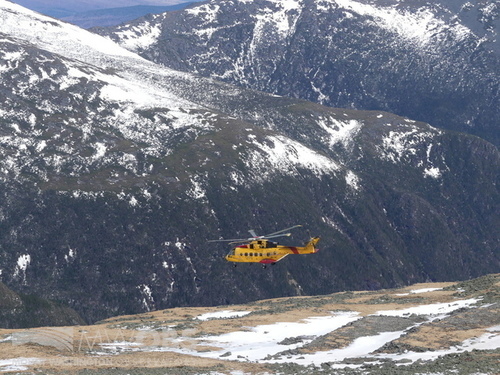 Royal Canadian Airforce 413th Transport and Rescue Squadron coming in for a landing.
One of the more notable helicopter landings I've experienced so far this year has been the Royal Canadian Airforce, specifically the 413 Transport and Rescue Squadron from Nova Scotia. This is the first time I have seen them in our area, as they normally stay in…well, Canada! The unique mountainous terrain of the White Mountains is a great place for the squadron to train because it is similar to the terrain that they service in Canada but is also relatively close to airports (and heli-pads). This helps make the training exercises easier to coordinate, easier for the helicopter to stay fueled up, and also provides rest time for the crew when needed.
Speaking of the helicopter itself (as I am a gearhead), it is an AgustaWestland Cormorant CH-149. I believe it is the largest helicopter to routinely land up here on the summit, and appears to be one of the largest single rotor choppers I have seen and photographed here.
Crew members of the RCAF 413th Transport and Rescue Squadron taking some pictures of their own.
The large, bright yellow "Cormorant" was down in our region this past week for training, and according to an article in the Conway Daily Sun, it was the first time down here since 2019 due to the pandemic. The crew based themselves out of the Eastern Slopes Airport in nearby Fryeburg Maine.
Along with our Canadian friends from the R.C.A.F., the United States Coast Guard and Air National Guard have been doing some flights around our area this spring as well. The U.S.C.G. based out of Cape Cod, MA operates a Sikorsky MH-60T Jayhawk dressed in the very distinguishable orange and white paint scheme while the U.S.A.N.G. out of Vermont operates a Sikorsky HH-60 Blackhawk, which is used for search and rescue in our region, dressed in standard army green with a white and red cross on the side.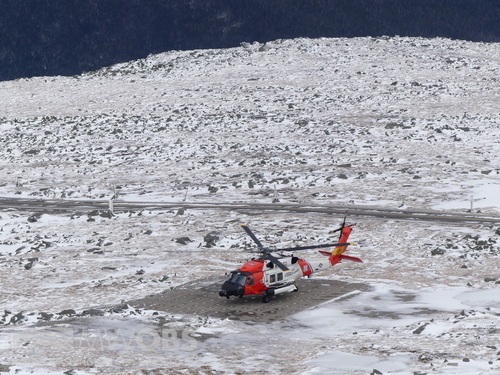 United States Coast Guard Sikorsky MH-60T Jayhawk on the helicopter landing pad.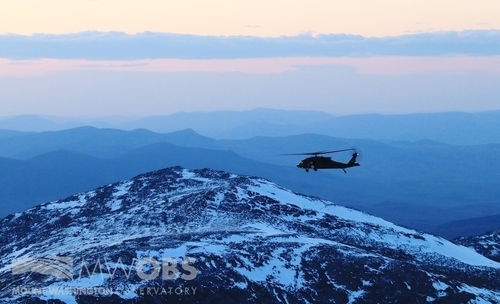 United States Air National Guard Sikorsky HH-60 Blackhawk flying over the Great Gulf.
Another notable landing earlier this year included the US Army Chinook CH-47 twin rotor transport helicopters. These may actually take the cake for the largest helicopters to land here, they are pretty massive! It was the first time I had ever seen them fly and land up here and also the first time I had ever seen them in person. They flew in after a recent fresh snowfall, and the landing definitely kicked up an impressive snow dust cloud. Definitely was a sight and sound that I will never forget!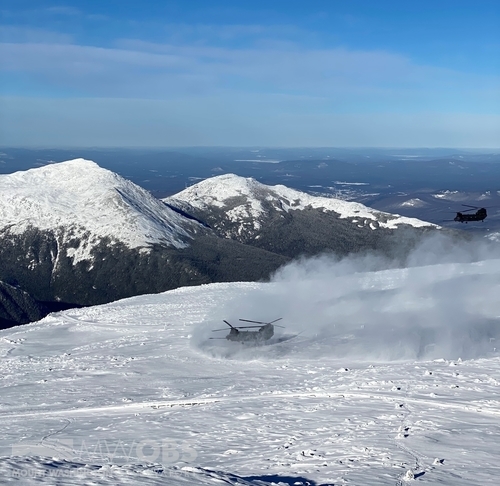 United States Army Chinook twin-rotor transport helicopter landing with its twin flying in the background.
Although most of you probably are not trying to fly and land helicopters up here on the higher summits, you may be looking to recreate in the mountains this spring. Before heading out on your next adventure, be sure to check out our 48-hour Higher Summits Forecast in order to know what to expect up in the alpine zone. It is important to remember that while conditions in the valley and at trailheads may feel almost summer like at times, winter weather is still very possible above treeline.
If you are not looking to hike but still looking to visit the summit, be sure to check out the websites of our partners on the mountain for updated opening dates and other information, like Mount Washington State Park, the Mount Washington Auto Road, and the Cog Railway.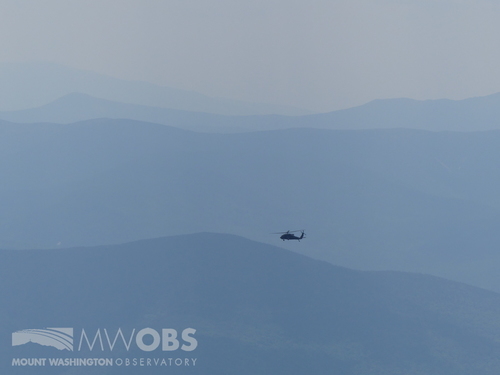 USANG Blackhawk heading back towards Vermont.
Enjoy the spring weather because summer will be here before we know it! Happy trails (or road / rails )!
Sam Robinson, Weather Observer/Engineer
Ellen Estabrook
Adjusting to Life on the Summit By Charlie Peachey Working on the summit of Mount Washington is not your average job. There aren't too many other places where the employees work and live together for
Ellen Estabrook
A Surprise Aurora By Francis Tarasiewicz After 17 months of working at New England's highest peak, it finally happened. On the night of November 12th, 2023, I was lucky enough to view the famous and
Ellen Estabrook
A Glimpse at METAR Reports By Alexis George, Weather Observer & Meteorologist METAR observations are submitted every hour of every day at Mount Washington Observatory. METAR is a format for reporting weather information that gets