Stalled Out Sunday
2015-05-10 17:57:27.000 – Nate Iannuccillo, Summit Intern
If you've glanced at the forecast lately, you already know that it's going to be a soggy next couple of days.
With thunderstorms looking pretty likely this afternoon, I thought it would be interesting to highlight the frontal activity that will produce this week's wet weather.
The origins of these conditions began with a low pressure system racing through Canada. While the system strengthened, a deep cold front stretched down into the United States, but as the storm spun northeast towards Greenland, the approaching front stalled just north of New England.
And this brings us to where we are now, with the idling front slowly sinking over us.
Let's take a look at some satellite imagery…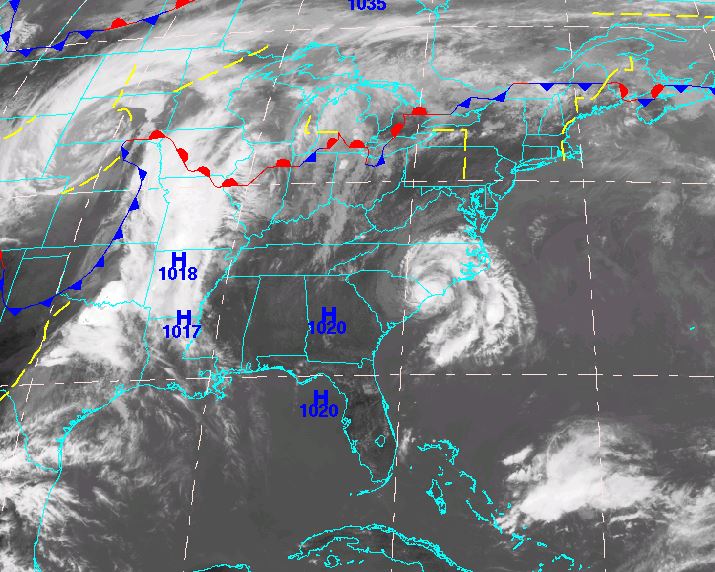 Image Courtesy of NCEP and the University of Washington Dept. of Atmospheric Sciences
There's quite a bit to look at right now…
We can see tropical storm Ana sitting over the Carolinas, as well as a strong system over Nebraska (heading our way!).
However, the main feature that we should note is the front sitting over NH. Notice how it basically strings into the warm front extending from the Nebraska low. Therein lies our weather for the next few days.
The Nebraska low is expected to approximately track along the long frontal band. This means that northern New Hampshire will sit pinned along frontal boundaries for a good chunk of time. Essentially, we'll be resting roughly at the intersection of cold air moving in from the northeast and warm air moving in from the southwest.
This creates prime conditions for rain and chances of thunderstorms. To produce heavy rain or thunderstorms, the atmosphere needs to provide an unstable environment that will be conducive for rising air, or convection. This instability can be likened to that of a hot air balloon. The more heat you add to the balloon, the higher the temperature within the balloon, and the less dense the air. And so the balloon rises…
The mixing of warm and cold air that occurs at frontal boundaries produces a similar effect that can lead to cloud formation, rain, and even thunderstorms if the atmosphere is properly unstable.
The lift provided by airflow over mountains can also help spur rising air needed for cloud formation, precipitation, and thunderstorms.
Let's take a look at where the lightning is coming in at the moment…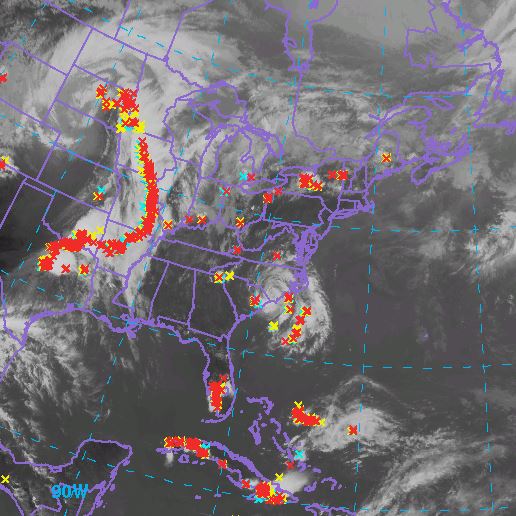 Image Courtesy of the WWLLN and the University of Washington Dept. of Atmospheric Sciences
So no lightning around the summit quite yet, but with lightning strikes emerging around Lake Champlain, I do expect we'll see some lightning strikes around the summits this evening.
Nate Iannuccillo, Summit Intern
Ellen Estabrook
Adjusting to Life on the Summit By Charlie Peachey Working on the summit of Mount Washington is not your average job. There aren't too many other places where the employees work and live together for
Ellen Estabrook
A Surprise Aurora By Francis Tarasiewicz After 17 months of working at New England's highest peak, it finally happened. On the night of November 12th, 2023, I was lucky enough to view the famous and
Ellen Estabrook
A Glimpse at METAR Reports By Alexis George, Weather Observer & Meteorologist METAR observations are submitted every hour of every day at Mount Washington Observatory. METAR is a format for reporting weather information that gets