Still Icy Here on the Summit
2013-06-04 17:24:22.000 – Mike Dorfman,  Weather Observer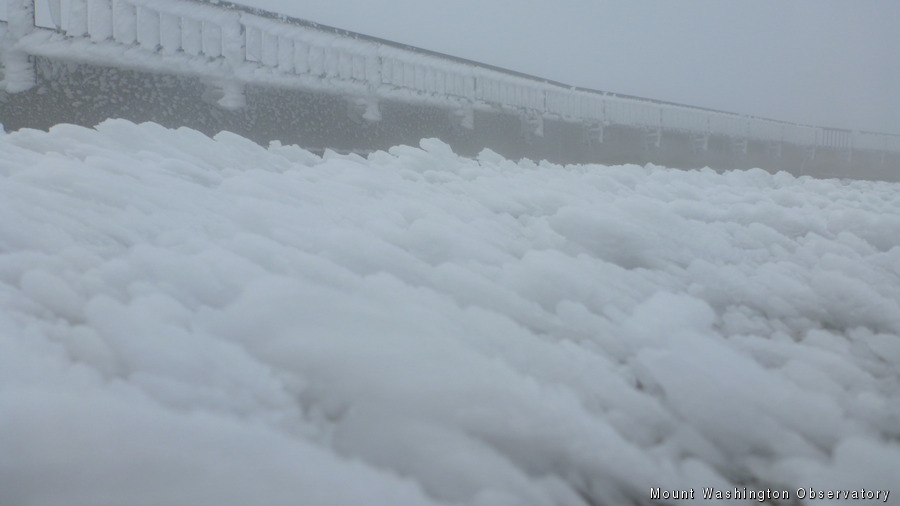 A View of the Rime Ice from Foot Level
After breaking the daily record high temperature for June 1st and tying the daily high for June 2nd, I was starting to get used to doing observations in full-on summer gear. Last night, however, I was kept awake by chilly temperatures in the 20's, combined with near hurricane force winds. When I woke up this afternoon, I was surprised to find temperatures still hovering below freezing and feathers of glaze and rime covering the summit.
In other news, New England is facing a rainy upcoming weekend! A low pressure system will bring tropical moisture to the summit through the weekend, possibly drenching parts of New England with 3 inches of rain in the next 5 days, according to the National Weather Service. To get more information, visit the National Weather Service's Hydrometeorological Prediction Center, or check our summit and valley outlooks as the weekend gets closer!
Temperatures are supposed to dip back down into the 20's again tonight, so I'm prepared for another chilly night. It may be shorts and t-shirt weather in the valley, but snow and ice can occasionally be seen year round here on the summit!
Mike Dorfman,  Weather Observer
Ellen Estabrook
Adjusting to Life on the Summit By Charlie Peachey Working on the summit of Mount Washington is not your average job. There aren't too many other places where the employees work and live together for
Ellen Estabrook
A Surprise Aurora By Francis Tarasiewicz After 17 months of working at New England's highest peak, it finally happened. On the night of November 12th, 2023, I was lucky enough to view the famous and
Ellen Estabrook
A Glimpse at METAR Reports By Alexis George, Weather Observer & Meteorologist METAR observations are submitted every hour of every day at Mount Washington Observatory. METAR is a format for reporting weather information that gets