Students in Rural NH Learn Data Science with Help from WeatherX
By MWOBS Staff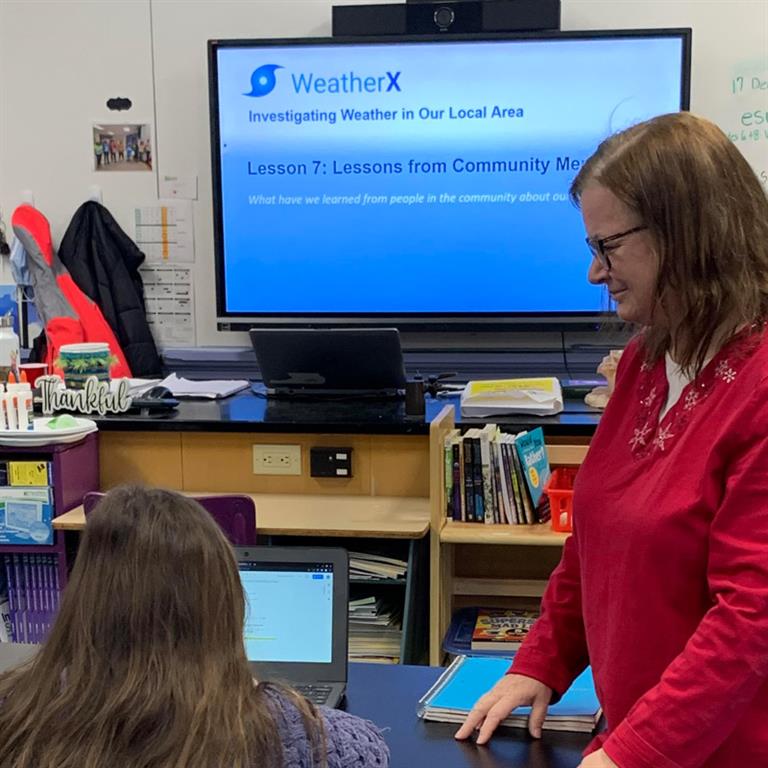 Students in Patti Dugan-Henriksen's class are learning data science by investigating extreme weather events thanks to WeatherX, an all new data-rich science curriculum supported by Mount Washington Observatory. If you value educational programs from the summit of Mount Washington, consider supporting our mission.
In a world teeming with information, learning how to make meaning of data has emerged as a fundamental skill. Recognizing this, middle school science teacher Patti Dugan-Henriksen has prioritized teaching data science in her rural northern New Hampshire community of Groveton.
Her way to the hearts and minds of students involves demonstrating how data can empower understanding of the social challenges that matter most to them.
Last year, Dugan-Henriksen's sixth graders identified climate change as their top community concern, followed by hunger, then health. So a new data science curriculum focused on weather was a great match for the class. Weather, when tracked consistently over time, eventually provides the data needed to measure climate trends.
Dugan-Henriksen's students are now participating in their second year of WeatherX, a curriculum development project funded by the National Science Foundation. They are part of a cohort testing the curriculum as a pilot, a process that also involves interviews with the project development team to offer feedback.
WeatherX includes a local unit and Mount Washington unit, developed by a team of educators, curriculum developers, and researchers from Mount Washington Observatory (MWO), the Education Development Center, Concord Consortium, and the universities of Maine and Washington.
In rural Groveton, a town of just over 1,000 people, where the primary employer was a paper mill that closed in 2008, middle school students now have the chance to do hands-on data investigations of extreme weather events. Other middle school science and math classrooms in northern New Hampshire and Maine are also participating.
Highlights for Dugan-Henriksen's students include talking with observers at MWO's summit weather station and learning how to differentiate between extreme and typical weather, both on Mount Washington and in their local community.
The program aims to build students' interest in science careers through online chats, video demonstrations, and virtual live sessions with Mount Washington scientists.
"I think this was probably the first time any of the students had thought about data science," Dugan-Henriksen said. "They realized that graphs aren't just a math class exercise but that they actually tell stories."
By experimenting with different aspects of graphing, including by hand and using technology, her students realized that weather stories told by graphs and tables can help communities prepare for weather events.
"If you have 360 points of data, making graphs digitally becomes a lot more manageable," Dugan-Henriksen said. "They realized that data could be used to make decisions."
With help from the WeatherX team, her students use the open-source Common Online Data Analysis Platform (CODAP) to graph large amounts of weather data, and in the process they begin to see how weather data support scientific modeling for measuring climate trends.
Dugan-Henriksen's students enjoyed the challenge of learning something new, data science, by looking at something familiar, weather and climate.
The curriculum, which fits with the Next Generation Science Standards, is both fun and challenging.
"They loved being connected to the Observatory and talking with the Weather Observers," she said. "It was hard for them (her students) because it involved a lot of math, but they were excited that they did finally understand what they were doing. The materials are complete and well designed. Everyone on the WeatherX team is helpful and responsive. I've learned new things and new ways of presenting weather and climate using digital tools. I look forward to using the materials again this year."
Check out this video to learn more about MWO observers' work at the summit and how their data support understanding of weather extremes and climate trends, WeatherX topics of focus that inspires students' interest in data science.
If you value MWO's educational programs, consider a donation to Mount Washington Observatory, a private, nonprofit institution. Donations from members and corporations are an important source of funding that directly support the continuation of forecasting, climate data, and educational work at the summit of Mount Washington.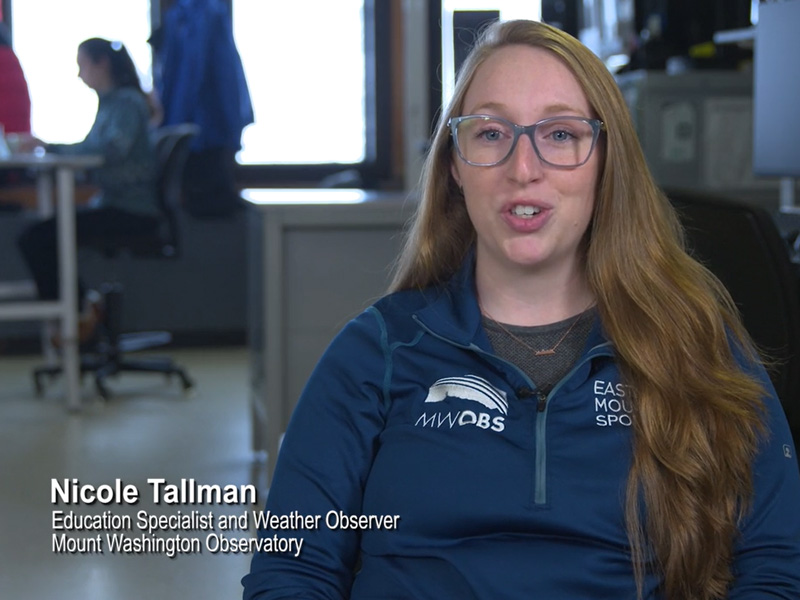 Past Weather Observer/Education Specialist Nicole Tallman discusses her lifestyle and role as an MWO scientist for students participating in WeatherX.
Ellen Estabrook
Adjusting to Life on the Summit By Charlie Peachey Working on the summit of Mount Washington is not your average job. There aren't too many other places where the employees work and live together for
Ellen Estabrook
A Surprise Aurora By Francis Tarasiewicz After 17 months of working at New England's highest peak, it finally happened. On the night of November 12th, 2023, I was lucky enough to view the famous and
Ellen Estabrook
A Glimpse at METAR Reports By Alexis George, Weather Observer & Meteorologist METAR observations are submitted every hour of every day at Mount Washington Observatory. METAR is a format for reporting weather information that gets