Summit Volunteers Comment
2012-06-26 16:26:21.000 – Christy Keefe and Kelley Brown,  Summit Volunteers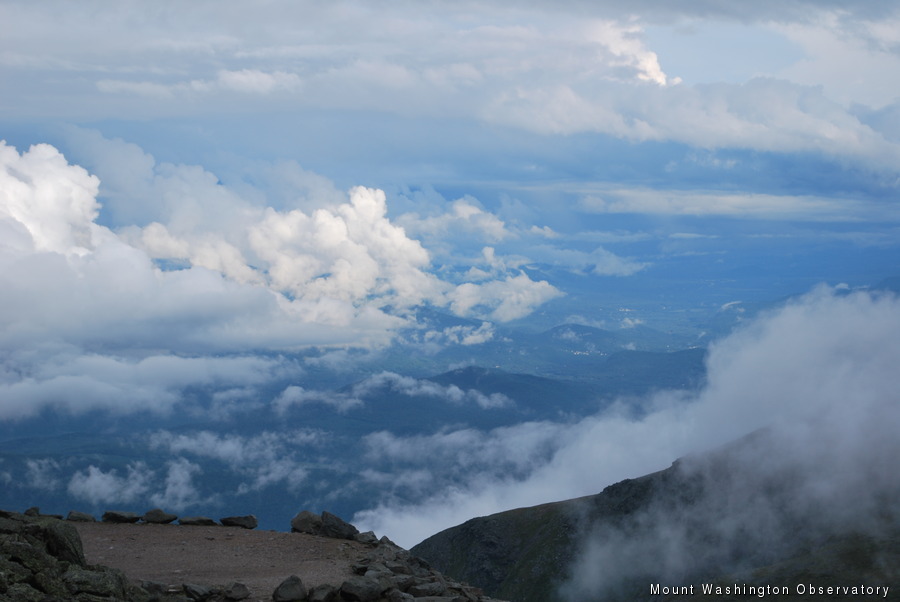 Clearing and Undercast Yesterday Afternoon.
Hi, I'm Christy and I'm finishing my third volunteer stint here at the summit. I come from Connecticut where I am a teacher. And I'm Kelley, the other volunteer for the week, I'm also a teacher who resides in Maine, and this is my first week. Together this week, we have discovered that this experience is far more than just cooking and cleaning for the Mount Washington Observatory staff here on the summit. It's been an opportunity to decompress from our everyday lives whether we've been cooking, cleaning, hiking or just watching the world go by. We have relished the experience. We've watched the sun rise and the sun set, but our most memorable experience with nature was late yesterday afternoon. Thunderstorms and showers had cleared the summit of hikers and other visitors. The weather cleared and we went out, having the summit to ourselves, and looked at the view between the clouds of the undercast rolling by. It was breathtaking watching the clouds move below us. One moment we could see across the Alpine Garden and into Tucks and a couple of minutes later it was all obscured by clouds. It was also incredible to be the only ones out on the summit at 5 pm – it was as if we were the only people for miles around. As we walked back and up on to the observation deck, we reflected that here it was, the first days of summer and we were walking across the summit in fleece and down vests with the temperature in the low 40's and wind speeds that would have been called brisk for valley standards. We thought nothing of it. This was 'normal'. To us, it was 'a walk in the park'.
As volunteers, we've had the chance to do just about anything and everything you can do on the summit. We've truly been included as part of the summit family. Our volunteer week has been a gift and an opportunity to make new friends, create special memories and anticipation of our NEXT volunteer week. Thank you!
Christy Keefe and Kelley Brown,  Summit Volunteers
Ellen Estabrook
Adjusting to Life on the Summit By Charlie Peachey Working on the summit of Mount Washington is not your average job. There aren't too many other places where the employees work and live together for
Ellen Estabrook
A Surprise Aurora By Francis Tarasiewicz After 17 months of working at New England's highest peak, it finally happened. On the night of November 12th, 2023, I was lucky enough to view the famous and
Ellen Estabrook
A Glimpse at METAR Reports By Alexis George, Weather Observer & Meteorologist METAR observations are submitted every hour of every day at Mount Washington Observatory. METAR is a format for reporting weather information that gets