Super Blue (Partial) Blood Moon (Maybe)
2018-01-28 17:24:02.000 – Ryan Knapp, Weather Observer/Staff Meteorologist
Back in August 2017 when I was writing a
blog post
about the solar eclipse I was looking at
the list
of other solar and lunar eclipses for North America over the next 10 years. While looking over the list, I saw "Jan 31, Lunar Eclipse (Total) and from the thumbnail saw that the US was in the shaded viewing area. At the time, I was so focused on the solar eclipse that I didn't really look into the upcoming lunar eclipse more than just locking the month and year away for the opportunity when it approached.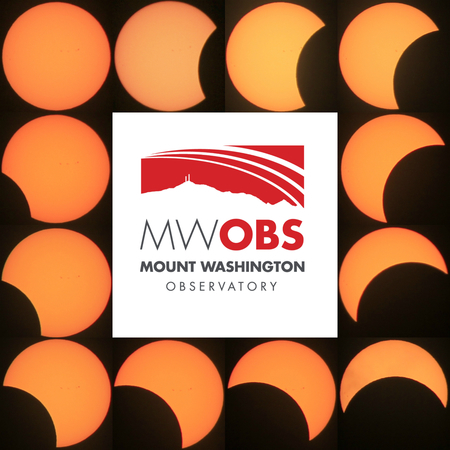 Partial Solar Eclipse 2017
Back in September 2015, the summit lucked out with perfectly clear skies allowing for the viewing of a total lunar eclipse from start to finish (you might remember seeing the pic (below),
video
, or
blog post
about it all back in the day). So with that memory still fresh in mind I was pretty stoked about the possibility of seeing a repeat event if the weather cooperated. For the past month or two I was regularly telling my coworkers about the upcoming lunar eclipse and how neat it was the last time. My excitement built up even further as space related sites I follow started running articles about how January 2018 would conclude with a "Super Blue Blood Moon." This was even more enticing as it meant a blue moon, a blood moon, and a supermoon would all be coming together at the same time. But then I started to read deeper and examine various maps, stats, etc and my excitement started to wane.
Total Lunar Eclipse 2015
That thumbnail I mentioned in the first paragraph, well
clicking
on it was the first blow to my excitement. For our location, the maps legend had the coloring listed as "Only partial+penumbral visible" meaning a total eclipse was out. I have viewed penumbral eclipses before and my reaction for those has always been, "I stayed up for this?" However, I have also seen partial eclipses before and if enough of a chunk is taken out of the moon, they can be kind of neat to view. So I decided to dig a bit deeper.
And so came the second blow to my excitement – looking at
the simulators
and various
times
of occurrences. Unfortunately all the sites I tried didn't have "Mt Washington" as an option and the one that allowed for my lat/long didn't define whether or not elevation gain was factored (albeit, that's typically small to begin with, but every bit can help). So using our lat/long as well as those for Berlin and North Conway, the Penumbral Eclipse will start around 0551 EST January 31. The Partial Eclipse begins at roughly 0648 EST. According to our official tables for our station for January 31, 2018, Sunrise will occur at 0659 EST and moonset will occur at 0705 EST. So for partial eclipse viewing that leaves a window of 17 minutes. So if we have optimal viewing and can view the full 17 minutes, the moon will be obscured by (if I did the math correctly) 21% for our location. Again though, that is only if optimal viewing occurs. However, I am a meteorologist on Mt Washington so I know the bigger variable of concern is the weather.
As we have mentioned in previous Observer Comments, the summit of Mount Washington is in the clouds (ie, fog) over 60% of the year. Additionally, storms typically funnel towards the Northeast which means that even if we are fog-free, we would have a high likelihood of clouds overhead or on the horizon either limiting or obscuring viewing. Lastly there is haze that could be present resulting in the moon dropping behind the haze rather than the horizon.
Before looking at the weather ahead, let's look at our past examining the recent 30 years of weather records for January 31st between the hours of 0500 and 0700 EST. Here are the findings:
2017 – Clear
2016 – Fog, Blowing Snow
2015 – Fog, Snow, Blowing Snow
2014 – Overcast
2013 – Fog, Rain
2012 – Fog, Snow, Blowing Snow
2011 – Fog, Blowing Snow
2010 – Fog
2009 – Fog, Snow
2008 – Fog, Blowing Snow
2007 – Fog, Blowing Snow
2006 – Fog, Snow
2005 – Clear
2004 – Fog, Blowing Snow
2003 – Clear
2002 – Overcast
2001 – Fog
2000 – Fog, Snow
1999 – Clear
1998 – Fog, Snow Shower
1997 – Fog, Snow
1996 – Fog
1995 – Mostly Cloudy
1994 – Mostly Clear
1993 – Fog, Snow, Blowing Snow
1992 – Fog
1991 – Fog, Snow, Blowing Snow
1990 – Clear
1989 – Fog
1988 – Fog
1987 – Fog, Snow, Blowing Snow
For the window of opportunity I need on January 31st, the past data is stacked against me leaning towards a foggy or overcast set up. Looking at preliminary model data for that timeframe, this is certainly looking correct. Monday/Tuesday a low will skirt to the south of the state. Models are hinting an inverted trough could set up which could extend fog/clouds/snow this way for Tuesday/Wednesday. But even if this doesn't shape up, the passing low will be steered by a deep upper level trough which again means fog/clouds and possible snow. Taking all of this in consideration – a penumbral eclipse leading to a partial eclipse of 20% with a window of 17 minutes close to moonset on a statistically foggy/cloudy day that is projected to be foggy/cloudy/snowy – my excitement has faded to a "Meh" at best. With that being said though, if the opportunity to view/photograph if from the summit comes about, I will certainly be there to view/capture it and share something; but we will see.
Ryan Knapp, Weather Observer/Staff Meteorologist
Ellen Estabrook
Adjusting to Life on the Summit By Charlie Peachey Working on the summit of Mount Washington is not your average job. There aren't too many other places where the employees work and live together for
Ellen Estabrook
A Surprise Aurora By Francis Tarasiewicz After 17 months of working at New England's highest peak, it finally happened. On the night of November 12th, 2023, I was lucky enough to view the famous and
Ellen Estabrook
A Glimpse at METAR Reports By Alexis George, Weather Observer & Meteorologist METAR observations are submitted every hour of every day at Mount Washington Observatory. METAR is a format for reporting weather information that gets