Technology Upgrades at the Obs
2014-01-06 22:17:49.000 – Roger Pushor,  Weather Observer/IT Specialist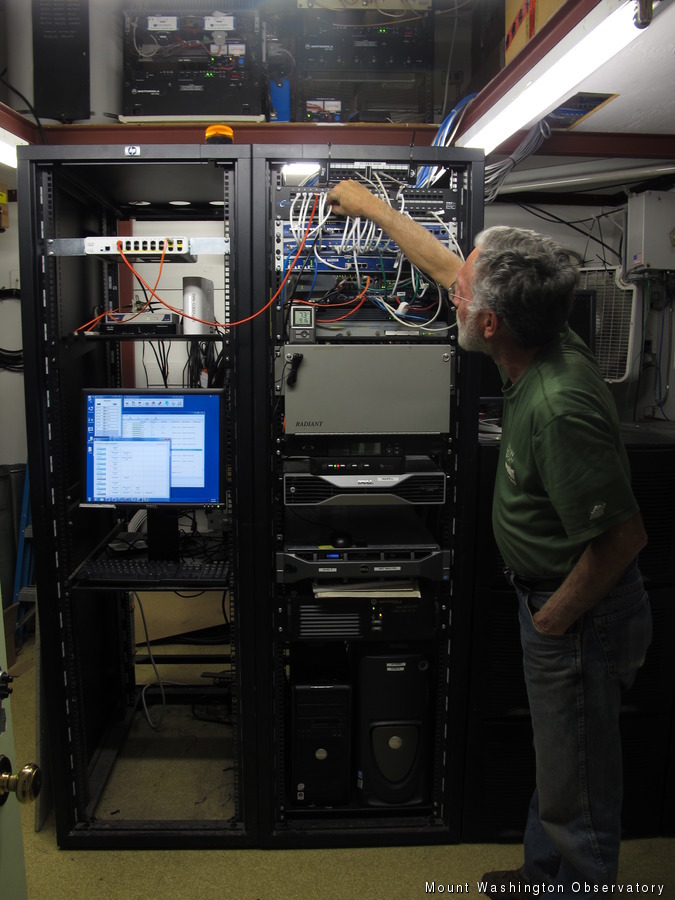 Working in our server room.
For all of you who may have wondered why you haven't seen an Observer Comment from me in quite some time, it's because I've been working on a number of Technology Upgrades both on the Summit and in our Valley Administrative Offices. I wish I could report that we're done; however, we still have a few more months of work to go.
Thanks to the Philanthropic support that Microsoft provides to non-profits like the Obs through Techsoup, we've been able to upgrade both of our primary servers to Windows Server 2012 R2 by simply paying a very small Administrative fee. The server workloads that were on a number of older servers have now been moved to our two primary servers and the older servers shut down for the final time.
Thanks to a very generous member who donated a Cisco 48 port PoE switch (which was on our Christmas List), we're going to be able to replace two of our older Adtran 24 port Ethernet switches here on the Summit. The Valley switches, which also need replacement, are on the list for later this year.
We also have several Desktop computers that turned nine years old last September that I'll be working towards replacing in the next several weeks.
With the departure of Steve Welch last winter, we now only have a single summit IT Specialist to support both shifts while Pete manages the valley end of IT work. So, this means that Pete and I have to be able to support the Technology needs of the Summit remotely at least half of the time. All of this work towards allowing us to work remotely has also allowed us to remove some older equipment from the summit, where the cost of electricity is substantially higher than in the Valley. So this has provided us with the added benefit of cost savings on our electric bill each month.
I enjoy working with all types of technology. Thanks to a trip that Cyrena, our Directory of Summit Operations, made to Belgium several months ago and some of the contacts she made there, we'll be starting some Product Testing in the next few weeks.
While it means a lot of long hours and hard work, we're seeing lots of upgrades in the technology here at the Observatory; however, not to worry, instruments like our Hayes chart and Sling Psychrometer aren't going anywhere anytime soon.
Roger Pushor,  Weather Observer/IT Specialist
Ellen Estabrook
Adjusting to Life on the Summit By Charlie Peachey Working on the summit of Mount Washington is not your average job. There aren't too many other places where the employees work and live together for
Ellen Estabrook
A Surprise Aurora By Francis Tarasiewicz After 17 months of working at New England's highest peak, it finally happened. On the night of November 12th, 2023, I was lucky enough to view the famous and
Ellen Estabrook
A Glimpse at METAR Reports By Alexis George, Weather Observer & Meteorologist METAR observations are submitted every hour of every day at Mount Washington Observatory. METAR is a format for reporting weather information that gets