Thanksgiving atop the Rockpile
2016-11-24 19:54:30.000 – Tom Padham, Weather Observer/Meteorologist
Working on the summit for Thanksgiving can be tough to be away from friends and family, but it helps to put things into perspective as to what I'm thankful for and makes me appreciate all the steps that led me to living and working atop this very special place. I'm very thankful for all the support and love over the years of my family, who have helped me pursue my career in meteorology and my passion for the weather.
The Mount Washington Observatory just turned 84 years old in October, and for 84 years the summit crew (including at least one cat) have celebrated Thanksgiving just like I am today. It is an honor to be a part of that history and continue the tradition of habitation and weather observation on the summit. Working with so many great, passionate people here is really a pleasure and makes the job so much more enjoyable and worth it. Thank you to all of our staff and my coworkers on the summit!
I can't speak for the meals in the past decades, but this Thanksgiving meal was fantastic! We were extremely lucky to have one of our long time volunteers and friends Dennis spend the week and prepare a great meal for Ryan, Nate from State Park and I. Being down an observer, Dennis was a huge help and helped to lift our spirits (and fill our bellies!) up here, thanks so much Dennis!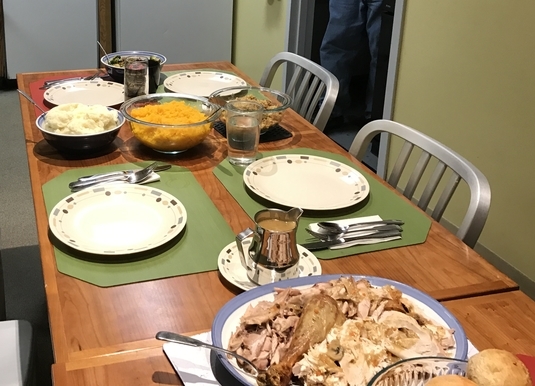 I'm also incredibly appreciative of the opportunity to work at the Mount Washington Observatory, knowing that none of the work I've done over these past 4 years would be possible without the support of people both near and far that are fascinated by our work. Thank you for supporting the observatory and from the top of New England have a happy Thanksgiving!
Tom Padham, Weather Observer/Meteorologist
Ellen Estabrook
Adjusting to Life on the Summit By Charlie Peachey Working on the summit of Mount Washington is not your average job. There aren't too many other places where the employees work and live together for
Ellen Estabrook
A Surprise Aurora By Francis Tarasiewicz After 17 months of working at New England's highest peak, it finally happened. On the night of November 12th, 2023, I was lucky enough to view the famous and
Ellen Estabrook
A Glimpse at METAR Reports By Alexis George, Weather Observer & Meteorologist METAR observations are submitted every hour of every day at Mount Washington Observatory. METAR is a format for reporting weather information that gets