The Deep Freeze is Here!
2019-01-10 10:45:46.000 – Tom Padham, Weather Observer/Education Specialist
We've had plenty of extremes so far this winter season on the summit of Mount Washington, from high winds to whiteout conditions and heavy snow, but one thing seems to be missing: extreme cold! Overall temperatures have been fairly mild (by our standards) since December, with our coldest temperatures actually occurring before the winter officially started in November at -26°F on the 22nd. December saw an average temperature of 11°F, slightly above average, and only saw -12°F as our coldest temperature to start the real winter season, pretty benign!
Last winter saw some record setting cold and warmth, but overall was a little more on the warm side. Just over a year ago on January 6th, 2018 we hit a new daily record low of -38°F, the coldest in my 6 years on the summit also. February was quiet the opposite, with a winter season record high of 48°F, t-shirt weather! Although it was cool to say I wore a t-shirt in the middle of the winter on the summit I'd really prefer more of the cold and snow we're known for.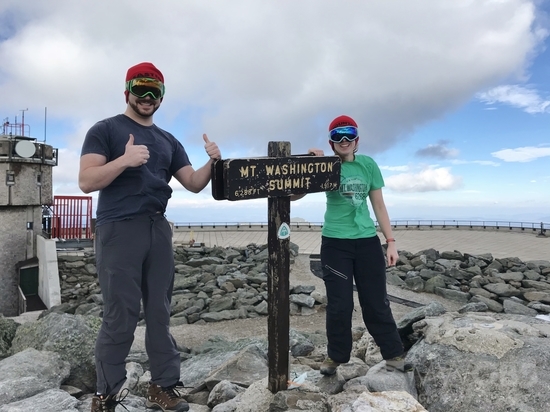 Record setting warmth February 21st, 2018
There looks to be some big changes on the horizon, however. After seeing a pretty big storm system the past several days carve out a new upper level trough it seems the pattern of having mild air across the East is coming to an end for now. Temperatures climbed to near freezing just ahead of the storm on the 8th and 9th, but now we're approaching 0°F (with 13" of new snow and counting!). Much colder air will continue to pour into New England tonight and through the weekend, with temperatures likely bottoming out around -15°F sometime Saturday night. Winds will also be impressive during this time frame, potentially exceeding 120 mph, with wind chill values approaching -65°F.
This weekend may just be the "appetizer" for an even more impressive cold snap during the middle to late part of next week. An arctic cold front looks set to cross New England sometime Tuesday night through Thursday morning, with potentially the coldest air of this winter so far. Very cold air looks to be locked in place over Northeast Canada, and depending on the strength of the clipper/arctic front some of this frigid air may spill into northern New England by Thursday. This morning's GFS model so far is the coldest, and would bring readings of near -30°F to the summit if it verifies. While I'm not always a huge fan of bitter cold, this would be another thing to check off the list so far this winter, and we always enjoy our extremes up here!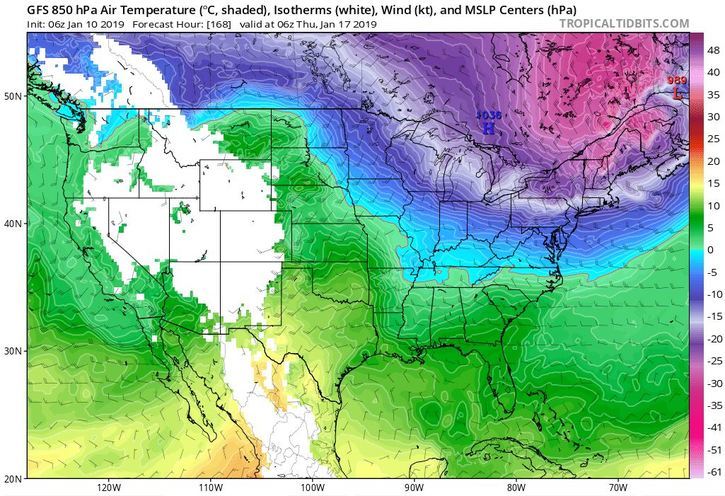 GFS Model 850 mb temperatures (roughly 5k feet asl) showing sub-zero readings across the Northeast Thursday morning. Image courtesy of Tropical Tidbits.
Tom Padham, Weather Observer/Education Specialist
Ellen Estabrook
Adjusting to Life on the Summit By Charlie Peachey Working on the summit of Mount Washington is not your average job. There aren't too many other places where the employees work and live together for
Ellen Estabrook
A Surprise Aurora By Francis Tarasiewicz After 17 months of working at New England's highest peak, it finally happened. On the night of November 12th, 2023, I was lucky enough to view the famous and
Ellen Estabrook
A Glimpse at METAR Reports By Alexis George, Weather Observer & Meteorologist METAR observations are submitted every hour of every day at Mount Washington Observatory. METAR is a format for reporting weather information that gets