The Early Climatology of The Summit
2013-10-21 16:36:25.000 – Samuel Hewitt,  Summit Intern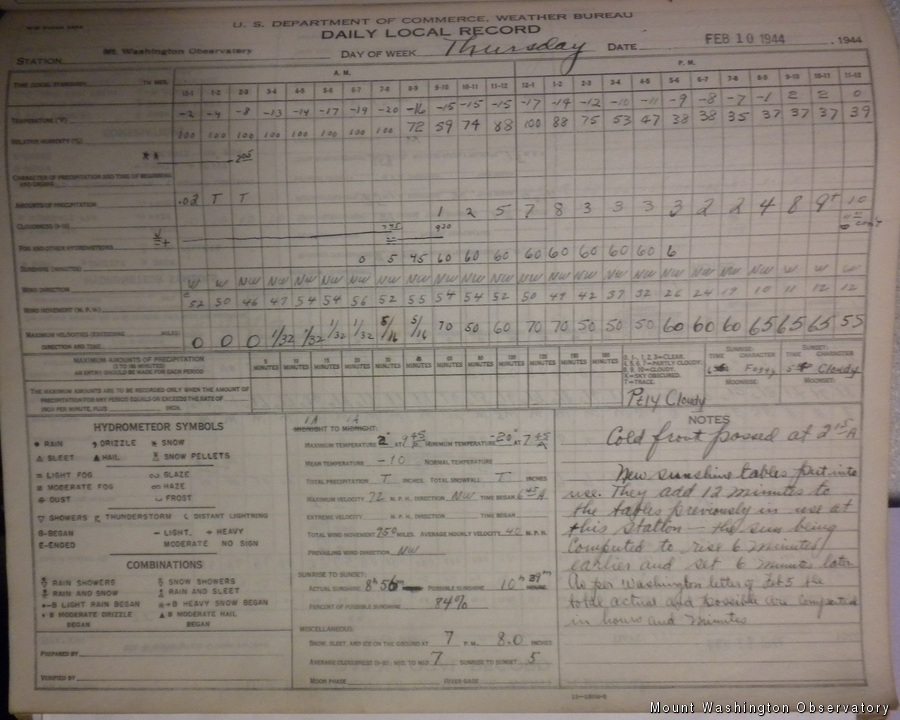 Observations from February 10, 1944
Since 1932 here on the summit, an observer has gone outside once an hour, 24 hours a day, 365 days per year to take a weather observation. In that time, we have collected nearly 81 years of data; one of the longest, continuously running climate records in the nation. This data is very important to us, as it can be used for research. Currently, intern Tom Padham is using the summits wind data to evaluate its gustiness, so that one day we will have confidence in saying, for example, that with a southeast wind at 60-80 mph, the highest possible gust we could see would be 95 mph.
With computers only becoming prominent over the last 10+ years, the majority of our data is written down in books. Each book contains one year worth of observations. As one can imagine, trying to perform an analysis using tens of thousands of numbers without that data stored on a computer is near impossible.
That is where my intern project comes in. from 1932 to about 1950; much of our data has not been converted into digital format. Starting in 1948 and working my way backwards, I have been entering in various meteorological variables for each hour of every day. These include temperature, precipitation, sky cover, wind speed and direction, visibility, etc. One of the big challenges with this project is that early data collection varies from today's methods. For example, back then, fog was categorized as light, moderate or heavy, whereas today it is simply recorded as just fog. Also, some of the symbols used in earlier years to denote various meteorological phenomena are unlike the ones used today. This makes the process somewhat of a challenge, however I find it to be very interesting!
Samuel Hewitt,  Summit Intern
Ellen Estabrook
Adjusting to Life on the Summit By Charlie Peachey Working on the summit of Mount Washington is not your average job. There aren't too many other places where the employees work and live together for
Ellen Estabrook
A Surprise Aurora By Francis Tarasiewicz After 17 months of working at New England's highest peak, it finally happened. On the night of November 12th, 2023, I was lucky enough to view the famous and
Ellen Estabrook
A Glimpse at METAR Reports By Alexis George, Weather Observer & Meteorologist METAR observations are submitted every hour of every day at Mount Washington Observatory. METAR is a format for reporting weather information that gets