The Premiere Major Winter Event
2016-10-20 14:27:19.000 – Mike Carmon, Senior Weather Observer & Education Specialist
A significant storm system has its sights set on New England this weekend, which could result in the first big major winter snap for Mount Washington this young season.
It's an intriguing setup to say the least–a low pressure system forecasted to develop over the mid-Atlantic states on Friday will join forces with a tropical disturbance currently churning just east of the Bahamas. As these systems phase together and move northward, the resulting low pressure system will rapidly deepen over northern New England early on Saturday. This, in combination with high pressure strengthening over the deep South, will result in rapidly increasing wind speeds as the pressure gradient over New England tightens swiftly and significantly. The tropical moisture feed associated with this system will produce locally heavy rainfall at the onset (and even some thunderstorms!), but as the intense low continues its slow northward progression, it will pull down some of the coldest air of the season yet. While not technically a classic Nor'easter, the effects will be very much the same across much of northern New England (lots of wind and rain).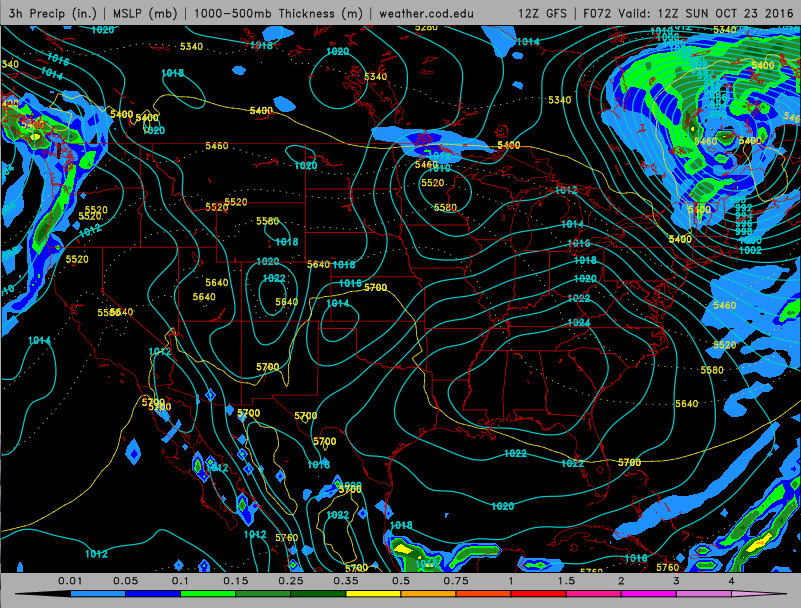 The 7AM EST projected setup (GFS model) depicts the strong low pressure system centered just north of New Hampshire.
On Mount Washington, however, as the cold air pours in behind this system on Saturday afternoon/evening, the rainfall will transition to purely snow, possibly dropping several inches across the higher summits of the White Mountains. Wind speeds will continue to accelerate on Sunday, likely gusting well in excess of 100 mph on the summit of Washington and surrounding mountain peaks, whipping up the newly-fallen snow into potentially near-white-out conditions. A cold, windy, and icy/snowy pattern will remain firmly in place through early next week, with even some valley locations possibly experiencing their first snowfall of the season!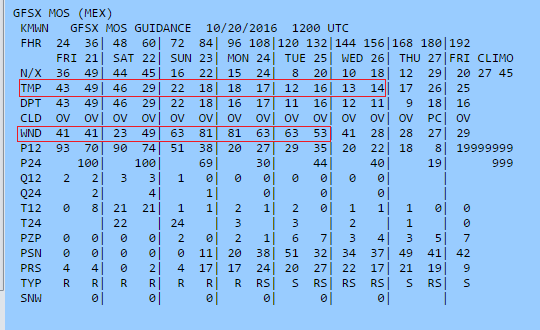 Model Output Statistics (MOS) for the GFS model predict temperatures (TMP) dropping into the teens (degrees F) by Sunday, with wind speeds (WND) increasing to as high as 81 knots sustained (93 mph).
Be sure to stay up-to-date on the official weather forecast for the weekend with our 48-hour higher summits
forecast
.
Mike Carmon, Senior Weather Observer & Education Specialist
Ellen Estabrook
Adjusting to Life on the Summit By Charlie Peachey Working on the summit of Mount Washington is not your average job. There aren't too many other places where the employees work and live together for
Ellen Estabrook
A Surprise Aurora By Francis Tarasiewicz After 17 months of working at New England's highest peak, it finally happened. On the night of November 12th, 2023, I was lucky enough to view the famous and
Ellen Estabrook
A Glimpse at METAR Reports By Alexis George, Weather Observer & Meteorologist METAR observations are submitted every hour of every day at Mount Washington Observatory. METAR is a format for reporting weather information that gets