The Role of Elevation-Based Forecasts in Backcountry Safety
By MWOBS Staff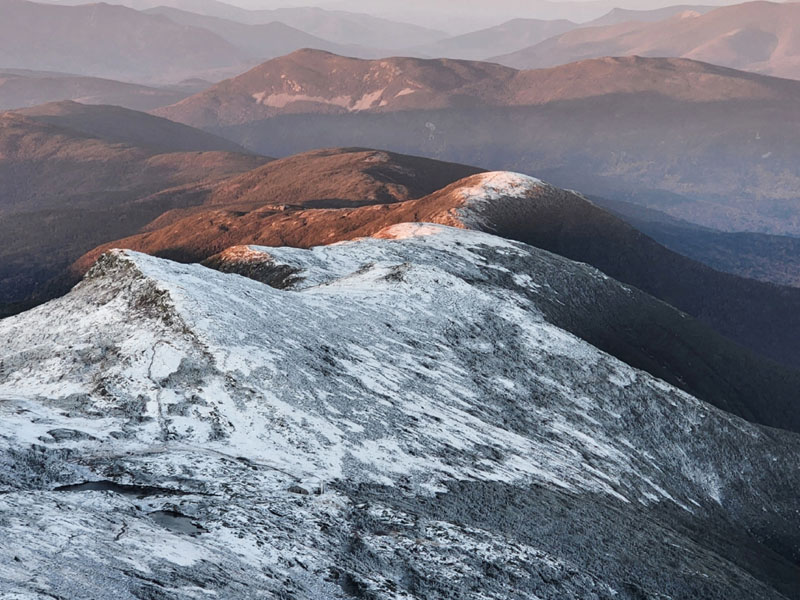 The southern Presidential Range summits with snow at sunrise on Oct. 11. If you value our work in mountain forecasting, consider supporting our mission.
Spreading the word about severe weather in the White Mountains has become an increasingly high priority for groups aiming to improve hiker decision-making.
Rescue missions continue at a consistent annual pace, according to New Hampshire Fish and Game, and recent fatalities of under-prepared hikers who ventured alone into the mountains elevate the importance of safe hiking practices and public awareness about higher-elevation weather conditions.
On the prevention side of search and rescue, work by several organizations is yielding measurable results in the region's growing backcountry community.
In 2022, one group of volunteers spoke with over 27,000 hikers at popular trailheads leading to the mountain range's unique alpine tundra, which produces extreme cold, wind, and precipitation.
Their advice to hikers at the Appalachia, Ammonusuc, Champney Falls, Old Bridle Path, and Welch-Dickey trailheads resulted in more than 3,400 people modifying their plans during the past year, from mid-May through the end of October.
John Marunowski, who started the Trailhead Steward Program eight years ago with some maps and a pickup truck, described these locations as "great bottlenecks." At the time, he noted an increase in both rescues and natural resource damage while working as a U.S. Forest Service ranger in the Pemigewasset Wilderness.
The group now includes 200 volunteers and hosts a training every spring. Marunowski, the White Mountain National Forest's (WMNF) partnership and volunteer coordinator, thinks of the program as "hikeSafe on the road," referring to New Hampshire's mountain safety program.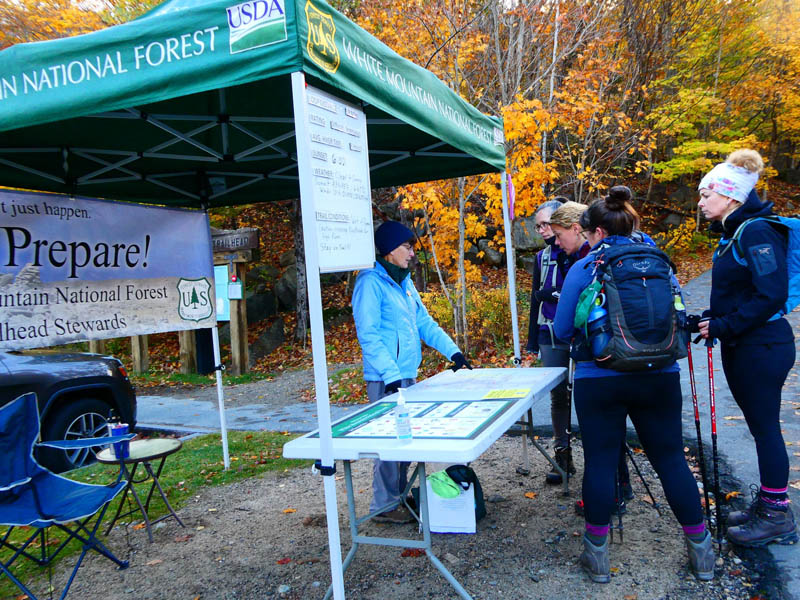 A Trailhead Steward Program volunteer reviews trail routes with hikers. Image courtesy of the White Mountain National Forest.
Taking a hospitality approach, the volunteers field questions about trail routes and ask hikers about the gear they've brought. But their main focus is to inform visitors about weather above treeline, which is often wildly different than at trailheads.
Marunowski described Mount Washington Observatory's Higher Summits Forecast as "a critical component of our program," adding that "there is a bit of shock and awe that we are giving to the public."
During the warmer months, when people learn they need to anticipate temperatures in the 40s along with 50 mph winds at higher elevations, they often stop in their tracks.
"The Higher Summits Forecast is critical to hooking people in with data," Marunowski said. "The weather could make or break your trip and cause you to get into trouble."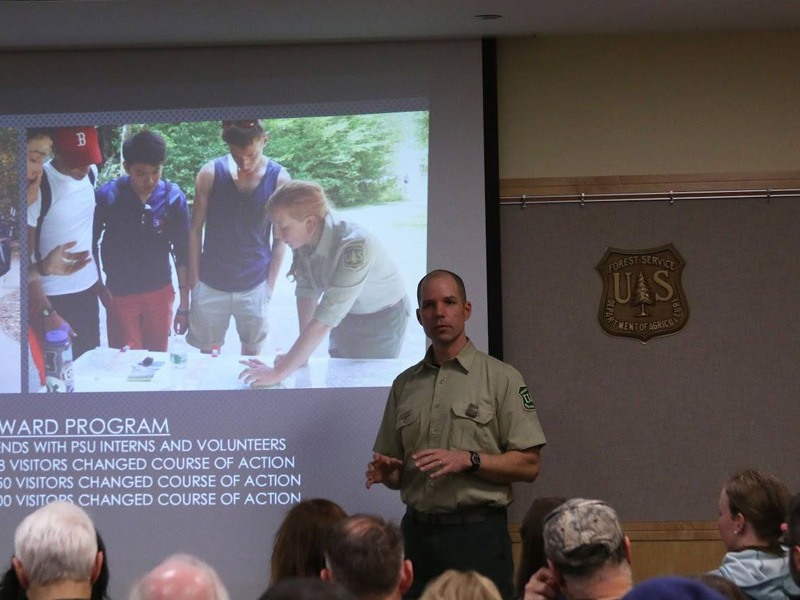 John Marunowski leads a Trailhead Steward Program training session.
On June 18-19, which Marunowski called "the big weekend," about 70% of hikers, or 250 people, who talked with program volunteers at the Old Bridle Path trailhead in Franconia Notch changed their plans after being armed with the Observatory's elevation-based forecast, which called for temperatures falling into the 20s and winds increasing to 60-80 mph, with a chance of rain and snow showers.
Marunowski also leads the Backcountry Steward Program, which involves volunteers hiking trails and talking with the public. In 2022, program volunteers covered over 1,000 miles and made contact with more than 2,500 backcountry hikers, resulting in 162 people modifying their plans.
The twice-daily Mount Washington and Higher Summits forecasts, created by Observatory meteorologists with expertise in analyzing weather across complex terrain, are read by 20,000 unique visitors per week, on average, at mountwashington.org. An automated text service launched last year increased access to this information in the backcountry. Sending a text to 603-356-2137 triggers a response with the Current Summit Conditions and forecast summary.
In a recent effort to continue building weather safety awareness at trailheads, the WMNF, New Hampshire State Parks, Appalachian Mountain Club (AMC), and Randolph Mountain Club partnered with the Observatory to install over 100 new warning signs at locations leading to summits in the Presidential Range and Franconia Notch.
The bright yellow signs, printed on 1/8" sturdy metal, warn of potentially dangerous weather up high while promoting the text service, which has responded to over 32,000 requests for weather updates since it was launched in December 2021.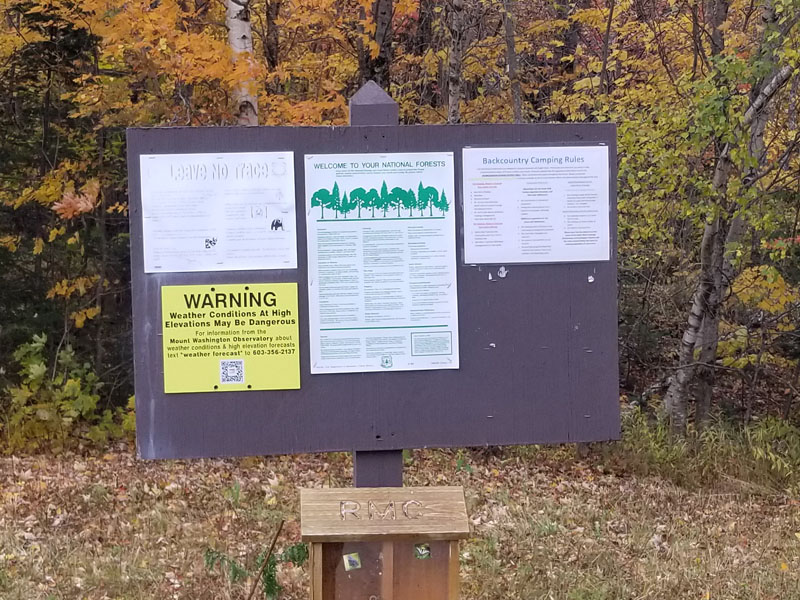 New signs at trail heads leading to upper elevations in the White Mountains warn of potentially dangerous weather.
The AMC's Pinkham Notch Visitor Center serves as another hub for hiker activity in the Presidentials. Hikers, climbers, and backcountry skiers often congregate in the pack room before accessing trails leading to the summit or exploring the Great Gulf Wilderness.
A front-country base camp for Mount Washington, Pinkham Notch offers overnight stays, refuge for hikers, and a base for search and rescue missions.
The Higher Summits Forecast is reported every evening at dinner to guests staying at Joe Dodge Lodge, located at Pinkham Notch, helping them plan according to the next day's weather.
Higher up in the White Mountains at AMC's eight huts, the forecast is read aloud to guests at breakfast every morning.
"It's a captive audience. Everyone staying at the hut is there," said James Wrigley, AMC's director of White Mountain lodging operations.
He described the Observatory's forecast as "my go-to when heading out for field visits" at AMC huts, adding that it's tailored to complex weather systems moving through the White Mountains, in contrast with standard smart phone forecasts that average out data from computer models.
"For the huts and our lodges, the forecast is pretty invaluable to be able to share with folks what they're going to be getting into in the next 48 hours," Wrigley said.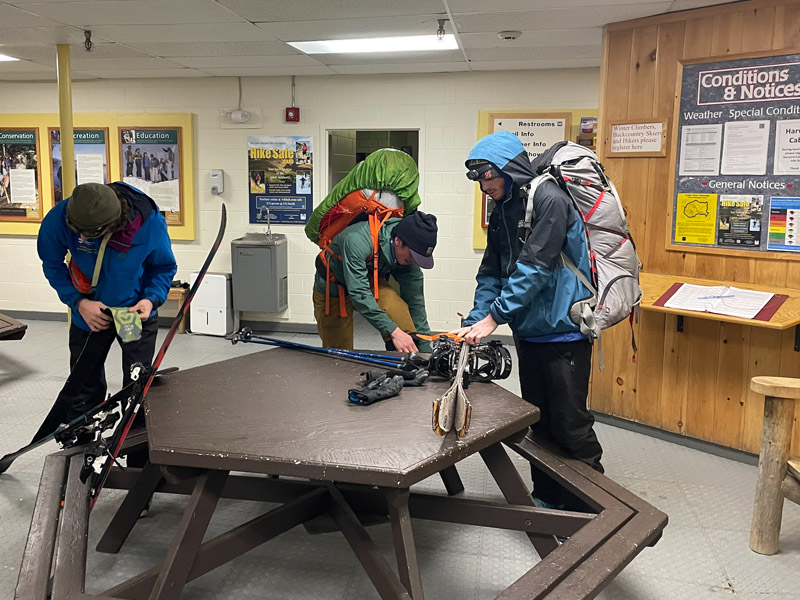 Skiers prepare their gear in the pack room at AMC's Pinkham Notch Visitor Center before heading out to Hermit Lake Shelters. Image courtesy of AMC.
When the huts are full in summer and fall, that means a few hundred people will be heading onto hiking trails, with significant numbers planning to get above tree line. All are informed about conditions to expect and the uncertainties inherent in mountain weather.
"We would always rather prevent a search and rescue than respond to one," Wrigley said. "Weather is a huge part of that in the Presidentials, where conditions are so dynamic. It can snow in June and July. We have that reality to help people make the right decisions."
Hikers are often surprised that it's 30 °F on the summit of Mount Washington, and realizing they are undertaking something serious, enhance their preparation.
"The opportunity to frontload that information with folks when they're getting out on the trails, that is huge," Wrigley said.
From June to September, the huts not only offer lodging for well-prepared hikers but also for the injured or under-prepared in need of refuge.
"People come in drenched to the bone, and we give them soup and hot water as they're getting themselves back together to get down the mountain," Wrigley said. About 400 people needed to take refuge last summer, and another 370 needed to stay overnight because they were injured or couldn't continue with their planned hike.
When search and rescue incidents happen, AMC hut crews and caretakers are often closest in proximity. They're on call 365 days a year, 24/7, and in 2022 they have responded to over 50 incidents, spending 450-500 hours on response time. Before they head out on a rescue, it's a protocol to check the Higher Summits Forecast.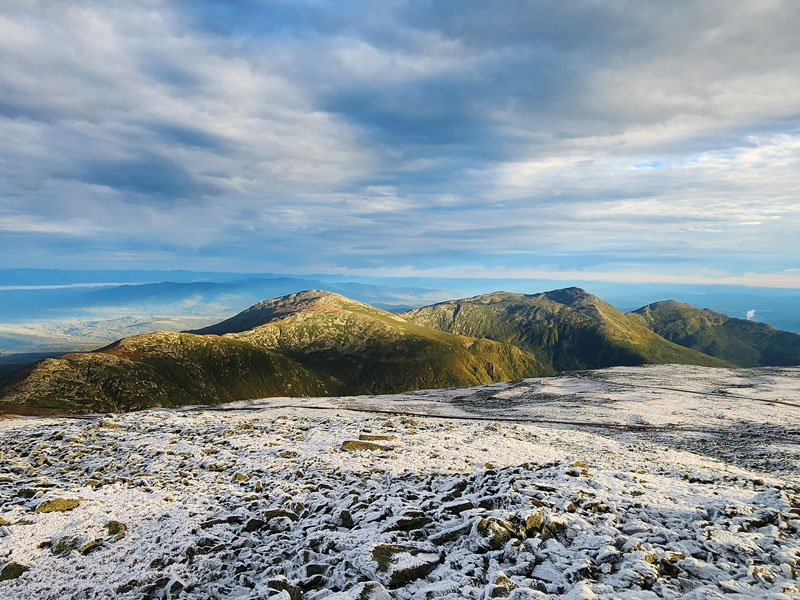 Snow and ice coat the summit cone of Mount Washington in the foreground as the morning sun illuminates the northern Presidential Range on Sept. 25.
Numerous other organizations have expert mountaineers on call 24 hours a day for search and rescue in the White Mountains, including New Hampshire Fish and Game, which oversees activity at most times, and the U.S. Forest Service, which oversees activity on the eastern side of Mount Washington in winter and spring. Others include Mountain Rescue Service, Androscoggin Valley Search and Rescue, the Pemigewasset Valley Search and Rescue Team, Lakes Region Search and Rescue, and New Hampshire State Parks.
Jeff Fongemie is acting director and lead snow ranger at the Mount Washington Avalanche Center (MWAC), which has a two-part mission of prevention and search and rescue. In winter and spring, the MWAC, part of the Forest Service, leads search and rescue for Tuckerman Ravine and the Cutler River drainage.
Once the snow fields fill in, an avalanche specialist on Fongemie's team heads out each day on Mount Washington to assess hazards and publish a safety advisory about elevation-based avalanche risk across an area of 106 square miles. They also issue an avalanche-related weather forecast, including details such as snowfall and wind speeds.
If he's forecasting for the next day, Fongemie heads into the field, conducts snow stability tests to make an assessment, then checks the Observatory's forecast before going to bed, "thinking about what's going to change overnight," he said.
He factors in historical weather data from mountwashington.org, and in the morning, "the Higher Summits Forecast is key for us," Fongemie said.
When he's running dispatch for a search and rescue mission, the forecast serves as a decision-making tool, helping him decide whether it seems like a night when he can send a rescue crew above treeline.
"We do our best to push the limits as much as we can, and the forecast is part of that," Fongemie said.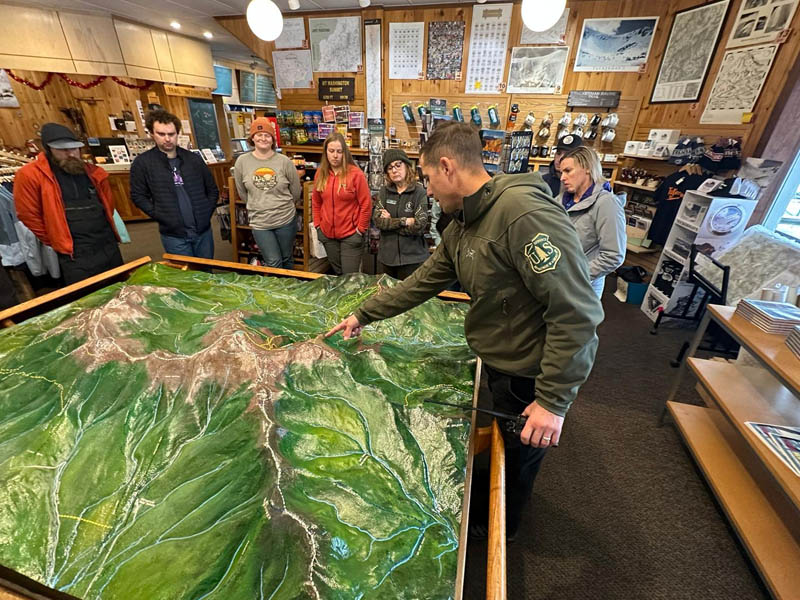 Jeff Fongemie leads search and rescue and avalanche safety messaging training at Pinkham Notch Visitor Center in early December. Image courtesy of MWAC.
From trailheads to front-country lodges, backcountry huts, and even on the steep, rocky paths above treeline, many people participate in communicating the mountain weather forecasts that are created each day at the summit of Mount Washington, aiming to educate and inform visitors about decision-making in the face of risk in the White Mountains.
New Hampshire Fish and Game Lieutenant James Kneeland said the total number of search and rescue missions conducted annually during the past three decades has remained steady, ranging from 180 to 200 missions per year.
"What has changed is we have far more people going into the mountains than we ever did. With more people out there, you would think more rescues would be needed. But numbers are staying steady," Kneeland said, adding that communication efforts focused on weather safety and responsible outdoor recreation seem to be making a difference.
Kneeland has been coordinating missions for the past 10 years, and previous to that spent 20 years as a first responder with Fish and Game.
Mount Washington Observatory is a nonprofit research and educational institution. Our work in mountain meteorology and climate science relies on your financial support. If you value our mission, please donate today.
Ellen Estabrook
Adjusting to Life on the Summit By Charlie Peachey Working on the summit of Mount Washington is not your average job. There aren't too many other places where the employees work and live together for
Ellen Estabrook
A Surprise Aurora By Francis Tarasiewicz After 17 months of working at New England's highest peak, it finally happened. On the night of November 12th, 2023, I was lucky enough to view the famous and
Ellen Estabrook
A Glimpse at METAR Reports By Alexis George, Weather Observer & Meteorologist METAR observations are submitted every hour of every day at Mount Washington Observatory. METAR is a format for reporting weather information that gets