This Weeks #MWOMetMonday
2015-10-19 18:33:57.000 – Adam Gill, Summit Intern
This week we had a decent amount of questions! It was hard to choose just two questions to answer.

This is the first question from Nancy. During November, we have just 3 full time observers and an intern on each shift, since November is a quiet time for the summit with no overnight trips scheduled. Once we start having day trips and overnight trips in December, two volunteers will join us to help out with cooking bringing the total to 6 people for the rest of winter. Each shift stays up for a week at a time from Wednesday to Wednesday unless the weather is too bad then we may have to switch shift change to Tuesday or Thursday.

We have had multiple people ask us how snow is measured up here on the summit. Getting accurate snow measurements becomes increasingly difficult as the winds increase. We have a precipitation can that is placed on the summit in a slightly sheltered, but also open location with the summit to the northeast and the Sherman Adams building to the west to help slow the winds somewhat. The can is also placed far enough away so that drifting snow would not affect the precip can in any sort of way. The top of the can is about four feet off the ground to prevent as much blowing snow as possible from getting into the collection area. There is also a lip around the edge that helps slow down the falling snow so it would fall right into the can. In strong winds, the snow will still blow right over the can or get pulverized into ice crystals from hitting the side of the can so the snow is denser and compressed. This results in lower values for total snowfall but will melt down to an accurate liquid water equivalent, unless little snow actually fell into the can from extremely high winds. In the case where the amount of snow seems completely unrealistic (sometimes far too much or far too little due to very high winds and blowing snow) snowfall is estimated by the observers on duty.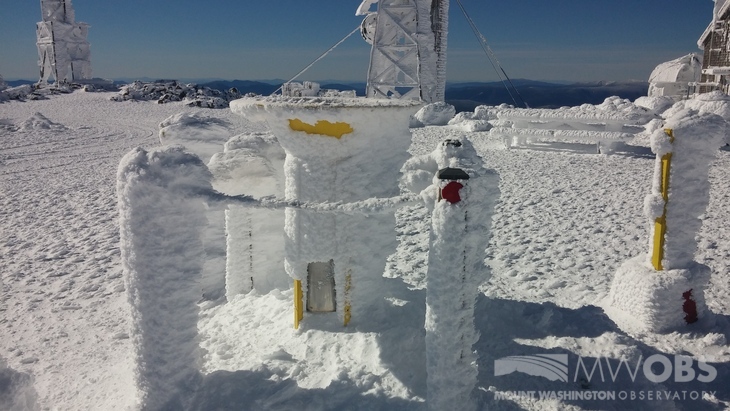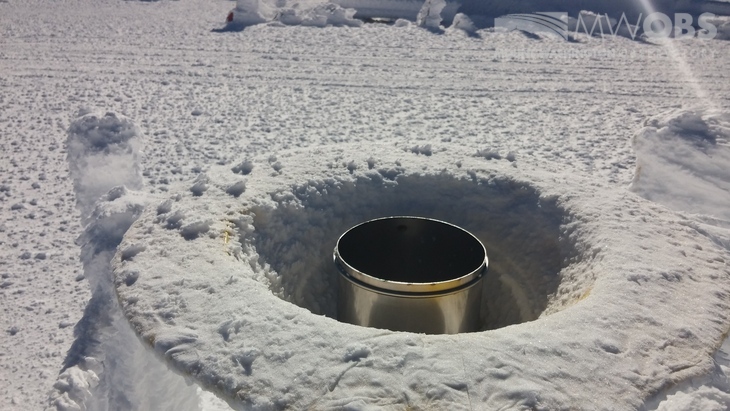 Every 6 hours, we go out and switch precipitation cans and bring the can inside to measure the snow. We start to measure the snow as soon as it gets inside to prevent any loss due to melting. When the depth is measured, at least 10 points are measured at the bottom of the can due to snow falling unevenly into the can. If there were strong winds then much of the snow could have piled up on one side so taking an average of the 10 points will be much closer to the actual amount that fell.
If your question wasn't answered, there are many #MWOMetMondays to come!
Adam Gill, Summit Intern
Ellen Estabrook
Adjusting to Life on the Summit By Charlie Peachey Working on the summit of Mount Washington is not your average job. There aren't too many other places where the employees work and live together for
Ellen Estabrook
A Surprise Aurora By Francis Tarasiewicz After 17 months of working at New England's highest peak, it finally happened. On the night of November 12th, 2023, I was lucky enough to view the famous and
Ellen Estabrook
A Glimpse at METAR Reports By Alexis George, Weather Observer & Meteorologist METAR observations are submitted every hour of every day at Mount Washington Observatory. METAR is a format for reporting weather information that gets