Three Snowstorms, Two Arctic Outbreaks, One Big Challenge
2018-02-01 14:13:16.000 – Mike Carmon, Senior Meteorologist & Education Specialist
This winter has thus far been another typical New England roller coaster ride, with snowstorms and rainstorms, arctic outbreaks and record high temperatures, clear days and cloudy ones, high winds and even some flooding.
After a snowy start to the Winter of 2017-2018, January brought with it the proverbial thaw that is steeped in the oldest of New England traditions. Although there were a few snowy and chilly exceptions, on the whole, January saw the near-total desolation of our finely-built snowpack that December so kindly bestowed upon the White Mountains. The finely packed powder has unfortunately turned to a pervasively slippery and sloppy mess throughout the region, creating challenges for backcountry adventurers and day-to-day commuters alike.
Change is on the way, however.
The next week of weather has summit meteorologists honing their forecasting chops, as a big challenge lies in store in the days to come.
FRIDAY:
After today (Thursday's) minor snow storm, an arctic cold front will blast through New England, bringing a swift return of bitterly cold air. Temperatures will fall steadily on top of Mount Washington through the day on Friday and into Friday night, bottoming out in the 25-30 below zero F range overnight. Strong winds will accompany too, sending wind chills down to 65-75 below F territory during the wee hours of Saturday.
SATURDAY:
Although temperatures will be "warming" (using this term generously here) through the day on Saturday, they'll remain chilly enough to pose lingering dangers to anyone caught outdoors unprepared. With freezing fog and breezy conditions remaining in place, Saturday will be a coldly-challenging day in the Alpine Zone with 10 below F just out of reach.
SUNDAY:
A large system will move out of the Great Lakes and speed towards the eastern seaboard on Sunday. In it's advance, light snow will begin to fall along a frontal boundary extending northeastward from this system. The system will intensify though as it draws closer, spreading snowfall across most of New England (with mixing possible in coastal locations) late Sunday through the overnight and into early Monday morning. There is still a good deal of uncertainty in the track of this storm, but a significant Nor'easter type event is a decent possibility to wrap up the first weekend of February.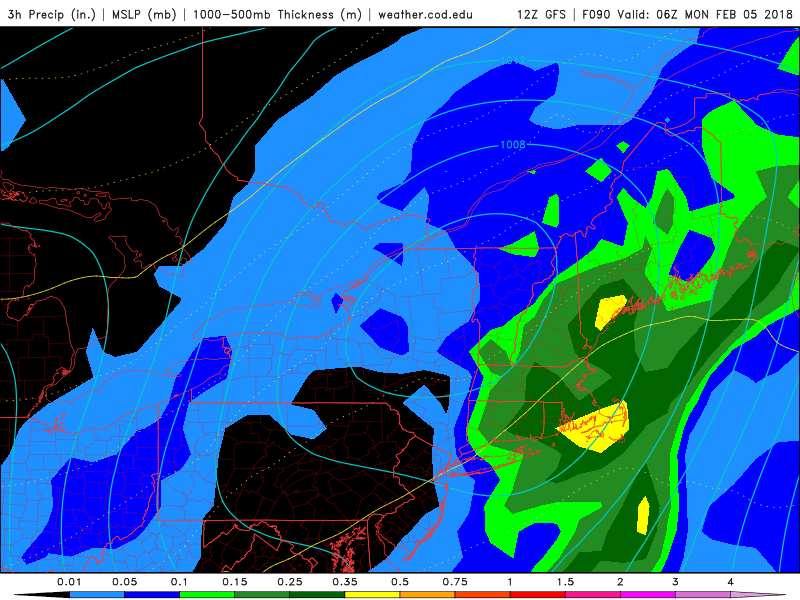 Caption: Sunday Night's Potential Storm
MONDAY:
As Sunday night's storm system quickly exits to the east, another push of cold air will rush in behind the low, bringing another brief cool-down along with some breezy conditions throughout the Northeast. The newly fallen and snow, gusty winds, and chilly temperatures will bring the recently-lacking wintertime feel back with a vengeance.
TUESDAY:
Tuesday may be the only somewhat nondescript day weather-wise, as high pressure makes a brief appearance over New England. Clearing skies, calming winds, and moderating temperatures will be a brief respite before…
WEDNESDAY:
…If it's Wednesday, it must mean another storm! Although it's still nearly a week into the future, computer models are hinting at another significant round of snowfall through the day on Wednesday.
Let the ride begin!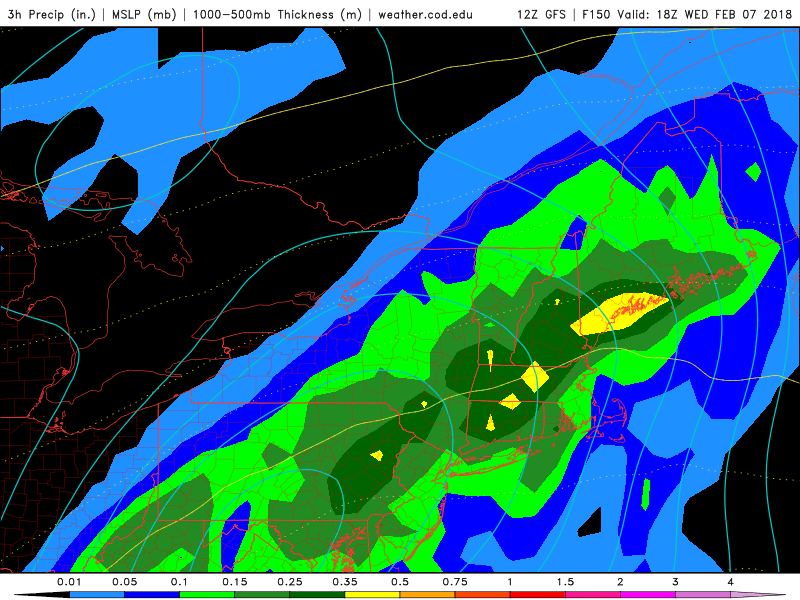 Caption: Wednesday's Potential Storm
Mike Carmon, Senior Meteorologist & Education Specialist
Ellen Estabrook
Adjusting to Life on the Summit By Charlie Peachey Working on the summit of Mount Washington is not your average job. There aren't too many other places where the employees work and live together for
Ellen Estabrook
A Surprise Aurora By Francis Tarasiewicz After 17 months of working at New England's highest peak, it finally happened. On the night of November 12th, 2023, I was lucky enough to view the famous and
Ellen Estabrook
A Glimpse at METAR Reports By Alexis George, Weather Observer & Meteorologist METAR observations are submitted every hour of every day at Mount Washington Observatory. METAR is a format for reporting weather information that gets