Tropical Storm Colin
2016-06-06 17:03:12.000 – Andrea LaRocca, Summit Intern
As a Florida native, I am no stranger to tropical weather systems every year we get at least 2 or 3 named systems, yet I have never experienced hurricane force winds in the flesh. Over the last 23 years that I have lived in Florida, the only tropical storms that I have encountered have been pitiful tropical depressions with barely gusty winds and heavy rain. They were enough to knock power out for 2 weeks, but that's not saying much as North Florida is not equipped to deal with winds of that intensity (low hanging Oak branches and power lines to not bode well together).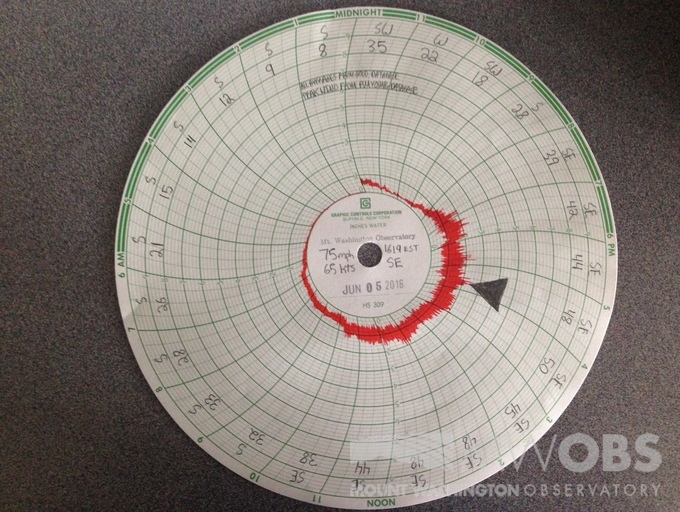 As I sit here on the summit, having just experienced hurricane force gusts, less than 24 hours ago, with a strong low pressure system that moved through, Tropical Storm Colin is making its way towards the Florida Gulf coast. Not two months ago, I left Tallahassee, which is situated 30 miles inland on the Florida Panhandle in a region known as the Big Bend, to embark on my journey here at Mount Washington. During my five years in Tallahassee we had a good number of systems "threaten" to make landfall in the vicinity, but they always got pushed west towards the Louisiana coast or south-east towards the Gulf shores near Tampa and St. Petersburg. The anticipation of a tropical system was always thrilling, but unfortunately very short lived.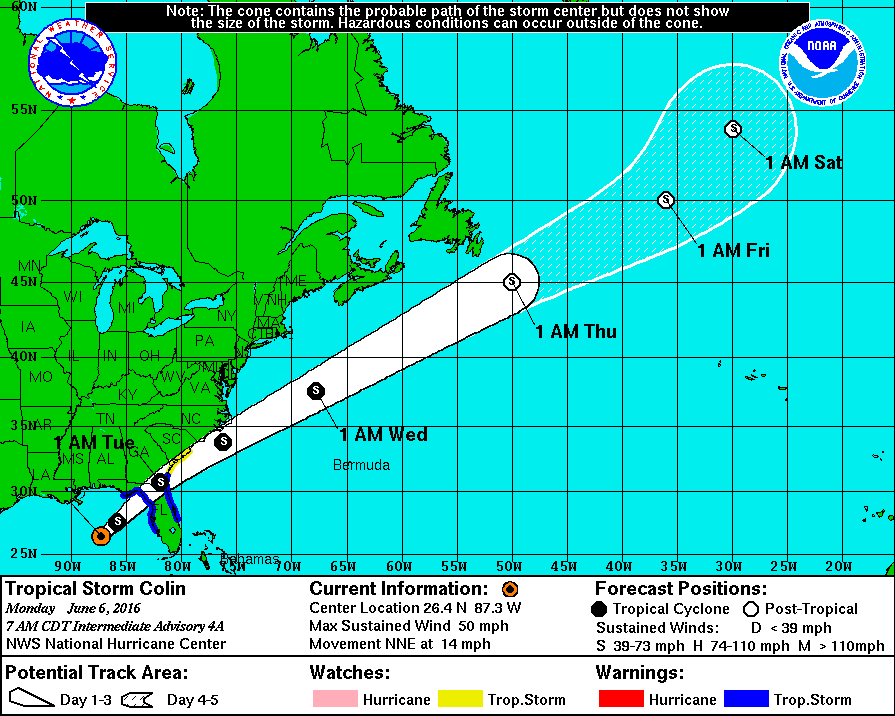 At the moment, Tropical Storm Colin is churning in the Gulf of Mexico, expected to make landfall just east of Tallahassee over the next 24 hours. Tropical Storm Colin is a moderately strong tropical storm with sustained winds of ~50 mph, with higher gusts possible. The main threat with this system, however, is rain where as much as 4.5″ is expected to fall, in the next 24 hours, in and around the Tampa-St. Pete area. At this time, Colin is not expected to strengthen due to poor organization and strong upper-level winds associated with a large baroclinic low over the Southern United states. However, even with no strengthening expected, this system will still present a hazard to the low-lying regions of the Florida coast, therefore to all my friends and family, stay safe and remember turn around, don't drown.
Andrea LaRocca, Summit Intern
Ellen Estabrook
Adjusting to Life on the Summit By Charlie Peachey Working on the summit of Mount Washington is not your average job. There aren't too many other places where the employees work and live together for
Ellen Estabrook
A Surprise Aurora By Francis Tarasiewicz After 17 months of working at New England's highest peak, it finally happened. On the night of November 12th, 2023, I was lucky enough to view the famous and
Ellen Estabrook
A Glimpse at METAR Reports By Alexis George, Weather Observer & Meteorologist METAR observations are submitted every hour of every day at Mount Washington Observatory. METAR is a format for reporting weather information that gets