True Arctic Air Invades the Higher Summits
2012-02-12 19:57:12.000 – Rick Giard,  Weather Observer / Education Specialist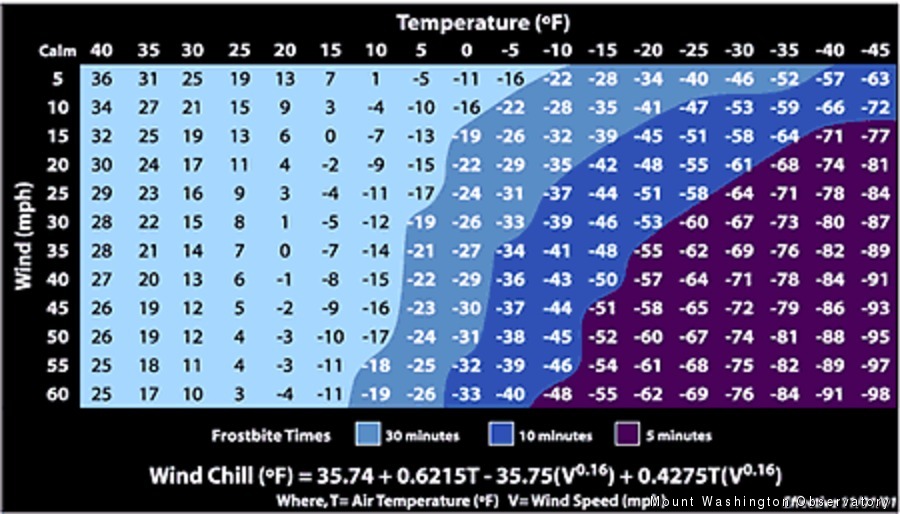 =$caption?>Wind Chill Index Chart
A WIND CHILL WARNING IS IN EFFECT ON THE HIGHER SUMMITS…
Can this be winter at last? A true arctic air mass, bred in central Quebec, has crashed the international border to make its presence known on the higher summits. This blast will be the coldest of the season thus far. Although it is indeed also cold elsewhere in the region, today the Rock Pile thermometers have been running around 30 degrees colder than central and southern New Hampshire. The National Weather Service has warned that "…wind chills will reach dangerous levels of minus 20 or colder" in the region. Well, if minus 20 is dangerous, then our current summit wind chill factor of minus 70 is quite impressive.
What does it take to hit minus 70 wind chills? At this time (6:49 P.M.) the sustained wind speed is 76 MPH, with a 15-minute peak gust of 87 MPH. That moving air, coupled with the mercury dipping below minus 23 Fahrenheit, removes body heat so rapidly that exposed skin can freeze in less than 5 minutes! Early this morning, while deicing instruments atop the tower during more modest wind chill readings of about minus 40, nearly every inch of my skin was covered. The exception was a tiny gap in between the goggles and face mask, in the area just below the eyes. Less than 10 minutes exposure was enough to freeze the outermost layer of skin on the upper cheek bones.
The moral of this narrative is to take extremely careful precautions if you intend to venture outdoors, overnight tonight through Monday evening. Particularly on the higher summits, one small mistake or accident on the trail could have serious consequences. And, if you should notice any tingling, numbness or pain in your extremities – head below tree line to a sheltered area immediately. Turn around, be safe, and return another day when conditions are more moderate. The upper-level trough that is creating current conditions is expected to move eastward in the morning, initiating a shift in flow patterns and slowly moderating temperatures.
Rick Giard,  Weather Observer / Education Specialist
Ellen Estabrook
Adjusting to Life on the Summit By Charlie Peachey Working on the summit of Mount Washington is not your average job. There aren't too many other places where the employees work and live together for
Ellen Estabrook
A Surprise Aurora By Francis Tarasiewicz After 17 months of working at New England's highest peak, it finally happened. On the night of November 12th, 2023, I was lucky enough to view the famous and
Ellen Estabrook
A Glimpse at METAR Reports By Alexis George, Weather Observer & Meteorologist METAR observations are submitted every hour of every day at Mount Washington Observatory. METAR is a format for reporting weather information that gets