Turning 30 on Mount Washington!
2019-04-30 20:24:01.000 – Ian Bailey, Weather Observer/Education Specialist
Last Wednesday I hit a milestone in my life. On the way up to the summit, I turned 30 years old! Admittedly, I was a little sad that I wouldn't be at home with my family to celebrate surviving 30 trips around the sun. Fortunately, the Mountain had some awesome presents to give me! And I am very grateful for the experiences I had as a result.
This has been my first winter season here on the summit. And there have been plenty of adventures throughout the last 7 months! But we've finally reached the time of year for the "ice wall picture", with the Auto Road crews working on clearing the road. They had exposed the road on a section of Cragway, digging down through 20+ feet of snow and ice to get back to the ground. So on our way up for shift change, right after I crossed over into my 30's, we stopped to take a picture in front of the wall! Check it out! It's so awesome!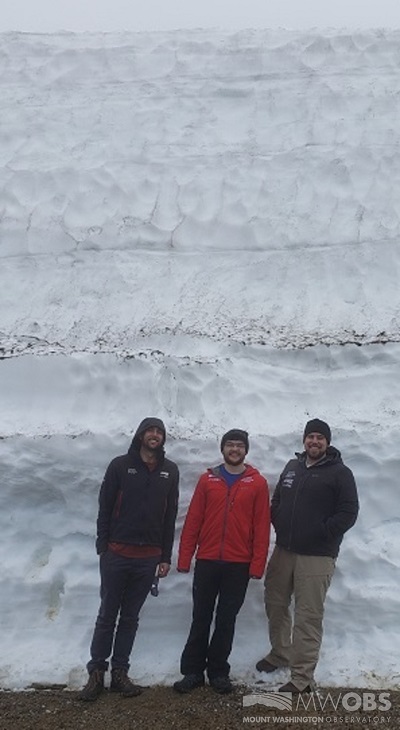 So we put chains on the truck and van and continued on our way to the summit. And on the way up, I was thinking on how long it had been since I had seen snowfall on my birthday. It had been at least a decade, and with temperatures having been warmer than average on the summit lately, I figured it would be a bit more time before I got to see it happen again. However, the mountain had other plans! As soon as we arrived on the summit, after days without snow on the top, it started snowing! And it kept snowing for the rest of the day! I was so excited, and I ran up to take another photo for proof!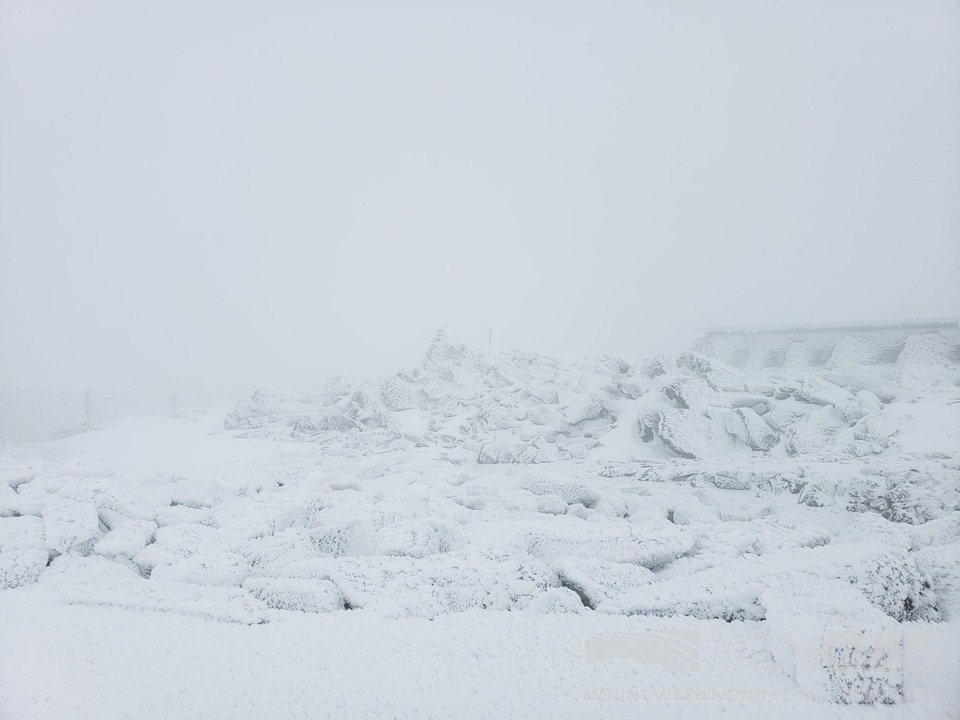 So by the end of the day, I was pretty happy! I had 2 awesome experiences already, and I was getting birthday wishes from all my friends and my family. What I didn't expect was that my birthday "celebration" would carry over into the next day, as the Mountain had 1 more gift to give me.
Since I've been back on the summit, we've had plenty of days of Undercast, with a sea of clouds forming beneath the summit level. But we haven't had a day where the surface was completely obscured in a full 360º circle. So imagine my surprise when I woke up the next morning to start taking obs and saw this: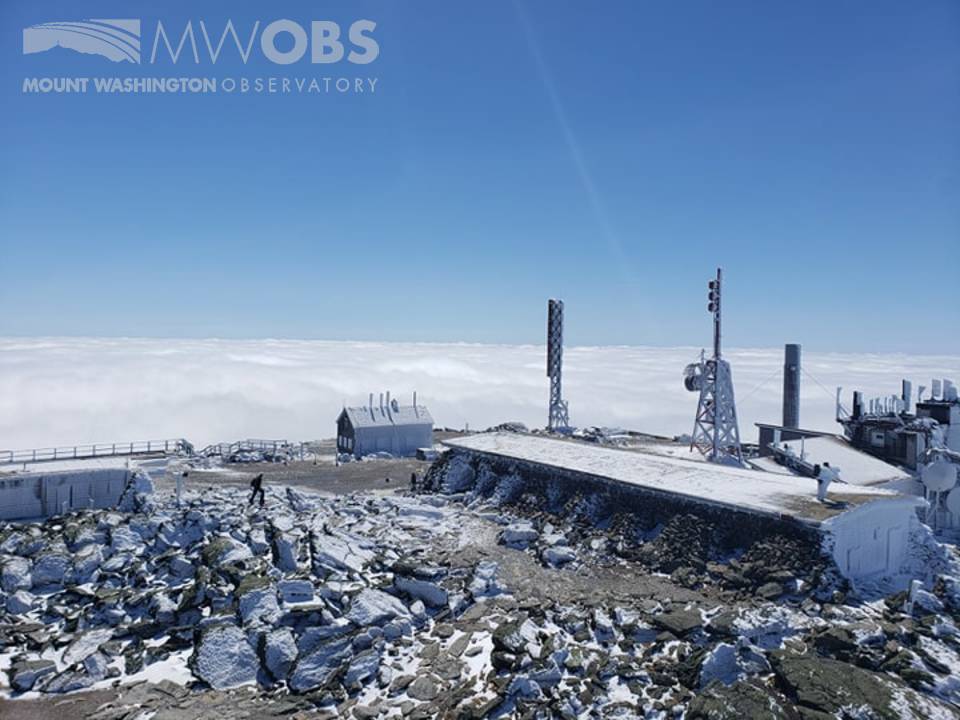 Fun Fact: The gentleman at the Summit Sign was yodeling when I came up lol
So after I took the obs, I went back to the top of the tower and stayed for a while, taking in the amazing view and thinking about how my life has lead me to this point. It has been a wild ride, but I am so thankful that I finally ended up working here and thankful to all the people who helped me get here. Also thank you to my fellow coworkers, Observatory members and followers for the happy birthday wishes! It was a great way to turn 30, and I truly appreciate your kind thoughts!
And finally, thank you Mount Washington for the awesome birthday presents! They are memories that I'll carry with me forever!
Ian Bailey, Weather Observer/Education Specialist
Ellen Estabrook
Adjusting to Life on the Summit By Charlie Peachey Working on the summit of Mount Washington is not your average job. There aren't too many other places where the employees work and live together for
Ellen Estabrook
A Surprise Aurora By Francis Tarasiewicz After 17 months of working at New England's highest peak, it finally happened. On the night of November 12th, 2023, I was lucky enough to view the famous and
Ellen Estabrook
A Glimpse at METAR Reports By Alexis George, Weather Observer & Meteorologist METAR observations are submitted every hour of every day at Mount Washington Observatory. METAR is a format for reporting weather information that gets