TV Meteorologist?
2010-07-12 15:59:54.000 – Hanna Brewer,  Summit Intern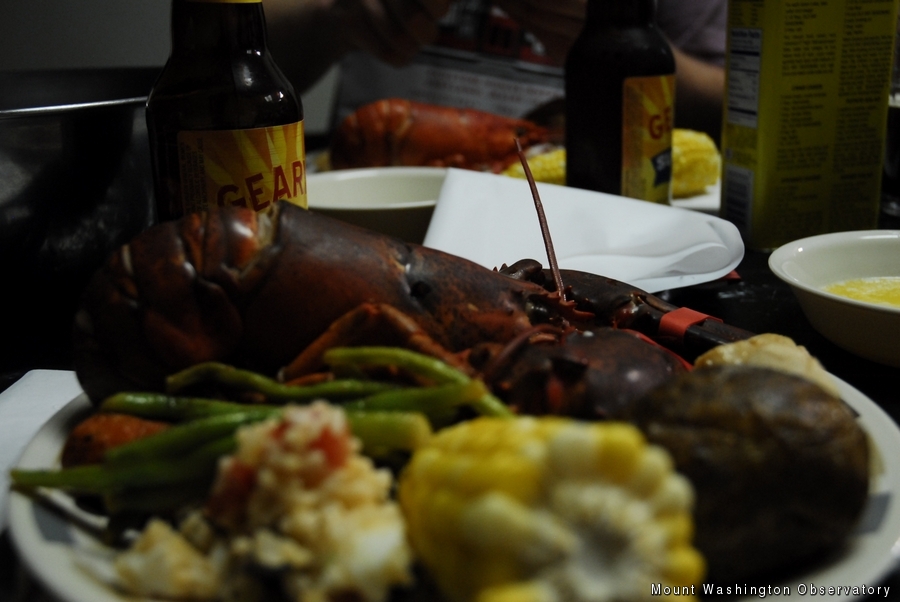 Just some of the food Sarah brought for us
Being a summer intern here on the summit, many of my daily duties involve working with the visitors who come to visit the home of the World's Worst Weather. Rebecca and I spend a lot of time giving tours to observatory members, working in the summit museum, and doing "Live from the Rockpile" programs for the Weather Discovery Center in North Conway. One of the questions I get asked the most when I tell people I'm a meteorology major is, "What do you want to do when you graduate college?" My first response is usually that I hope to just find a job, but then I explain to people that my area of concentration in school is media and I hope to be a weather forecaster on TV someday.
Because of these aspirations of mine, it was quite a treat last night when I got to meet a former intern/observer turned local TV weather personality, Sarah Long from WGME 13 in Maine. She came up to stay for a night on the summit and brought lobster for everyone for dinner as well as lots of other delicious food. Even as a non-seafood eater, I ate to my fill and then some. It was really exciting to see a former summit worker now making it in the media world and has made me anxious to start my last year of school in a little over a month. Starting classes is the first step towards graduation in May, and then hopefully starting a career doing what I love!
Hanna Brewer,  Summit Intern
Ellen Estabrook
Adjusting to Life on the Summit By Charlie Peachey Working on the summit of Mount Washington is not your average job. There aren't too many other places where the employees work and live together for
Ellen Estabrook
A Surprise Aurora By Francis Tarasiewicz After 17 months of working at New England's highest peak, it finally happened. On the night of November 12th, 2023, I was lucky enough to view the famous and
Ellen Estabrook
A Glimpse at METAR Reports By Alexis George, Weather Observer & Meteorologist METAR observations are submitted every hour of every day at Mount Washington Observatory. METAR is a format for reporting weather information that gets