Two Years and a Ton of Memories
2016-03-08 15:55:35.000 – Kaitlyn O'Brien, Co-Director of Summit Operations
What an awesome journey it has been. My first exposure to Mount Washington was a summer internship in 2013. The mountain quickly put me in my place by offering an initiation of snow, plenty of rime ice, and gusts up to 120 mph for my very first shift. It was not long before I learned that balaclava, microspikes, and goggles were critical in this new environment. That summer was the experience of a lifetime. I was fresh out of college and eager to take on the world. Early mornings, long days, and lots of people became the rhythm of summit work.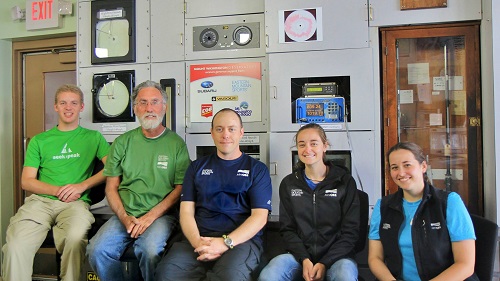 My shift as an intern: Alex Carne, Roger Pushor, Ryan Knapp, Rebecca Scholand, and I
I also had the opportunity to do some research, hone my forecasting skills, and learn so much about mountain meteorology simply through observation. During my off weeks, I picked up a part time job at a screen printing company and made some of my first friends at the Wildcat Inn & Tavern, which ultimately became my summer home. I will never forget how welcomed I felt (thank you Sue, James, Matt, Virginia, Stu, and Amber), and how quickly I fell in love with New Hampshire.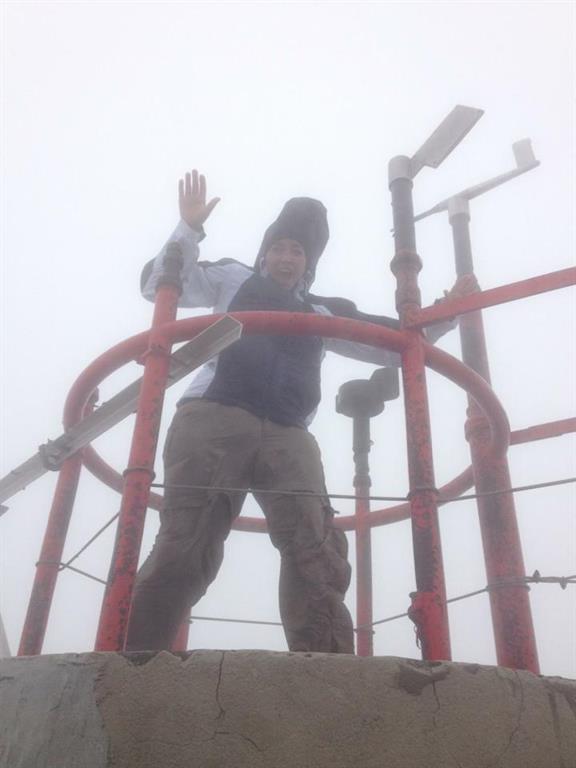 Enjoying 60mph winds on top of the tower on a foggy, rainy day during summer 2013
In August 2013 my internship came to a close. I was sad to leave the mountain behind, but eager to enter the workforce at a private company in Oklahoma and take the next step in my career.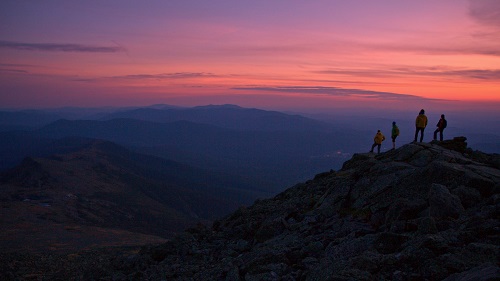 Little did I know I would be returning to the summit just 6 months later to rejoin my shift. This time, I would serve as a full-time Weather Observer and Education Specialist and attempt to fill the big shoes Rebecca Scholand had left behind. If there is anyone I need to recognize, it is Rebecca. Thank you for tirelessly training me, showing me the ropes of the job, answering my countless questions, and serving as a first-rate role model since day 1 of my internship.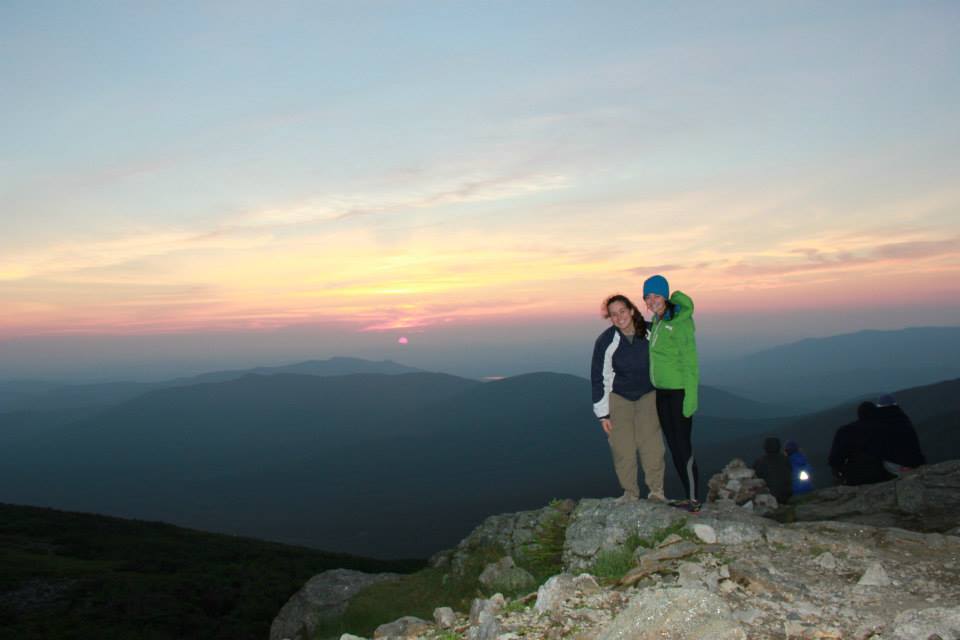 Rebecca Scholand and I enjoying sunset at Lakes of the Clouds Hut
I will never forget the day we returned to the base after my very first time on the summit for the internship interview. For me, it was a simple day trip, but for you, it had been a long 8 days of hard work that I would soon become familiar with. You got into your car, turned up Radioactive by Imagine Dragons, and peeled out of the parking lot as a measure of getting reacquainted with society. I thought to myself, "Wow, she is so cool". Thank you, Becca, for believing in me, always pushing me harder, and helping me get to where I am today! You will always be an inspiration.
For the better part of 2014, I had the chance to conduct distance learning programs to students across the country. It was easily the best part about this job. I loved teaching students of all ages about the weather, and seeing how excited they got when I would describe the extreme conditions we see at 6,288 feet. After two years, I finally got the best question last week from a curious third grader: "Are there any Yetis up there!?"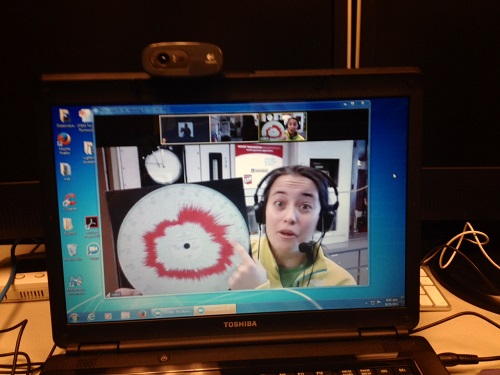 Teaching students about crazy winds!
Being the Education Specialist meant handling other special events and media inquiries. It was a great experience having the chance to do live interviews with TV crews, The Weather Channel, and radio stations. I also had the unique opportunity to present a special program to NH Senator Jeanne Shaheen.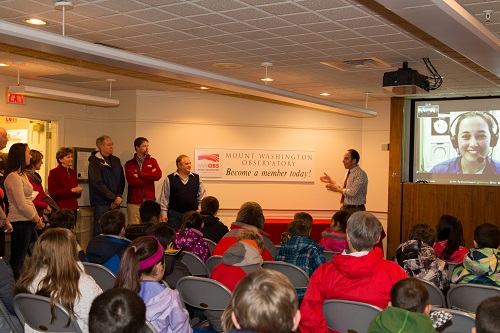 Presenting to a group of students during Jeanne Shaheen's visit to the Weather Discovery Center
With the turn of a new year came exciting weather and new opportunities.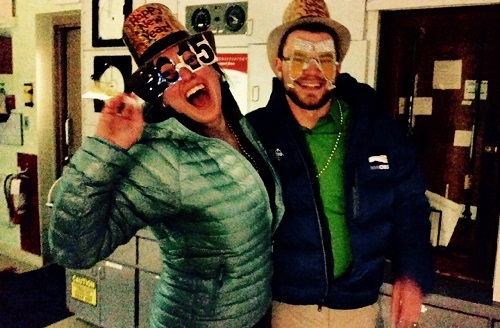 Ringing in 2015 from the highest peak in the Northeast!
To date, the most exhilarating conditions I have experienced on the summit occurred on February 16, 2015. I will never forget the events leading up to the 141 mph wind gust we experienced around 5:30AM that morning. The roar of the wind had surpassed the white noise machines we use in the bunkrooms. I remember Mike Dorfman saying that he awoke around 4AM because his ears were popping. I quickly got dressed and raced upstairs to the weather room to find Mike Dorfman and Ryan Knapp shouting at each other to communicate because the wind was so loud! The three of us had our eyes glued to the Hays chart, which produced a beautiful design of extreme gusts. You might notice some gaps in the data – that's because we needed to re-ink the pen several times throughout the day!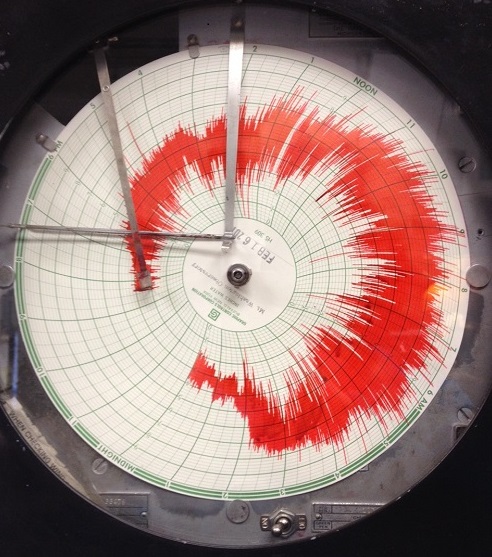 Winds were sustained at 120 mph with gusts occasionally exceeding that, maxing out at 141 mph. Temperatures were as low as -35 degrees F. But it was clear as ever with 130 miles of visibility and blue skies overhead. I covered up with every piece of gear I had and stepped outside to do the first observation of the morning. With winds coming from the north, it was nearly impossible to even step beyond the threshold of the observation deck door, never mind venturing beyond the A-frame.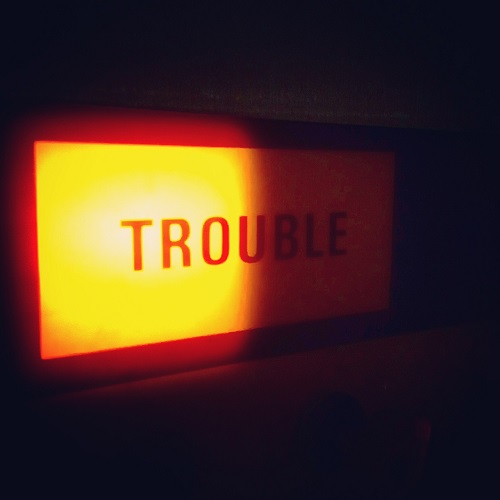 While carefully assessing the sky condition and visibility as best as possible, a gust came along causing me to briefly lose control of my right arm. This caused the sling psychrometer I was holding to slam against the A frame post. Oops! I had broken the dry bulb thermometer.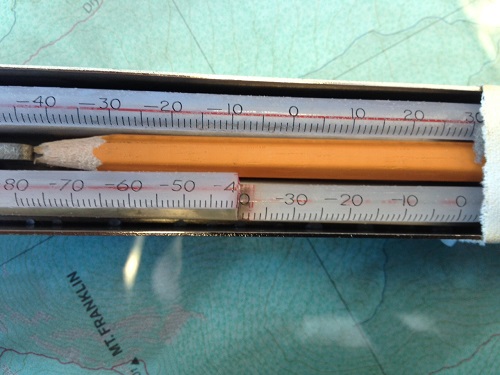 Upon returning inside to submit the observation and assess the damage, I started taking off my outer layers. To my surprise, I discovered that my nose had started bleeding through my balaclava because the temperatures were so cold and the air was unbelievably dry. (Frequent bloody noses and perpetually dry skin are just some of the perks experienced during the winter season while living on the summit!) What a morning! Roy Prescott with WMWV even commented during the radio show that morning that it was the first time he could ever hear the winds roaring through the telephone! That was certainly an exciting day I will never forget.
A few months later in April, I was promoted to Co-Director of Summit Operations and worked closely with Mike Carmon to ensure all summit operations were running smoothly. It was a role that came with plenty more responsibilities including logistics, shift management, and trip planning. This unique opportunity challenged me to understand the complexities of running a mountaintop weather station while developing management skills along the way.
My time on the summit has encompassed everything I could have ever imagined and more. I've observed some of the coolest meteorological phenomena first-hand, and I've had a front row seat to outstanding sunrises, sunsets, and auroras.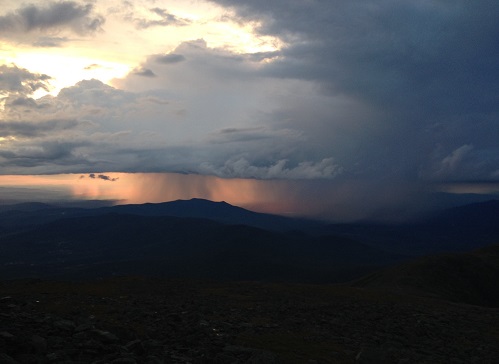 Summer thunderstorm rolling by as seen from the weather room window
Even more importantly, I've met so many wonderful people that have impacted me in ways they will never know!
Thanks to all of our wonderful volunteers, I've been spoiled with way too many excellent home-cooked meals…even ones that replicate what they ate in the famous Voyage of the Mimi episode!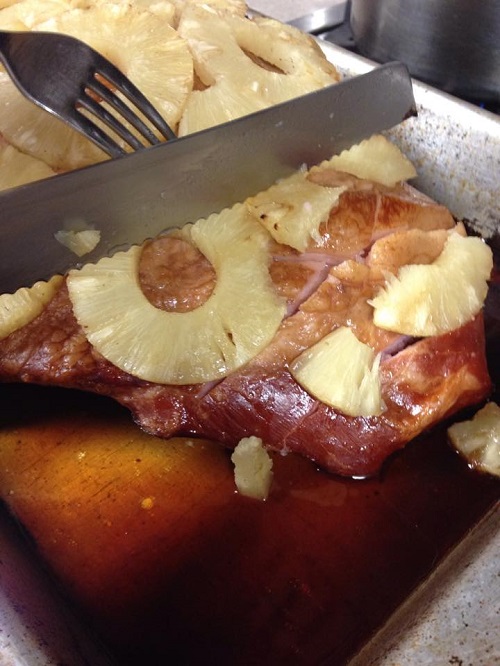 A meal straight from the famous Voyage of the Mimi episode. Former intern Nate Iannuccillo likely remembers this well!
You all are the ones who make this place so special. Your company through a long shift made all the difference, and I've enjoyed getting to know each and every one of you!
Thank you to everyone State Park side – you are the best neighbors anyone could ask for. Whether we've run low on sugar or butter, or our oven has failed, you all were always so accommodating and available to help at a moment's notice.
To Mike P, Nate, Chris U, Chris L, Danny, Guy, Electric Jim, Snow Jim, Kevin, Joe, Dan, Donna, Stephanie, Tara, Sarah, Christa, and so many others – you guys were a blast to work with and I will miss all of the fun times, most especially Tuesday theme nights!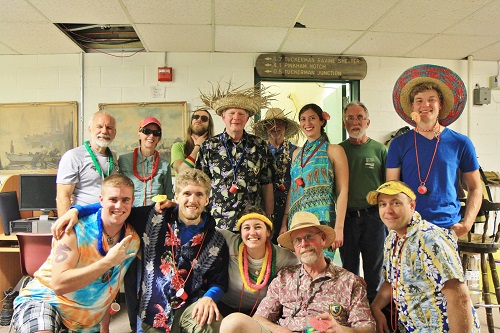 Every Tuesday night in the summer, we have theme nights. Highlights included Hawaiian night (pictured), Decades night, Mafia night, and Broadway night, to name a few
To the entire Observatory staff, thank you for being so welcoming and great to work with! I have enjoyed getting to know you all. It has been nothing short of amazing working with such a dedicated group of people. Together, you are the ones who make this place what it is.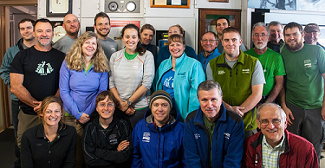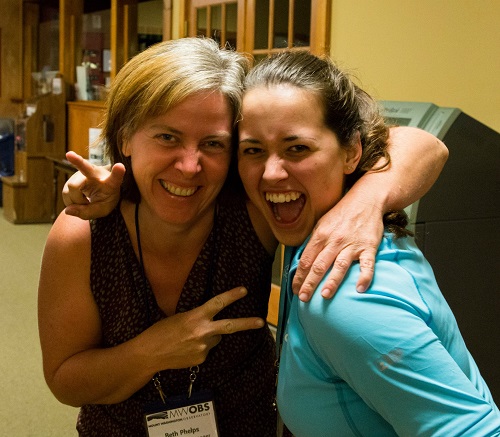 Thank you Anita for always knowing when I needed a break. I admire your unmatchable wit and honesty. You have a gift for always bringing people back down to Earth!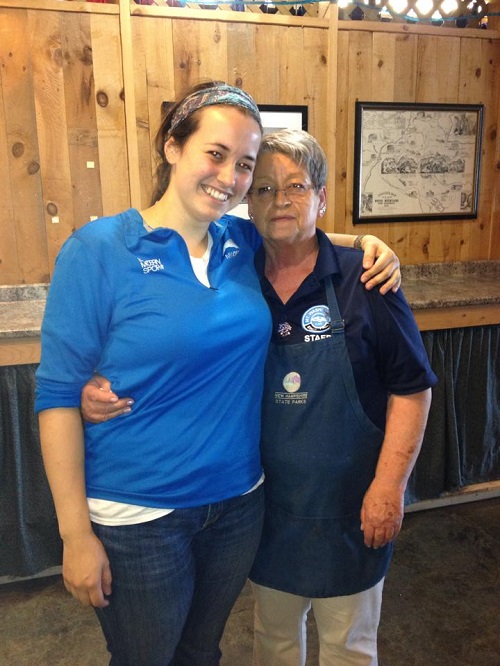 Taking a break with Anita on a busy summer day
Thanks to John and Billy Gorman for so many great memories on the summit. Your hard work and enthusiasm for taking on any job, whatever it may be, does not go unnoticed. I know how special this place is to you both, and I can't wait to see what projects you tackle next.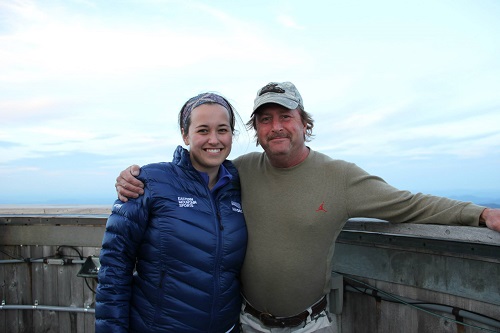 Thanks to John Mitchell for all the "check in" calls to the summit during the shift week. Your sense of humor is refreshing and you always know how to brighten someone's day!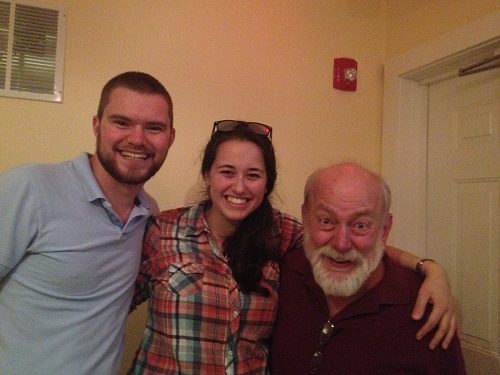 Last but not least, thank you to the entire summit crew, and especially to my shift. You guys are the ones I will miss the most. Thanks for all the laughs, your relentless support, and for always reminding me why I took this job. I feel incredibly lucky to have lived and worked with such an awesome group of people who have so quickly become family. The images below include some of my favorite memories.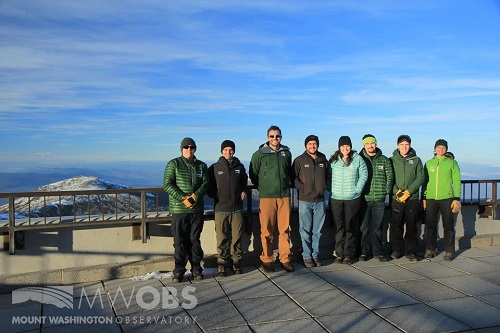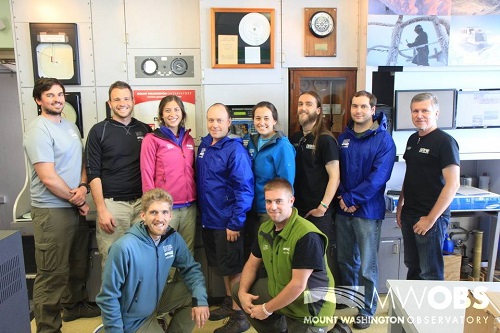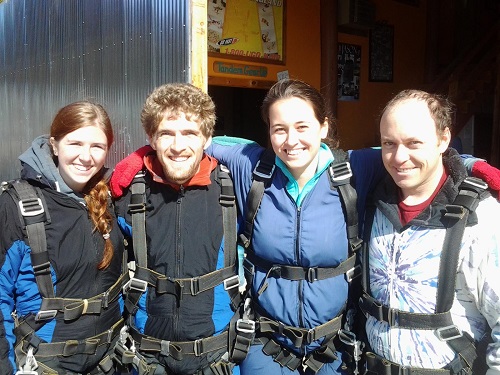 That time Arielle, Dorfman, and Ryan talked me into skydiving with them!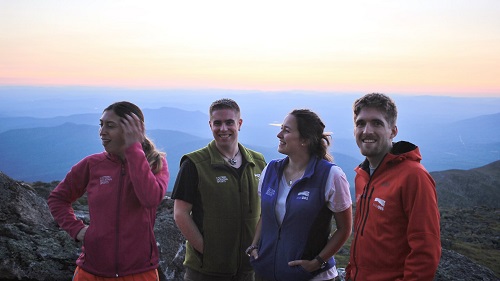 Candid sunset pictures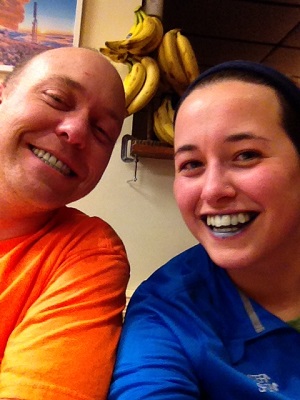 Celebrating birthdays with some seriously blue icing on the cake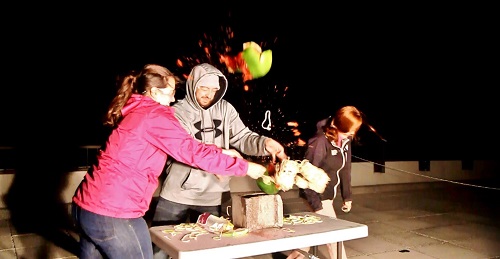 Performing very important scientific experiments on the observation deck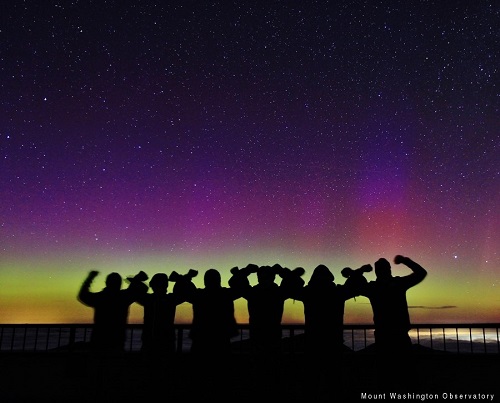 Those special nights when we witnessed some of the most spectacular aurora shows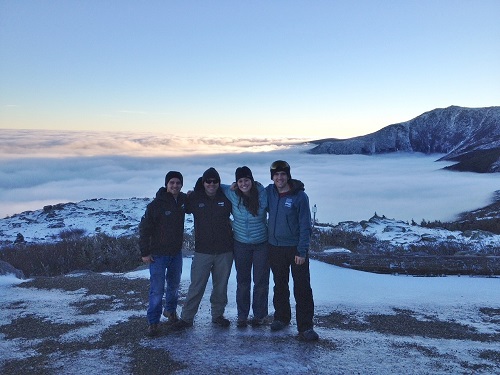 No matter where this wonderful, amazing life takes me next, I'm sure nothing will compare to the memories I have of life at 6,288ft. Whenever I look back and think of my time on the summit, I'll be thinking of you all! Thank you for the experience of a lifetime.
Kaitlyn O'Brien, Co-Director of Summit Operations
Ellen Estabrook
Adjusting to Life on the Summit By Charlie Peachey Working on the summit of Mount Washington is not your average job. There aren't too many other places where the employees work and live together for
Ellen Estabrook
A Surprise Aurora By Francis Tarasiewicz After 17 months of working at New England's highest peak, it finally happened. On the night of November 12th, 2023, I was lucky enough to view the famous and
Ellen Estabrook
A Glimpse at METAR Reports By Alexis George, Weather Observer & Meteorologist METAR observations are submitted every hour of every day at Mount Washington Observatory. METAR is a format for reporting weather information that gets