Undulatus asperatus
2011-10-26 23:48:47.000 – Ryan Knapp,  Weather Observer/Meteorologist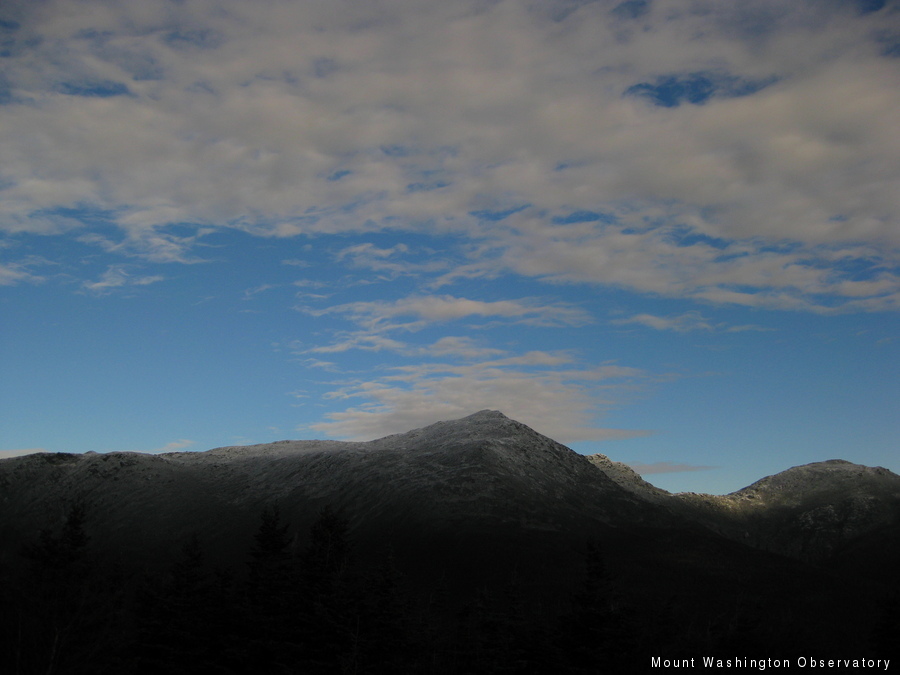 Mt Adams and Madison on the ride up today.
Today, being a Wednesday, meant it was shift change day. The ride up was a typical ride up for this time of year: four wheel drive truck and/or van with chains on from the half-way point and up. Gear was exchanged, meetings were had, we talked with our counterparts about key points, everyone grabbed a bite to eat, then we parted ways until the following Wednesday. Outside, the cogs and hikers came and went, the clouds thickened and eventually the sun set. After snapping some pictures, it was down to dinner, a movie and eventually back to the grind of night shift as the clouds slowly descend on the summit and a light snow has begun to fall. So, nothing too unique for this shift change day. But rewind a week to our down going shift change day (October 19th) and it becomes a slightly different story, at least weather wise.
The day started with the summit clearing from the fog as clouds above and temperatures increased. The clouds at first were the drab gray skies that come with any low pressure system but as the morning proceeded, they started to take on a wave cloud pattern, then some lenticulars found their way into the mix before morphing into a cloud formation called Undulatus asperatus. While these clouds are rare and unique around here, they weren't the first time I have seen them form above/around the summit since starting here nearly 6 years ago. But in the past when this oceanic-like scene formed above us, I didn't know what to call it when describing it to others. I just called them "those weird/creepy wavy clouds". But in 2009, they finally got a name from the UN's World Meteorological Organization, the first new type of cloud to be recognized since 1951, and so Undulatus asperatus was christened and I now had a name for them. But even now that they have a name, I still call them "those weird/creepy wavy clouds". So, the next time you see them around a group of friends, instead of sounding childish like me, you can impress them and say, "Oh look, some Undulatus asperatus".
Ryan Knapp,  Weather Observer/Meteorologist
Ellen Estabrook
Adjusting to Life on the Summit By Charlie Peachey Working on the summit of Mount Washington is not your average job. There aren't too many other places where the employees work and live together for
Ellen Estabrook
A Surprise Aurora By Francis Tarasiewicz After 17 months of working at New England's highest peak, it finally happened. On the night of November 12th, 2023, I was lucky enough to view the famous and
Ellen Estabrook
A Glimpse at METAR Reports By Alexis George, Weather Observer & Meteorologist METAR observations are submitted every hour of every day at Mount Washington Observatory. METAR is a format for reporting weather information that gets