Unusual, But In a Good Way!
2013-05-04 20:45:46.000 – Tom Padham,  Summit Intern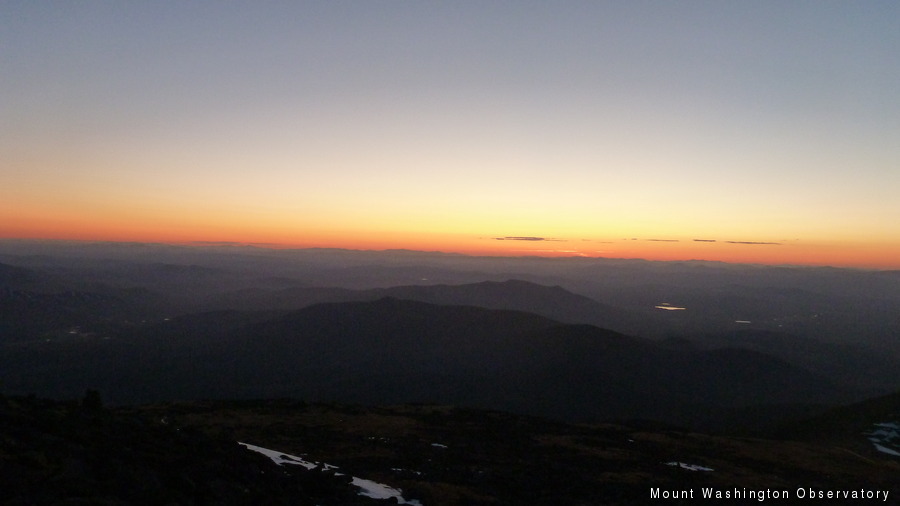 100 mile visibility!
Starting to notice the unusually long stretch of quiet weather? We certainly are here on the summit, with the past 8 days not seeing any precipitation. Looking at the forecast, it may not be until mid-week that we have any real chance at rainfall (possibly 12 days). So with that said the potential exists for our shift to go more than an entire shift week (Wednesday to Wednesday) without seeing a single drop of rain or snowflake. After asking around, none of the observers on shift can recall more than about a 10 day stretch without precipitation. I decided to do a little research, and in the past 10 years (2013-2003) a week long precipitation-free stretch seems to happen about once a year, with only four 10 day stretches over the past 10 years, and nothing longer. Long duration dry spells are somewhat rare given the high amount of precipitation on the summit and since most storm tracks across the country end up crossing over New England.
So why are we currently seeing such a long stretch of dry weather? The answer lies in what meteorologists call an Omega Block. An Omega Block is so named because it resembles the Greek letter omega &#937 on a pressure map. The typical setup has a large high pressure system sandwiched in between two low pressure areas. The high pressure blocks the path of the downstream low, preventing the storm from moving very quickly. This is currently occurring over the Midwest, where a large storm system has been producing heavy rain and even heavy snow in some areas for several days, while the Northeast and New England has enjoyed dry and relatively quiet weather for the past week thanks to the blocking high pressure. You can see an image of this current omega block here. The storm system over Arkansas is unable to move into our region because of a large area of high pressure over southern Canada. You can also pretty clearly see the &#937 shape in the pressure lines at 500mb over the eastern U.S (don't worry about the colors).
Our closest shot at some precipitation occurred two days ago, when the blocking high briefly broke over New England as a backdoor cold front pushed in from the northeast. A few nearby locations did see light rain, but nothing ever fell on the summit. If we make it through Wednesday with no precipitation that would be 12 days total, the longest dry weather stretch the summit has seen in at least 10 years! I suppose even the "Home of the World's Worst Weather" gets to take a breather every once in a while.
Tom Padham,  Summit Intern
Ellen Estabrook
Adjusting to Life on the Summit By Charlie Peachey Working on the summit of Mount Washington is not your average job. There aren't too many other places where the employees work and live together for
Ellen Estabrook
A Surprise Aurora By Francis Tarasiewicz After 17 months of working at New England's highest peak, it finally happened. On the night of November 12th, 2023, I was lucky enough to view the famous and
Ellen Estabrook
A Glimpse at METAR Reports By Alexis George, Weather Observer & Meteorologist METAR observations are submitted every hour of every day at Mount Washington Observatory. METAR is a format for reporting weather information that gets