Using A Four-Letter Word Starting With "S"
2017-08-20 05:51:31.000 – Ryan Knapp, Weather Observer/Staff Meteorologist
August is a great time to visit the White Mountains. Temperatures on the summits are still mild and generally warm however nowhere near the Dog Day afternoons of areas south of us. Summits are green with vegetation or just starting to show some early fall browns. Neighboring bodies of water in the valleys below are great to be in/on. Neighboring towns and villages have various events during the weekends. In short, August is the embodiment of summer to me. However, August also means summer is winding down and the freedom of summer will soon be a mere memory. As a kid it meant the ebb and flow of the school year would be returning but as an adult on Mt Washington, it means the ebb and flow of the winter season will soon be returning.
So a common question this time of year is, "When do you typically see first snow?" The summit has received over an inch of snowfall every month of the year in our 85 year history. So it can and has technically snowed every month of the year. In looking through my personal photo journal through my decade and some change of working up here, I have photographed snow and rime in for every month up here; so this does hold true (you can check out our F-6's
HERE
). Typically, our last significant snowfall is in June and our first significant snowfall is in September. However, that is snowfall. Rime ice on the other hand can rear its ugly/beautiful head (or should I say, feathers) every month on a more regular basis. (If you want to learn more about rime, a blog post available
HERE
by a former intern does a great job explaining it).
I mention rime/snow because looking out in recent long-range model runs, rime/snow/ice looks possible next weekend. Of course there is a giant asterisk attached to this statement. It is a week out, so a lot can change between this post and next weekend – weather patterns shift their tracks, patterns move faster/slower than expected, etc. And while it looks possible, whatever does fall or form doesn't look like, as of now, it will stick around for very long; with whatever does fall/form melting out during the following day. In any case though, it will be something we will be keeping an eye on in the coming days. If you have a hike planned next weekend, it should be something you might want to keep an
eye on
too. And if it doesn't pan out, it does at least serve as a good reminder that winter-like weather is approaching in weeks and not months.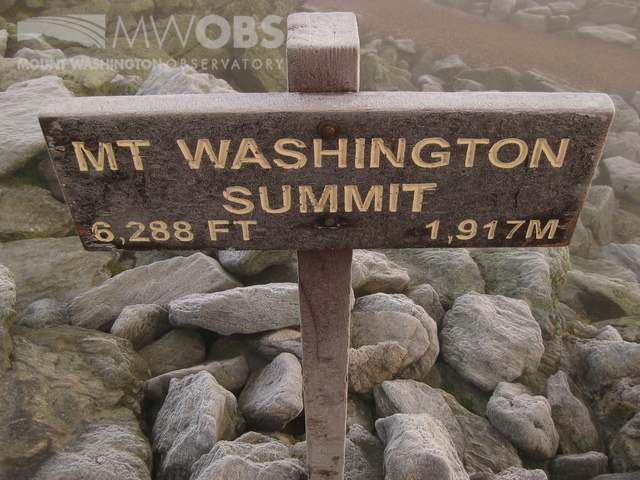 Thin layer of rime on summit sign August 7, 2010
On an unrelated note – If you were lucky enough to obtain a pair of solar eclipse glasses for Mondays viewing of the solar eclipse, after the big event, hold on to them and store them somewhere safe. Another eclipse will be viewable on the east coast on April 08, 2024. I know it is seven years out but it will save you a few bucks and the time of having to get them all over again.
Ryan Knapp, Weather Observer/Staff Meteorologist
Ellen Estabrook
Adjusting to Life on the Summit By Charlie Peachey Working on the summit of Mount Washington is not your average job. There aren't too many other places where the employees work and live together for
Ellen Estabrook
A Surprise Aurora By Francis Tarasiewicz After 17 months of working at New England's highest peak, it finally happened. On the night of November 12th, 2023, I was lucky enough to view the famous and
Ellen Estabrook
A Glimpse at METAR Reports By Alexis George, Weather Observer & Meteorologist METAR observations are submitted every hour of every day at Mount Washington Observatory. METAR is a format for reporting weather information that gets