Viral Video and Impending Nor'easter
2017-03-11 19:40:03.000 – Caleb Meute, Weather Observer / Meteorologist
Thank goodness I have been taking my Vitamin C up here because we went viral. Weather Observer Adam Gill and IT Director Keith Garrett decided to have a little fun on Thursday and ventured onto the deck to play around in winds sustained near 100 mph with gusts exceeding 110 mph. Keith filmed Adam holding the hurricane flag and struggling to make forward progress while walking across the deck. The footage they captured shows the true power that winds of that magnitude exert on one's body. After the video was posted on our social media pages and YouTube, it took off immediately and has now reached nearly 2 million people. The video was shared by several major news stations including CNN, FOX News, ABC News, USA Today and The Weather Channel. The attention received by Adam and Keith's video also drew up some interesting comments/questions. I will quickly address some of my favorites. We love going outside in all elements except for thunderstorms because lightning hurts. Keith is not a bully, in fact while he was filming his hands were very cold while Adam was nice and warm. We would appreciate it if those who pray for the winds to die down up here, instead pray for the winds to ramp up even more (254 mph would be nice). We do need college degrees for this job, and also gear provided by Eastern Mountain Sports to keep us nice and warm. In all seriousness, thanks to everyone who reached out to us in reference to this video! We love interacting with everyone and answering your questions, because we are all truly passionate for this extreme climate.
Our attention is now turning to the potential for a major storm next week. All major forecasting models are showing a Nor'easter that will likely impact New England Tuesday and Wednesday. Each model has a slightly different track, however each one will still drop a significant amount of snowfall across the higher summits here in the White Mountain Region. The GFS (Global Forecasting Model) is currently showing the most snowfall for us on Mount Washington, with 2 feet of snow in the realm of possibility. With this track, the heaviest snowfall would be inland as opposed to along the coastline which is shown by some of the other models. Be sure to monitor the higher summits forecast between now and then to get the latest information!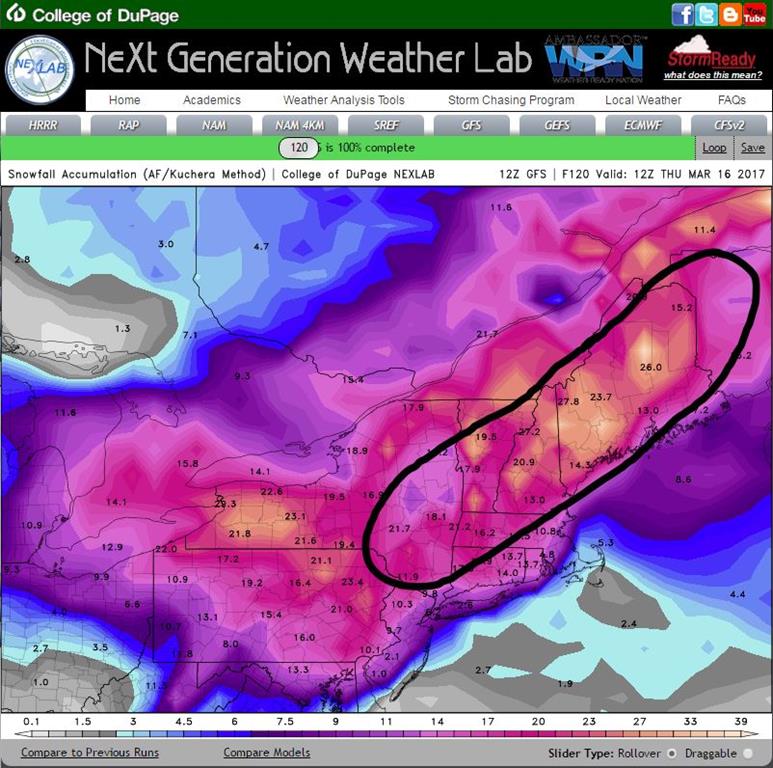 This screenshot is what the GFS model is currently showing for total snowfall by Thursday morning with the White Mountain Region falling in the swath of heaviest accumulations.
Caleb Meute, Weather Observer / Meteorologist
Ellen Estabrook
Adjusting to Life on the Summit By Charlie Peachey Working on the summit of Mount Washington is not your average job. There aren't too many other places where the employees work and live together for
Ellen Estabrook
A Surprise Aurora By Francis Tarasiewicz After 17 months of working at New England's highest peak, it finally happened. On the night of November 12th, 2023, I was lucky enough to view the famous and
Ellen Estabrook
A Glimpse at METAR Reports By Alexis George, Weather Observer & Meteorologist METAR observations are submitted every hour of every day at Mount Washington Observatory. METAR is a format for reporting weather information that gets