Volunteer Reflections
2012-05-29 21:15:31.000 – Noreen McGrath,  Summit Volunteer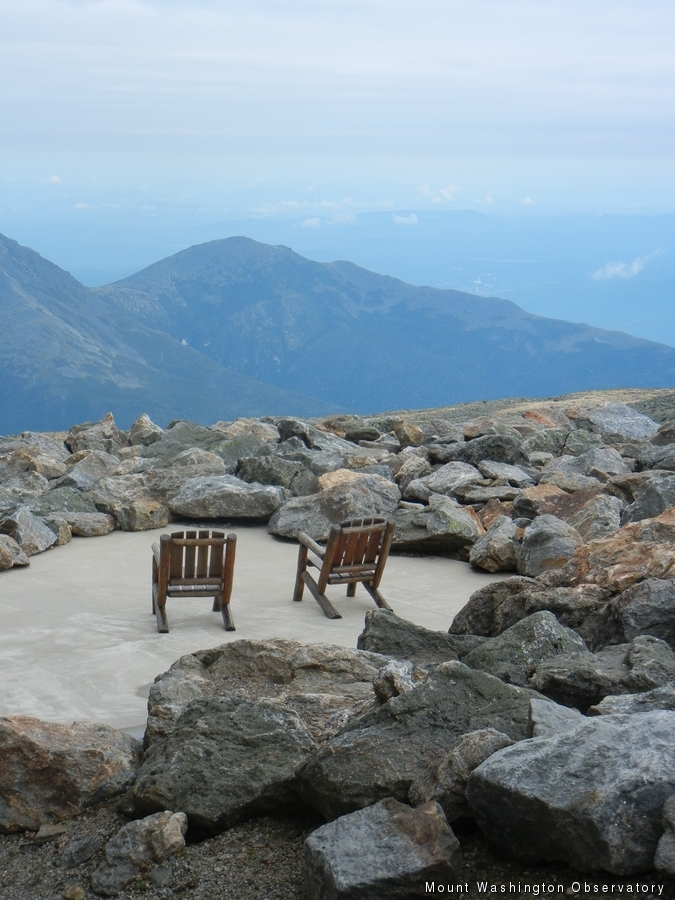 The summit patio view.
What can I say about my week volunteering for the MWO crew at the peak of Mt. Washington? Lots of people I know found the fact that I was doing this as my vacation very interesting and others didn't understand why I'd want to go away for a week, with people I've never met, and be 'stuck' on a mountain I 'couldn't' leave. But when I learned of this opportunity last summer – I jumped at the chance. Sounded like a dream vacation to me!
A little nervous in the beginning – I met Jan (the second volunteer) the night before in Jackson NH. We were both giddy with excitement about our little adventure and chatted away over a Tuckerman's beer- getting to know each other a little better. Everyone thought we were already friends because of how we got along – when in fact we had never met, and only talked a couple times via email before the trip.
The next morning, we met the crew we'd be working with at the base of the Auto Road. Jan and I were anxious to get to the top and start our week. The guys were great, very knowledgeable, and funny and loved everything we cooked all week. The stories around the dinner table were entertaining and it was very interesting hearing about their backgrounds and how they came to be on Mt. Washington. Even more: I loved the ghost stories! I'm always up for a good thriller – but…no spirits came this week. Maybe next time.
Although we had our daily chores to do, they were quickly and easily accomplished – so there was always time for a hike, to blog, or just relax with a good book, which I finally finished! I hardly have time at home to read, so I was really looking forward to curling up with a book. I also got in a few great hikes as well, when weather permitted – and I went on my first solo hike to Boot Spur. That is now up there as one of my favorite hikes.
Now this week is just about at an end. Did I enjoy it? Absolutely! Would I do it again? Absolutely – and I'm looking forward to a week in the winter. I'm a photography nut and took so many photos; I had to buy a second memory card at the gift shop. There is just so much to see and experience – and this is my way of taking the mountain home with me. The rocks, the clouds, the sun rises and sun sets ….and the people. I even took some video in the wind! Oh that wind! We reached 108mph today!! But what I can't take with me is the shear peacefulness of being up here once the all tourist have gone home. So I'll just have to come back again another time.
Noreen McGrath,  Summit Volunteer
Ellen Estabrook
Adjusting to Life on the Summit By Charlie Peachey Working on the summit of Mount Washington is not your average job. There aren't too many other places where the employees work and live together for
Ellen Estabrook
A Surprise Aurora By Francis Tarasiewicz After 17 months of working at New England's highest peak, it finally happened. On the night of November 12th, 2023, I was lucky enough to view the famous and
Ellen Estabrook
A Glimpse at METAR Reports By Alexis George, Weather Observer & Meteorologist METAR observations are submitted every hour of every day at Mount Washington Observatory. METAR is a format for reporting weather information that gets