Warmer Days Ahead! At Least in the Near Term
2016-05-10 07:21:48.000 – Adam Gill, Weather Observer/IT Specialist
After a winter dominated by ridges and warm air advection in New England, spring has been fairly cool. We have been in a persistent trough with weak ridges building in for a short period leading to plenty of cold air aloft keeping the temperatures on the cool side. Over the next few days, it looks like there will be a strong ridge building into New England, with temperatures in the valleys soaring into the mid-70s and the summit possible getting to 50 degrees for the first time this year on Thursday May 12th! From the upper air map below(250mb analysis), you can see the deep trough over New England responsible for the much below average temperatures that we saw this weekend. Out west, there looks to be a deeper trough but the southern jet is the subtropical jet and usually has warm air south of it and mild air north. To the north in Canada, that is the polar jet and north of that is cold air. The polar jet dives south over the great lakes and then passes to the south of New Hampshire so we are socked in the cold air.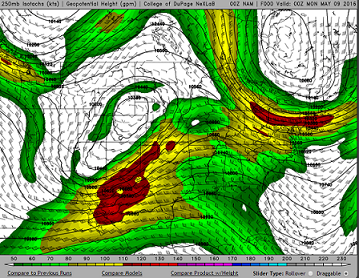 On this next upper air map, is the forecasted jet stream position for Thursday. The polar jet has retreated well to the north with warm air over the region with few clouds due to sinking air under the ridge. There will be plenty of sunshine across the state and with the days getting longer and the sun higher in the sky, there with be a good deal of solar heating!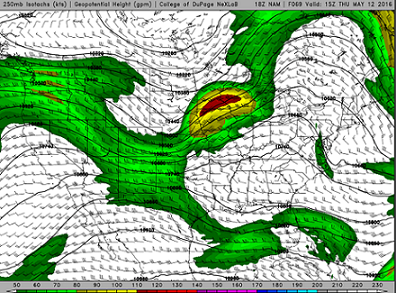 Unfortunately, this warm spell doesn't look like it will last forever. Another trough is taking aim at New England next weekend bringing showers and cooler weather once again. The good news is that this is still a week out and could change but most models are in agreement that there will be colder air returning.
Due to the complex nature of the weather in the White Mountains, our official forecasts for the next 48 hours are issued twice daily at 5 am and 5 pm daily. Find it HERE
Adam Gill, Weather Observer/IT Specialist
Ellen Estabrook
Adjusting to Life on the Summit By Charlie Peachey Working on the summit of Mount Washington is not your average job. There aren't too many other places where the employees work and live together for
Ellen Estabrook
A Surprise Aurora By Francis Tarasiewicz After 17 months of working at New England's highest peak, it finally happened. On the night of November 12th, 2023, I was lucky enough to view the famous and
Ellen Estabrook
A Glimpse at METAR Reports By Alexis George, Weather Observer & Meteorologist METAR observations are submitted every hour of every day at Mount Washington Observatory. METAR is a format for reporting weather information that gets