Wednesday's Nor'easter on The Summit
2013-11-29 13:44:54.000 – Samuel Hewitt,  Summit Intern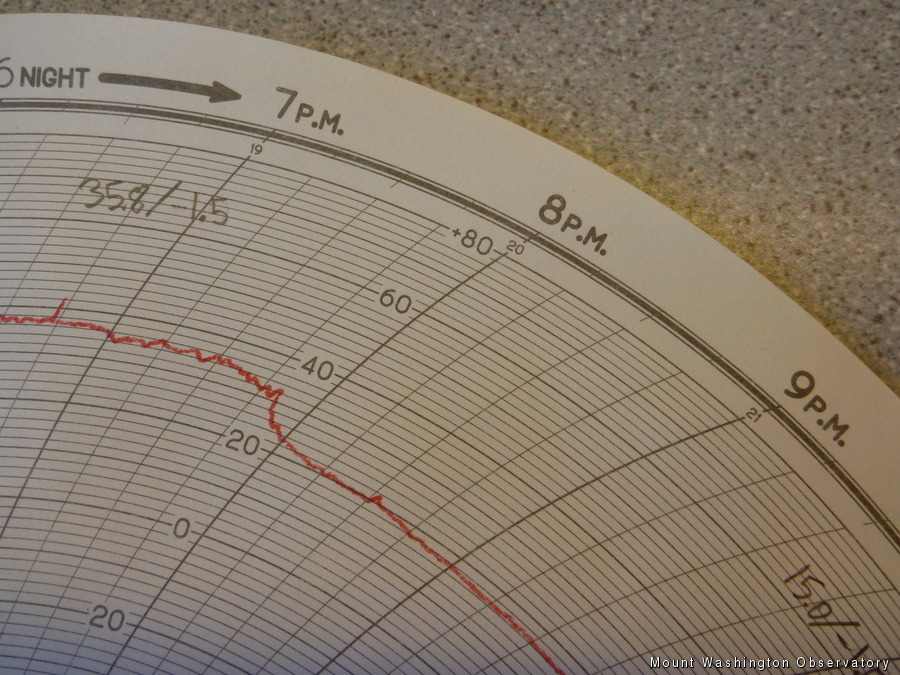 7:00-9:00 PM 11-27-13 Thermograph
In anticipation of Wednesday's Nor'easter, my shift-mates and I arrived at the summit early on Tuesday evening so that we would not have to battle the storm Wednesday morning. Snow had already begun to fall by the time we reached the summit cone and temperatures were hovering in the middle 20's. The snow continued to fall during the overnight hours and temperatures began to rise ahead of the system's warm front. During the early morning hours of Wednesday, the snow transitioned to a period of sleet and freezing rain as temperatures crept closer to the freezing mark. Before the transition, however, our synoptic observation revealed that 8 inches of new snow had fallen overnight. Plain rain followed, which became heavy at times during the day Wednesday.
As the system raced to our north and east, temperatures dropped back below freezing during the evening and residual low moisture sparked upslope snow showers, which persisted through much of Thanksgiving Day. These showers added an additional 2 inches to our storm total. Our liquid precipitation total (snow/sleet/freezing rain melt combined with plain rain) was roughly 2.5 inches!
What stood out most from this storm, for us anyway, were the extreme temperatures swings observed during and after the event. At 8:00 PM Wednesday, the temperature was 32 degrees with winds out of the south. An hour later at 9:00 PM, the temperature had dropped to 18 degrees and winds were out of the west. The wind shift, combined with the 14 degree temperature loss was the result of a trailing cold front associated with the main storm system. The most extreme departure was observed during the 22 hour period from 1:00 PM Wednesday to 11:00 AM Thursday, when the temperature dropped from 41 to -8 degrees, a difference of 49!
The picture above shows our thermograph from 7:00-9:00 PM Wednesday. The 14 degree departure is clearly evident!
Samuel Hewitt,  Summit Intern
Ellen Estabrook
Adjusting to Life on the Summit By Charlie Peachey Working on the summit of Mount Washington is not your average job. There aren't too many other places where the employees work and live together for
Ellen Estabrook
A Surprise Aurora By Francis Tarasiewicz After 17 months of working at New England's highest peak, it finally happened. On the night of November 12th, 2023, I was lucky enough to view the famous and
Ellen Estabrook
A Glimpse at METAR Reports By Alexis George, Weather Observer & Meteorologist METAR observations are submitted every hour of every day at Mount Washington Observatory. METAR is a format for reporting weather information that gets