Week 2 on the Rockpile
2017-06-19 18:32:41.000 – Sam Webber, Summit Intern
After spending a long six days off of the summit, we finally made it back to the top. Being up here for a week at a time gives you a sense of refreshment from being in such a cool environment. As last week's heat wave settled into the region there was only one place that I would have loved to be, and that was up here on the summit of Mount Washington. While temperatures near sea-level soared above 90 degrees, the summit remained in the lower 60s with a light breeze around 80 mph. Needless to say, returning to the Observatory after dealing with those abnormally high temperatures, to me, was the equivalent of jumping into a pool on those hot summer days.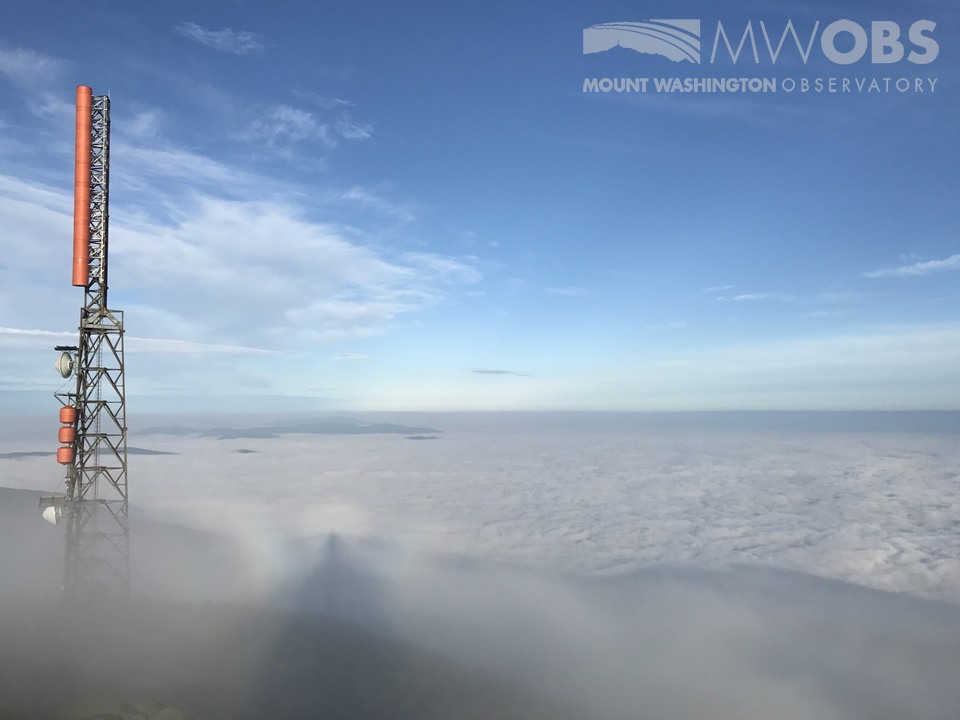 Unlike last week, the first day back up here was not as hectic as last week. While fair weather persisted for through Thursday, I was finally able to get out on a short hike and relieve some built up stress caused by countless hours of research in such a short period of time. After a long day of staring at a computer screen I was able to hike down to the ridge between Washington and Clay and found several patches of snow remaining in heavily shaded areas. Moments like that made me reminisce of the winter months and made me wish that I had brought my snowboard up to the summit to get in some mid-June runs.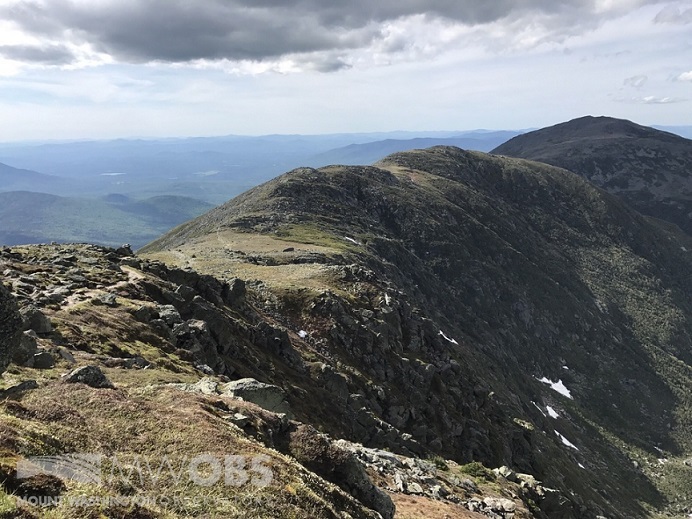 No matter what the conditions may be, there is always something interesting going on if you take a look around. One of the more exciting moments during this week was the incredible display of an atmospheric optical phenomenon that I've been waiting to see again for quite some time. On Saturday, we had the pleasure of seeing an optical effect known as a "halo"; more specifically, a 22 degree halo with a rare 9 degree halo within. The moment that I heard there was an observable halo, I jumped right out of my seat and ran outside to take a look. This optical effect is caused when incoming visible light from the sun passes through randomly oriented, hexagonal ice crystals contained within high level cirrus clouds. As the light passes through the column-like ice crystals it is refracted (bent) at an angle of 22 degrees, creating a full ring, or halo, around the sun. I have seen a few partial halos in my life, but I have never seen one as strong as the one we saw over the weekend!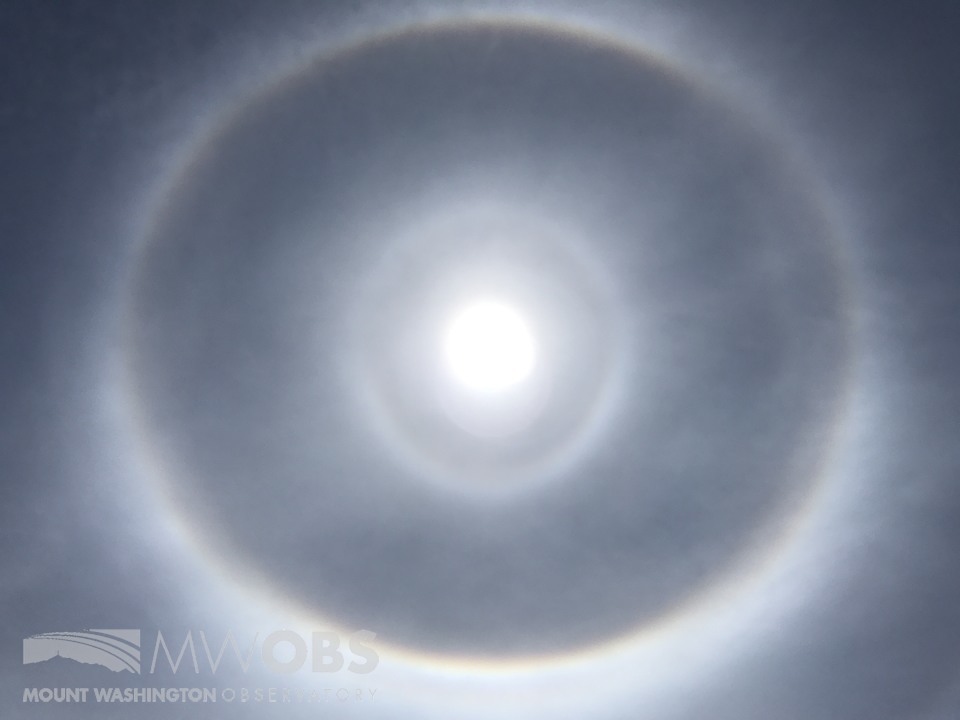 Although the work week is coming to an end, I'll be enjoying every last minute of it before packing up and heading back home to southern New Hampshire.
Sam Webber, Summit Intern
Ellen Estabrook
Adjusting to Life on the Summit By Charlie Peachey Working on the summit of Mount Washington is not your average job. There aren't too many other places where the employees work and live together for
Ellen Estabrook
A Surprise Aurora By Francis Tarasiewicz After 17 months of working at New England's highest peak, it finally happened. On the night of November 12th, 2023, I was lucky enough to view the famous and
Ellen Estabrook
A Glimpse at METAR Reports By Alexis George, Weather Observer & Meteorologist METAR observations are submitted every hour of every day at Mount Washington Observatory. METAR is a format for reporting weather information that gets