Weekly Weather Summary 11/27-12/03
2011-12-04 20:31:40.000 – Rick Giard,  Weather Observer / Education Specialist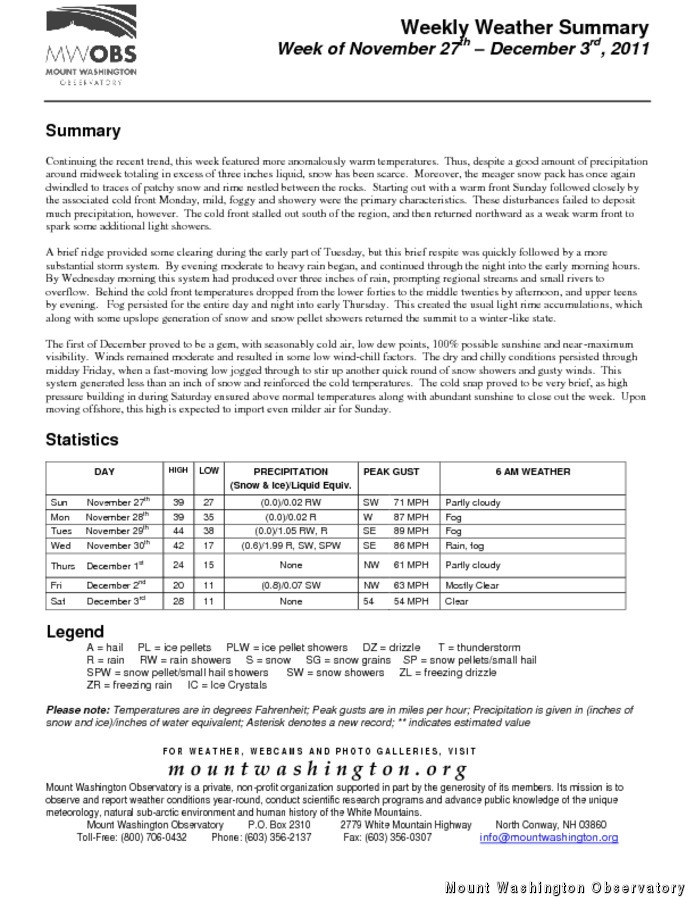 =$caption?>Weekly Summary 11/27-12/3
WEEKLY WEATHER SUMMARYNov. 27th – Dec. 3rd
Continuing the recent trend, this week featured more anomalously warm temperatures. Thus, despite a good amount of precipitation around midweek totaling in excess of three inches liquid, snow has been scarce. Moreover, the meager snow pack has once again dwindled to traces of patchy snow and rime nestled between the rocks. Starting out with a warm front Sunday followed closely by the associated cold front Monday, mild, foggy and showery were the primary characteristics. These disturbances failed to deposit much precipitation, however. The cold front stalled out south of the region, and then returned northward as a weak warm front to spark some additional light showers.
A weak ridge provided some clearing during the early part of Tuesday, but this brief respite was quickly followed by a more substantial storm system. By evening moderate to heavy rain began, and continued through the night into the early morning hours. By Wednesday morning this system had produced over three inches of rain, prompting regional streams and small rivers to overflow. Behind the cold front temperatures dropped from the lower forties to the middle twenties by afternoon, and upper teens by evening. Fog persisted for the entire day and night into early Thursday. This created the usual light rime accumulations, which along with some upslope generation of snow and snow pellet showers returned the summit to a winter-like state.
The first of December proved to be a gem, with seasonably cold air, low dew points, 100% possible sunshine and near-maximum visibility. Winds remained moderate and resulted in some low wind-chill factors. The dry and chilly conditions persisted through midday Friday, when a fast-moving low jogged through to stir up another quick round of snow showers and gusty winds. This system generated less than an inch of snow and reinforced the cold temperatures. The cold snap proved to be very brief, as high pressure building in during Saturday ensured above normal temperatures along with abundant sunshine to close out the week. Upon moving offshore, this high is expected to import even milder air for Sunday.
Rick Giard,  Weather Observer / Education Specialist
Ellen Estabrook
Adjusting to Life on the Summit By Charlie Peachey Working on the summit of Mount Washington is not your average job. There aren't too many other places where the employees work and live together for
Ellen Estabrook
A Surprise Aurora By Francis Tarasiewicz After 17 months of working at New England's highest peak, it finally happened. On the night of November 12th, 2023, I was lucky enough to view the famous and
Ellen Estabrook
A Glimpse at METAR Reports By Alexis George, Weather Observer & Meteorologist METAR observations are submitted every hour of every day at Mount Washington Observatory. METAR is a format for reporting weather information that gets