Weekly Weather Summary December 11-17, 2011
2011-12-18 16:06:30.000 – Rick Giard,  Weather Observer / Education Specialist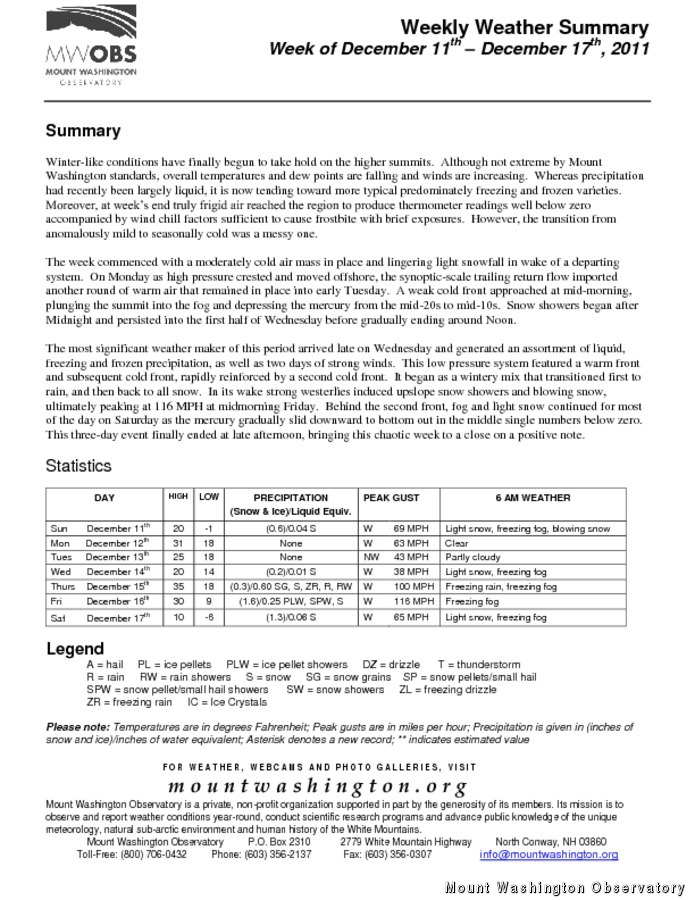 =$caption?>Weather Dec. 11-17
WEEKLY WEATHER SUMMARY
December 11-17, 2011
Winter-like conditions have finally begun to take hold on the higher summits. Although not extreme by Mount Washington standards, overall temperatures and dew points are falling and winds are increasing. Whereas precipitation had recently been largely liquid, it is now trending toward more typical predominately freezing and frozen varieties. Moreover, at week's end truly frigid air reached the region to produce thermometer readings well below zero accompanied by wind chill factors sufficient to cause frostbite with brief exposures. However, the transition from anomalously mild to seasonally cold was a messy one.
The week commenced with a moderately cold air mass in place and lingering light snowfall in wake of a departing system. On Monday as high pressure crested and moved offshore, the synoptic-scale trailing return flow imported another round of warm air that remained in place into early Tuesday. A weak cold front approached at mid-morning, plunging the summit into the fog and depressing the mercury from the mid-20s to mid-10s. Snow showers began after Midnight and persisted into the first half of Wednesday before gradually ending around Noon.
The most significant weather maker of this period arrived late on Wednesday and generated an assortment of liquid, freezing and frozen precipitation, as well as two days of strong winds. This low pressure system featured a warm front and subsequent cold front, rapidly reinforced by a second cold front. It began as a wintery mix that transitioned first to rain, and then back to all snow. In its wake strong westerlies induced upslope snow showers and blowing snow, ultimately peaking at 116 MPH at midmorning Friday. Behind the second front, fog and light snow continued for most of the day on Saturday as the mercury gradually slid downward to bottom out in the middle single numbers below zero. This three-day event finally ended at late afternoon, bringing this chaotic week to a close on a positive note.
Rick Giard,  Weather Observer / Education Specialist
Ellen Estabrook
Adjusting to Life on the Summit By Charlie Peachey Working on the summit of Mount Washington is not your average job. There aren't too many other places where the employees work and live together for
Ellen Estabrook
A Surprise Aurora By Francis Tarasiewicz After 17 months of working at New England's highest peak, it finally happened. On the night of November 12th, 2023, I was lucky enough to view the famous and
Ellen Estabrook
A Glimpse at METAR Reports By Alexis George, Weather Observer & Meteorologist METAR observations are submitted every hour of every day at Mount Washington Observatory. METAR is a format for reporting weather information that gets