Weekly Weather Summary February 19th – 25th
2012-02-27 17:43:38.000 – Rick Giard,  Weather Observer / Education Specialist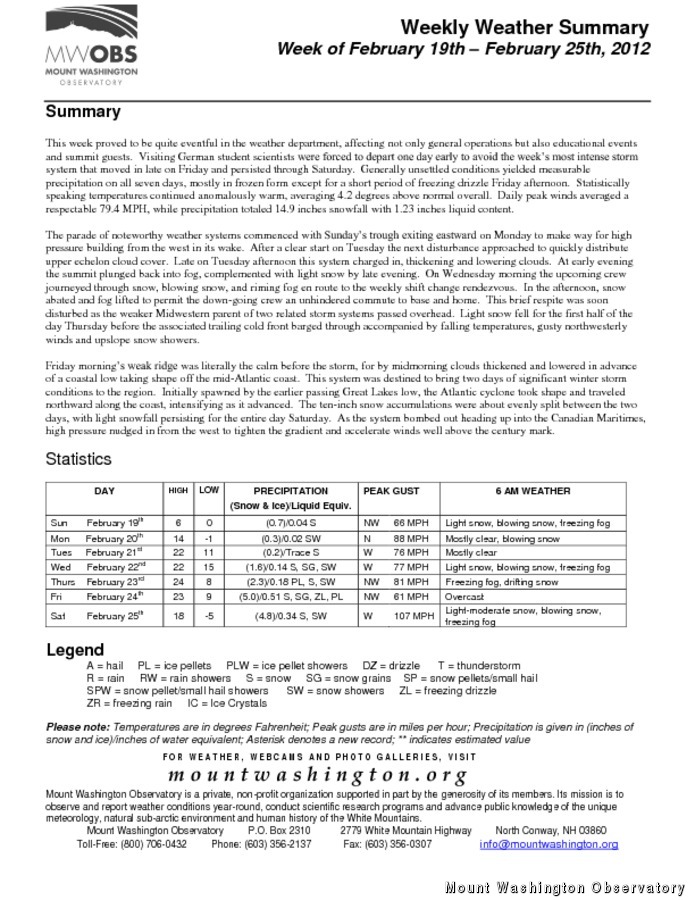 Weather Feb. 19-25
WEEKLY WEATHER SUMMARY
February 19th – 25th
This week proved to be quite eventful in the weather department, affecting not only general operations but also educational events and summit guests. Visiting German student scientists were forced to depart one day early to avoid the week's most intense storm system that moved in late on Friday and persisted through Saturday. Generally unsettled conditions yielded measurable precipitation on all seven days, mostly in frozen form except for a short period of freezing drizzle Friday afternoon. Statistically speaking temperatures continued anomalously warm, averaging 4.2 degrees above normal overall. Daily peak winds averaged a respectable 79.4 MPH, while precipitation totaled 14.9 inches snowfall with 1.23 inches liquid content.
The parade of noteworthy weather systems commenced with Sunday's trough exiting eastward on Monday to make way for high pressure building from the west in its wake. After a clear start on Tuesday the next disturbance approached to quickly distribute upper echelon cloud cover. Late on Tuesday afternoon this system charged in, thickening and lowering clouds. At early evening the summit plunged back into fog, accompanied by light snow at late evening. On Wednesday morning the upcoming crew journeyed through snow, blowing snow, and riming fog en route to the weekly shift change rendezvous. In the afternoon, snow abated and fog lifted to permit the down-going crew an unhindered commute to base and home. This brief respite was soon disturbed as the weaker Midwestern parent of two related storm systems passed overhead. Light snow fell for the first half of the day Thursday before the associated trailing cold front barged through accompanied by falling temperatures, gusty northwesterly winds and upslope snow showers.
Friday morning's weak ridge was literally the calm before the storm, for by midmorning clouds thickened and lowered in advance of a coastal low taking shape off the mid-Atlantic coast. This system was destined to bring two days of significant winter storm conditions to the region. Initially spawned by the earlier passing Great Lakes low, the Atlantic cyclone took shape and traveled northward along the coast, intensifying as it advanced. The ten-inch snow accumulations were about evenly split between the two days, with light snowfall persisting for the entire day Saturday. As the system bombed out heading up into the Canadian Maritimes, high pressure nudged in from the west to tighten the gradient and accelerate winds well above the century mark.
Rick Giard,  Weather Observer / Education Specialist
Ellen Estabrook
Adjusting to Life on the Summit By Charlie Peachey Working on the summit of Mount Washington is not your average job. There aren't too many other places where the employees work and live together for
Ellen Estabrook
A Surprise Aurora By Francis Tarasiewicz After 17 months of working at New England's highest peak, it finally happened. On the night of November 12th, 2023, I was lucky enough to view the famous and
Ellen Estabrook
A Glimpse at METAR Reports By Alexis George, Weather Observer & Meteorologist METAR observations are submitted every hour of every day at Mount Washington Observatory. METAR is a format for reporting weather information that gets