Weekly Weather Summary Oct. 30 – Nov. 5
2011-11-06 20:20:42.000 – Rick Giard,  Weather Observer / Education Specialist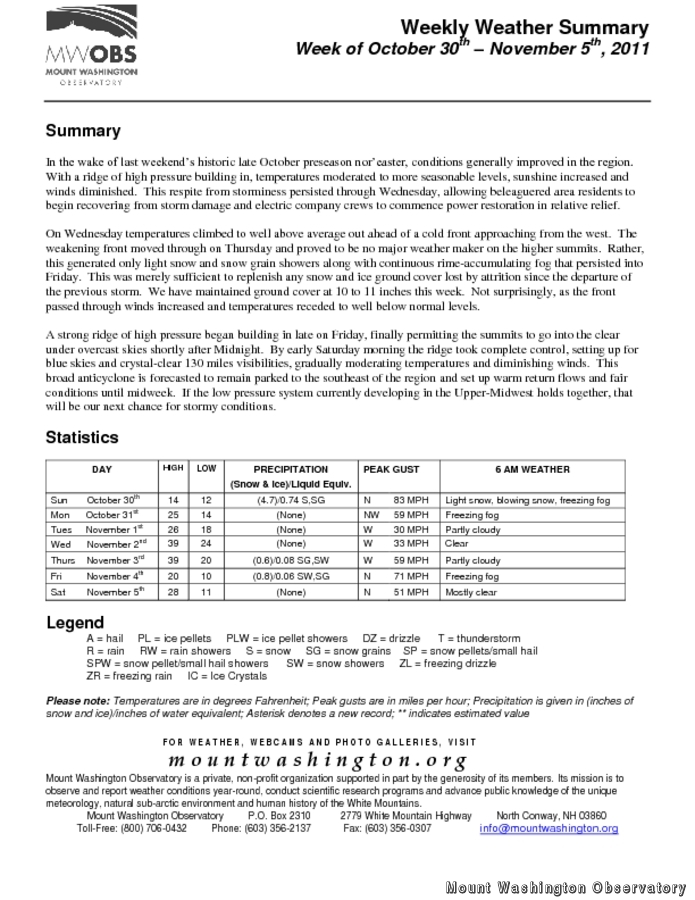 In the wake of last weekend's historic October pre-season nor'easter, conditions generally improved in the region. With a ridge of high pressure building in, temperatures moderated to more seasonable levels, sunshine increased and winds diminished. This respite from storminess persisted through Wednesday, allowing beleaguered area residents to begin recovering from storm damage and electric company crews to commence power restoration in relative relief.
On Wednesday temperatures climbed to well above average out ahead of a cold front approaching from the west. The weakening front moved through on Thursday, but proved to be no major weather maker on the higher summits. Rather, this generated only light snow and snow grain showers along with continuous rime-accumulating fog that persisted into Friday. This was just sufficient to replenish any snow and ice ground cover lost by attrition since the departure of the previous storm. We have maintained ground cover at 10 to 11 inches this week. Not surprisingly, as the front passed through winds increased and temperatures receded to well below normal levels.
A strong ridge of high pressure began building in late on Friday, finally permitting the summits to go into the clear under overcast skies shortly after Midnight. By early Saturday morning the ridge took complete control, setting up for blue skies and crystal-clear 130 miles visibilities, gradually moderating temperatures and diminishing winds. This broad anticyclone is forecasted to remain parked to the southeast of the region and set up warm return flows and fair conditions until midweek. If the low pressure system currently developing in the Upper-Midwest holds together, that will be our next chance for stormy conditions.
To access the complete weekly weather summary, including daily statistics, please click on the link above.
Rick Giard,  Weather Observer / Education Specialist
Ellen Estabrook
Adjusting to Life on the Summit By Charlie Peachey Working on the summit of Mount Washington is not your average job. There aren't too many other places where the employees work and live together for
Ellen Estabrook
A Surprise Aurora By Francis Tarasiewicz After 17 months of working at New England's highest peak, it finally happened. On the night of November 12th, 2023, I was lucky enough to view the famous and
Ellen Estabrook
A Glimpse at METAR Reports By Alexis George, Weather Observer & Meteorologist METAR observations are submitted every hour of every day at Mount Washington Observatory. METAR is a format for reporting weather information that gets