Weekly Weather Summary October 2nd – 8th, 2011
2011-10-10 15:08:01.000 – Rick Giard,  Weather Observer / Education Specialist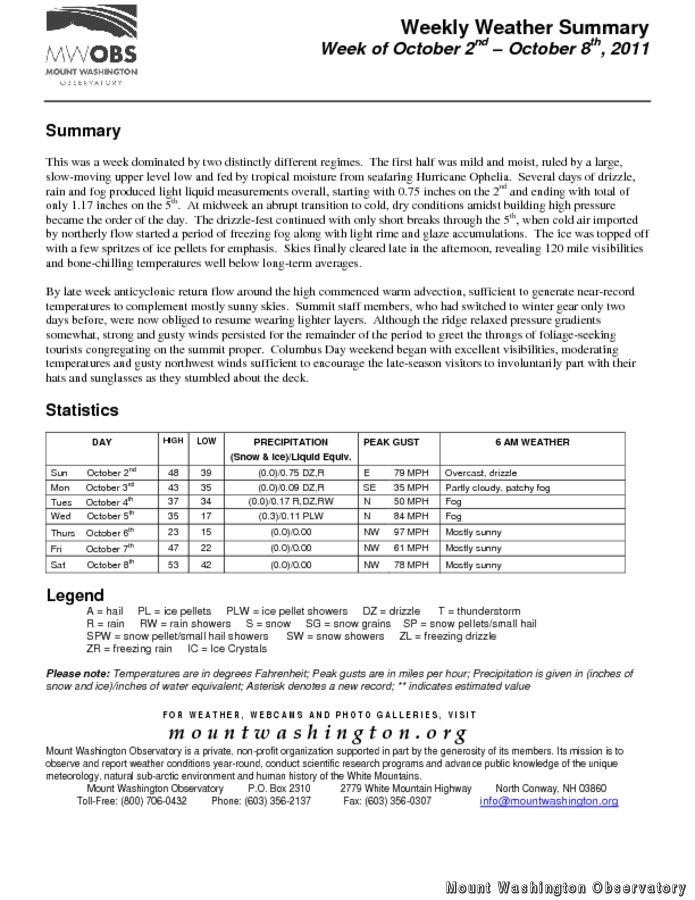 Weather Summary Oct. 2-8
WEEKLY WEATHER SUMMARYOctober 2nd – 8th, 2011
This was a week dominated by two distinctly different regimes. The first half was mild and moist, ruled by a large, slow-moving upper level low and fed by tropical moisture from seafaring Hurricane Ophelia. Several days of drizzle, rain and fog produced light liquid measurements overall, starting with 0.75 inches on the 2nd and ending with total of only 1.17 inches on the 5th.
At midweek an abrupt transition to cold, dry conditions amidst building high pressure became the order of the day. The drizzle-fest continued with only short breaks through the 5th, when cold air imported by northerly flow started a period of freezing fog along with light rime and glaze accumulations. The ice was topped off with a few spritzes of ice pellets for emphasis. Skies finally cleared late in the afternoon, revealing 120 mile visibilities and bone-chilling temperatures well below long-term averages.
By late week anti-cyclonic return flow around the high commenced warm advection, sufficient to generate near-record temperatures to complement mostly sunny skies. Summit staff members, who had switched to winter gear only two days before, were now obliged to resume wearing lighter layers. Although the ridge relaxed pressure gradients somewhat, strong and gusty winds persisted for the remainder of the period to greet the throngs of foliage-seeking tourists congregating on the summit proper.
Columbus Day weekend began with excellent visibilities, moderating temperatures and gusty northwest winds sufficient to encourage the late-season visitors to involuntarily part with their hats and sunglasses as they stumbled about the deck.
To access the complete weekly weather summary, including daily statistics, please click on the link above.
Rick Giard,  Weather Observer / Education Specialist
Ellen Estabrook
Adjusting to Life on the Summit By Charlie Peachey Working on the summit of Mount Washington is not your average job. There aren't too many other places where the employees work and live together for
Ellen Estabrook
A Surprise Aurora By Francis Tarasiewicz After 17 months of working at New England's highest peak, it finally happened. On the night of November 12th, 2023, I was lucky enough to view the famous and
Ellen Estabrook
A Glimpse at METAR Reports By Alexis George, Weather Observer & Meteorologist METAR observations are submitted every hour of every day at Mount Washington Observatory. METAR is a format for reporting weather information that gets