What a Difference 80 Years Makes
2015-02-20 15:39:25.000 – Adam Freierman, Summit Intern
In addition to its famously extreme weather and unique location atop the highest peak in the northeastern United States, the Mount Washington Observatory gains considerable notoriety from the longevity of its existence. Continuous records of weather observations have been kept on the summit since 1932, and these historical data sets are invaluable resources for meteorological and climatological studies. While most of this data is available to scientists, one of the ongoing projects at the observatory is to complete digitization of the earliest records.
In the 1930's observations were recorded in bound annual logbooks containing various monthly and daily weather forms prepared by the U.S. Weather Bureau. Summit observers, who at the time were working out of the Stage Office, recorded hourly temperatures and winds, barometric pressure, precipitation events, presence of fog and clouds, and other meteorological phenomena in much the same way that we do today. They also made copious notes that open a fascinating window to life on the summit in the Observatory's earlier years.
Reading through the 1935 log book that I have been working on, I am struck by how many of the comments could be describing a day from any year, but the evident awareness of the observers and the attention paid to detail makes it easy to imagine how each and every day on the summit transpired.
December 26th, 1935: "Very comfortable outside during mid-morning when there was such a light wind though temperatures remained close to zero. Steadily falling temperature as low pressure area off the southern New England coast developed and induced a new mass of polar continental air to flow down over this area during the afternoon and evening.
December 23rd, 1935: "Sun set again tonight behind a bank of cirrus and cirrostratus clouds. A repetition this evening of last night's excellent visibility with lighthouses along Maine, New Hampshire, and northern Massachusetts coasts flashing plainly."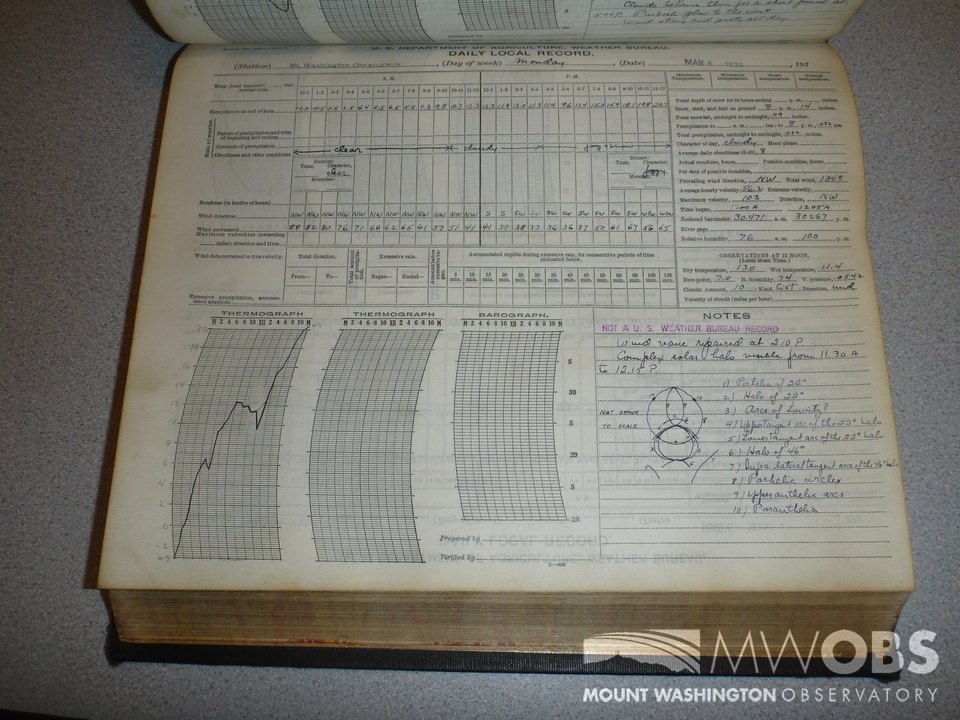 Daily Local Record from March 4th, 1935, showing an observer's sketch of a solar corona.
While the weather provides a thread of continuity across the Observatory's history, early observers encountered difficulties of a much different sort than we experience today.
October 29th, 1935: "New clock (from Weather Bureau) installed on multiple register this afternoon."
October 30th, 1935: "New clock somewhat troublesome during late afternoon, running sluggishly and frequently stopping. Back screws were loosened temporarily."
April 4th, 1935: "Airplane wing installed on roof, for frost deposit study. Bayard Allis who has been on vacation ruptured himself on the way down the mountain and is to be operated on in a day or so."
September 5th, 1935: "Severe summer southeast storm water-soaked transmitting facilities on water-tank making communications with Blue Hill impossible. Auxiliary transmitter worked to Pinkham with partial success."
It is humbling to imagine, 80 years ago to the hour, an intrepid observer watching the skies from the small wooden building 500 yards across the summit and recording a temperature of 5.1 degrees, and winds from the WSW at 43 mph with fog and snow falling.
February 20th, 1935: "Snowing lightly all day with a wind varying between 35 and 50 mph. This morning at 6:40 the clouds cleared for a few minutes but closed in a few minutes later. Wind vane started recording itself at 9:25 pm yesterday and has run well since."
To learn more about the early years at the Mount Washington Observatory stop by the Weather Discovery Center in North Conway, or visit the online shop for a wealth of literature on the history of the Observatory.
Adam Freierman, Summit Intern
Ellen Estabrook
Adjusting to Life on the Summit By Charlie Peachey Working on the summit of Mount Washington is not your average job. There aren't too many other places where the employees work and live together for
Ellen Estabrook
A Surprise Aurora By Francis Tarasiewicz After 17 months of working at New England's highest peak, it finally happened. On the night of November 12th, 2023, I was lucky enough to view the famous and
Ellen Estabrook
A Glimpse at METAR Reports By Alexis George, Weather Observer & Meteorologist METAR observations are submitted every hour of every day at Mount Washington Observatory. METAR is a format for reporting weather information that gets