What a Peaceful Place to Work!
2015-04-23 15:32:11.000 – Ed Bergeron, Interim Executive Director
My office is in the valley at the
Weather Discovery Center
in North Conway. I've been faithfully manning my desk since I started on January 5th and decided it was time for a change! A few weeks ago I decided that I had a good understanding of staff functions in the valley so I should spend a week on the summit in order to better understand how our staff works and lives together for eight days at a time. Besides, most of the valley staff would be taking time off for school vacation week. My plan was to span both shifts so I can get to know better our entire summit staff.
On Monday Slim Bryant, our summit transportation coordinator, facilitated my trip to the office. The trip wasn't my usual morning commute. I arrived at the garage about 8:30 AM. The weather was overcast with light wind and temps in the 30s. We were joined on the trip by Meghan Skidmore of the
Mt. Washington Auto Road
who planned to film the trip and the Auto Road crew doing the spring clearing of the road. We loaded our gear into the four wheel drive pick-up for an uneventful ride up to Five Mile, near winter cut-off, where the snowcat was stored. We switched our luggage into the snowcat and after a radio check with the Auto Road Crew we were off. Five Mile grade had 10 to 15 feet of snow removed from my previous trip only a week ago. We traveled up and down over water bars through Five Mile grade where we encountered the road crew at Cragway turn. Their snowcat was carving the road out from 10 foot deep snow banks along Cragway. The weather was deteriorating and the road crew looked like they were planning a hasty descent. Slim helped out by plowing heavy wet snow off the road while we ascended Cragway. Beyond it was snowy, windy and even a whiteout for a short distance. We arrived at the summit about 10:30 AM. Just another morning commute for Slim.
After coffee and a snack (you've got to keep the work routine pretty standard no matter what) I set up my office, logged-in and began returning emails and phone calls to the valley. My day was uninterrupted and I accomplished quite a bit without the usual,
"hey Ed, got a minute?"
, staff visits and normal coffee room chatter. As the weather continued to deteriorate I added some excitement by doing an afternoon ob with Mike Carmon and retrieved the precip can. At 6:00 PM we enjoyed a great dinner prepared by Barbara Marino, our
volunteer
for the week. Everyone was excited by the increasing wind with gusts in the 75 – 85 mile per hour range. When the peak gust reached 99 mph I'd had enough of this indoor, armchair quarterback stuff and really wanted to get in the game. You know the feeling.
"Hey coach, put me in!"
So off I went solo to retrieve the precip can. Returning safely, I volunteered to de-ice the tower instruments. Off again, up the tower and onto the parapet with my "scientific" crowbar. The gusts made climbing the ladder and holding on with one hand while I beat 3-4 inches of hard water ice off the pitot and wind vane pretty exciting. I'm really glad the wind was blowing the ice away from me. Being hit by one of those missiles wouldn't have been pretty. After that the rest of the evening was pretty uneventful.
Tuesday and Wednesday consisted of more routine office work along with the usual staff meetings that accompany Wednesday's shift change. The weather was clear for a short time surrounding shift change and I got out to do a little winter photography. Shortly after we went back into the clouds, the temperature started to drop and frozen precip started again. Of course Murphy's Law prevailed and Mike Dorfman and I ascended the tower again to try to repair the cable connector for the radio which connects to the
Wildcat cam
. We were unsuccessful and it will have to wait for better weather. Another great dinner tonight by this week's
volunteer
Joe Kayan. Last night, I retrieved the precip can and it was snowing and blowing again.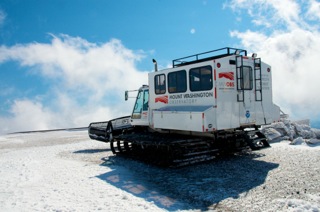 Friday will be a normal valley day in the office. It's been an incredible experience and I've come to really appreciate the commitment and hard work of our staff.
With gusts of only 99 mph I didn't make the Century Club so I'll have to come back and try again.
Ed Bergeron, Interim Executive Director
Ellen Estabrook
Adjusting to Life on the Summit By Charlie Peachey Working on the summit of Mount Washington is not your average job. There aren't too many other places where the employees work and live together for
Ellen Estabrook
A Surprise Aurora By Francis Tarasiewicz After 17 months of working at New England's highest peak, it finally happened. On the night of November 12th, 2023, I was lucky enough to view the famous and
Ellen Estabrook
A Glimpse at METAR Reports By Alexis George, Weather Observer & Meteorologist METAR observations are submitted every hour of every day at Mount Washington Observatory. METAR is a format for reporting weather information that gets