What are the Chances?
2018-08-21 17:31:40.000 – Adam Gill, Weather Observer/IT Specialist
Since we are known for very volatile weather, especially in winter, I was curious as to when the chances of seeing more extreme weather would start to become more likely. Summertime up here can get start to get quite boring to those of us who are extreme weather enthusiast since the frequency of strong storms are few and far between. At this time of the year, I am starting to look at long range models and climate models wishing for that first snow storm or first 100 mph wind event.
Below, I will go over some of the variables and take a look at when the more fun weather will begin. I am using all the data we have to make these probability graphs. I am going to start with temperatures. This first graph is looking at the chances of seeing temperatures get above 50°F. I chose 50 degrees because our warmest average temperature is 49°F and rounded up to 50. We have luckily passed the best chances to see 50 degrees and are dwindling every day. By early September, we will be down to a 50% chance of seeing 50 degrees and the fall season will quickly come upon the summit.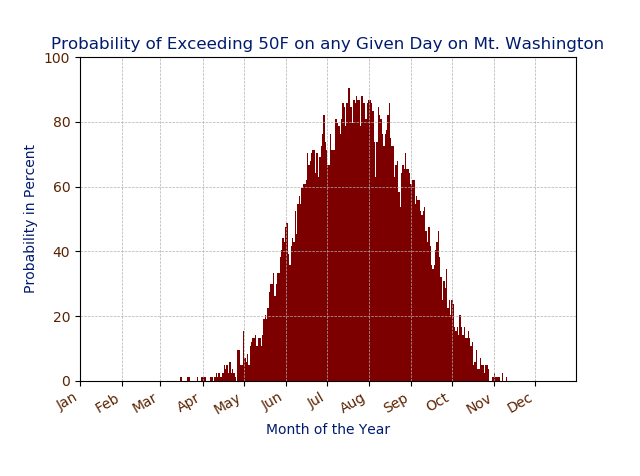 Now let's take a look at the chances of falling below freezing! We have already reached a 10% chance of falling below freezing but given the forecast, we are more than several weeks from really having a chance at seeing consistent below freezing temperatures. This August has been very warm so it is difficult to imagine that we regularly get below freezing in August but we did last year on August 31st when we got down to 27 degrees!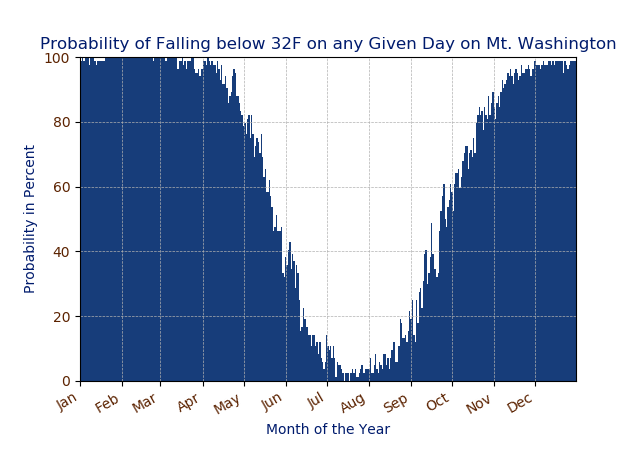 Now lets look at the probability of falling below 0! It is really cool to see how much of the year we have had at least one day in our history where we have fallen below 0°F.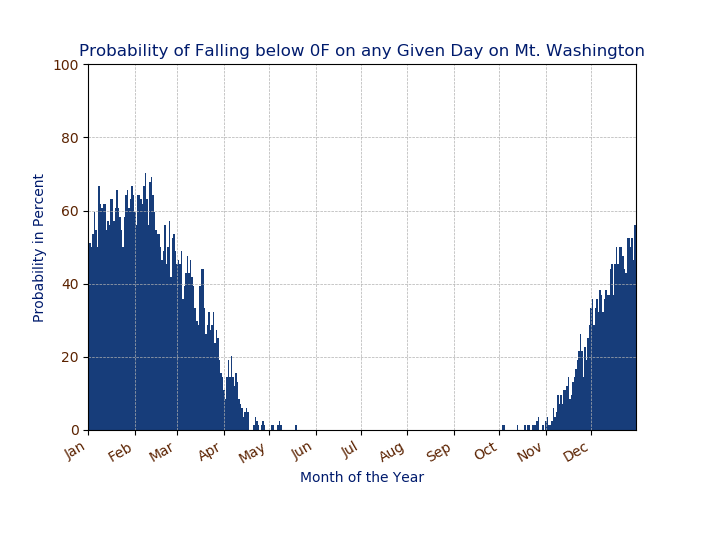 Since I am a fan of snow, I cannot wait for there to be epic blizzards once again and to be able to spend my off weeks getting out snowshoeing or skiing. Below is the probability of seeing accumulating snow on any day. This means that there has to be at least 0.1 inches of snow to fall in the 24 hour period, trace amounts were removed.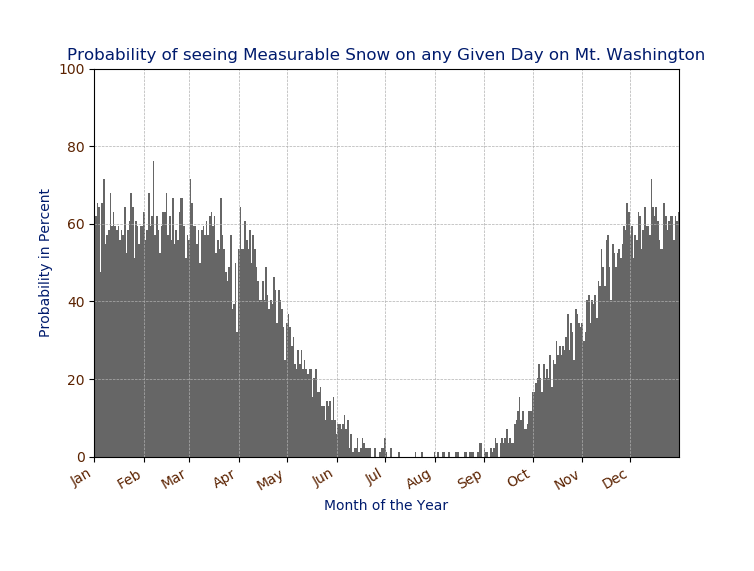 It is quite interesting how the probability of seeing accumulating snow plateaus at around a 60% chance from late November to early April.
Now we will move on to wind! It has been several shifts since I have even seen a hurricane force wind gust and I am ready to be able to experience those higher winds again! I will first look at the odds of exceeding 65 knots (74 mph), which is the threshold for a category 1 hurricane. Unfortunately with a slightly different way we store the dates in our peak wind database, I did not have the time to auto add the months at the bottom so it is plotted in the day of the year rather than month.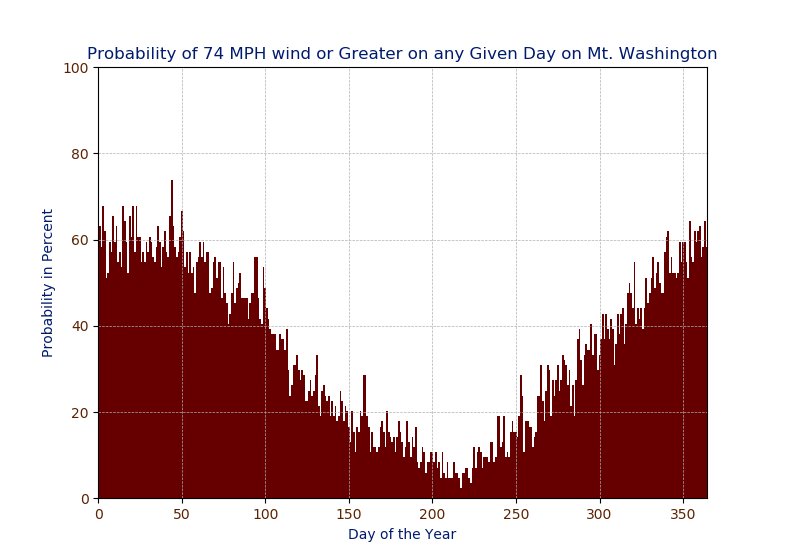 Below are the odds of exceeding 100 mph on any given day. Seeing up to a 30% chance in January is pretty incredible.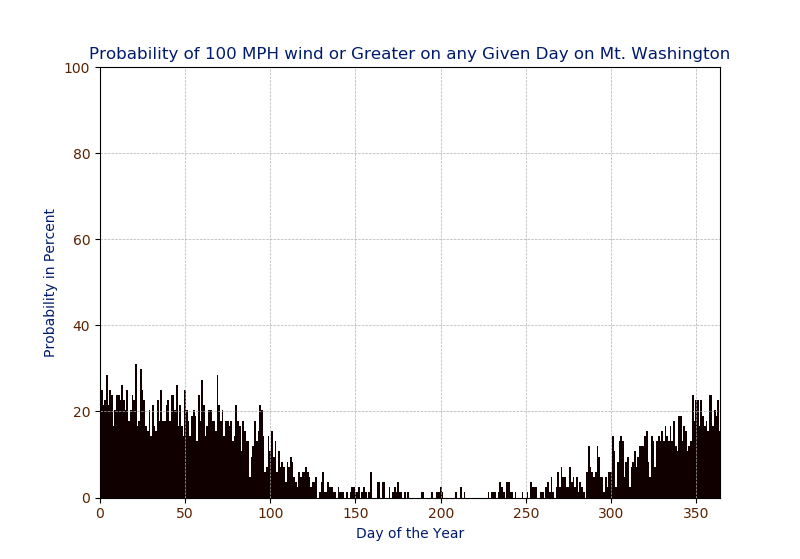 Adam Gill, Weather Observer/IT Specialist
Ellen Estabrook
Adjusting to Life on the Summit By Charlie Peachey Working on the summit of Mount Washington is not your average job. There aren't too many other places where the employees work and live together for
Ellen Estabrook
A Surprise Aurora By Francis Tarasiewicz After 17 months of working at New England's highest peak, it finally happened. On the night of November 12th, 2023, I was lucky enough to view the famous and
Ellen Estabrook
A Glimpse at METAR Reports By Alexis George, Weather Observer & Meteorologist METAR observations are submitted every hour of every day at Mount Washington Observatory. METAR is a format for reporting weather information that gets