Wind Chill Advisory VS Warning
2018-02-15 10:36:20.000 – Jillian Reynolds, Summit Intern
You may have heard or seen in our forecasts that a "Wind Chill Advisory/Warning is in effect until…" After hearing or seeing those alerts, you may think "what exactly does that mean?" I will explain the differences in criteria between both. But first, what is 'wind chill'?
The National Weather Service (NWS) defines wind chill as "the rate of heat loss from the human body". The combination of cool temperatures and wind creates wind chill. As the winds increase, heat is driven away from the body at a faster rate, as both the skin temperature and eventually the internal body temperature decrease.
When calculating wind chill up here on the mountain, we like to use the NWS' wind chill chart (shown below). This chart helps us visualize what the potential range of wind chill would be, as well as the amount of time it would take for someone to receive frostbite.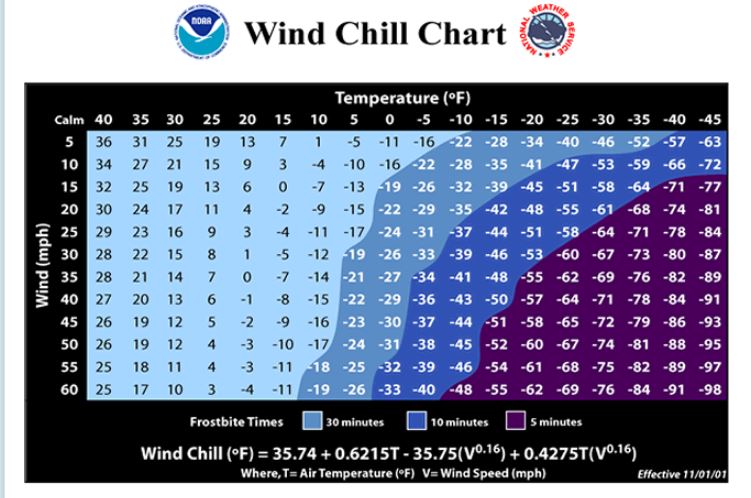 Caption: NWS Wind Chill Chart Using Wind Speed and Temperature.
For the summit of Mount Washington, if the wind chill is between 35 and 50 degrees Fahrenheit below zero, a wind chill advisory will be issued. According to the chart above, one could expect to get frostbite within 10 minutes if there is any exposed skin.
If the wind chill is any less than 50 degrees Fahrenheit below zero on the summit, then a wind chill warning will be issued. The NWS Wind Chill Chart shows that you could get frostbite within 5 minutes if there is any visible skin.
The colder the wind chill is, the greater your risk of obtaining hypothermia is. If you or your clothes are wet, hypothermia will become even more likely.
For both alerts, it is important that you stay dry, stay covered, dress in layers, and stay informed. If you plan on hiking up to the summit, always check out our forecasts first on our website (https://www.mountwashington.org/experience-the-weather/higher-summit-forecast.aspx). That way, you will know how to prepare for your ascent!
Jillian Reynolds, Summit Intern
Ellen Estabrook
Adjusting to Life on the Summit By Charlie Peachey Working on the summit of Mount Washington is not your average job. There aren't too many other places where the employees work and live together for
Ellen Estabrook
A Surprise Aurora By Francis Tarasiewicz After 17 months of working at New England's highest peak, it finally happened. On the night of November 12th, 2023, I was lucky enough to view the famous and
Ellen Estabrook
A Glimpse at METAR Reports By Alexis George, Weather Observer & Meteorologist METAR observations are submitted every hour of every day at Mount Washington Observatory. METAR is a format for reporting weather information that gets