Windy Weather on the Summit
2012-10-31 18:58:42.000 – Mike Dorfman,  Summit Intern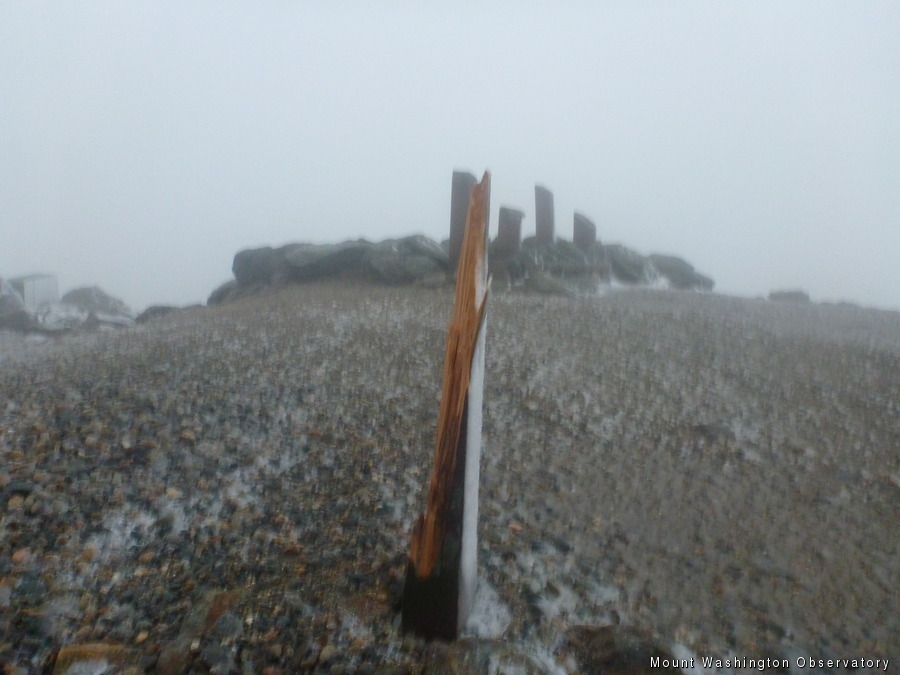 Splintered wood from a sign on the summit.
As many of you know, there are two shifts that rotate working as summit crew. Living outside of Boston, I saw some of the damage first hand. Weathering out the storm in the protection of my house hundreds of miles away from the center of the storm, I could only imagine the damage it was inflicting further south. I lost power early on in the storm, so only after I arrived at the summit this morning could I see pictures of the destruction in New Jersey and New York.
Even driving in New Hampshire, downed trees and swollen rivers were a common sight. The summit recorded a peak gust of 140 miles per hour, the fastest that many of the current observers have seen on the summit.
Although I wasn't on the summit for the hurricane, I can imagine what it was like from the stories of those who were. The concrete building is quite anchored into the ground, however any wooden structures outside were put to the test. The posts holding up one of the large signs on the summit snapped in the strong wind. Heading up the tower sounded as if a train was barreling past. Sedge (a type of alpine grass) was pasted onto the windows, a sign that even the well-adapted alpine plant was having a hard time in the wind. The high winds gave one of our observers, Becca Scholand, an opportunity to join the unofficial 'century club', whose members must walk the perimeter of the observation deck without traction devices or touching the ground in sustained 100 mph winds.Although the winds are dying down and the moisture from the storm is slowly moving north, the hurricane left a scar on the east coast that will not leave the memories of locals any time soon.
Observer footnote: If you think you have what it takes to predict when wintry weather will hit the area, enter our snow contest. Purchase a ticket for $2 and register your prediction of the day and time that Jackson, New Hampshire will receive its first 6′ of snow in a single storm. If your prediction is correct, you'll win half of the ticket sale proceeds! The other half will be split equally between the Observatory and Jackson Area Chamber of Commerce.
Mike Dorfman,  Summit Intern
Ellen Estabrook
Adjusting to Life on the Summit By Charlie Peachey Working on the summit of Mount Washington is not your average job. There aren't too many other places where the employees work and live together for
Ellen Estabrook
A Surprise Aurora By Francis Tarasiewicz After 17 months of working at New England's highest peak, it finally happened. On the night of November 12th, 2023, I was lucky enough to view the famous and
Ellen Estabrook
A Glimpse at METAR Reports By Alexis George, Weather Observer & Meteorologist METAR observations are submitted every hour of every day at Mount Washington Observatory. METAR is a format for reporting weather information that gets