Windy Year Statistics so Far
2019-02-04 13:28:45.000 – Adam Gill, Weather Observer/IT Specialist
There have been several blogs so far over the past few weeks that have been talking about how windy this winter has been compared to past winters. I pulled together some data and did some light analysis on it to see how it stacks up as well. I grabbed daily average winds and then created a Boolean where if the day had winds over 100 it was 1 and if not it was zero. I then created a running average over 365 days for the wind speed and then a 365 rolling sum for the winds over 100 mph to compare the average value and the amount of 100 mph days we have seen. The snapshot will just be from January 1st 2000 to February 2nd 2019.
From the entire snapshot, it is apparent that this is the most 100 mph days we have seen in a 365 day period in the last 20 years so that is super exciting! We have seen 100 mph or more on 50 of the last 365 days, the last time we had that many was back in the early 90's! Looking at the blue average line, we do not see much of a difference though. In the late 2000's winds were averaging a little bit higher but we have been on a gradual upward swing since 2015.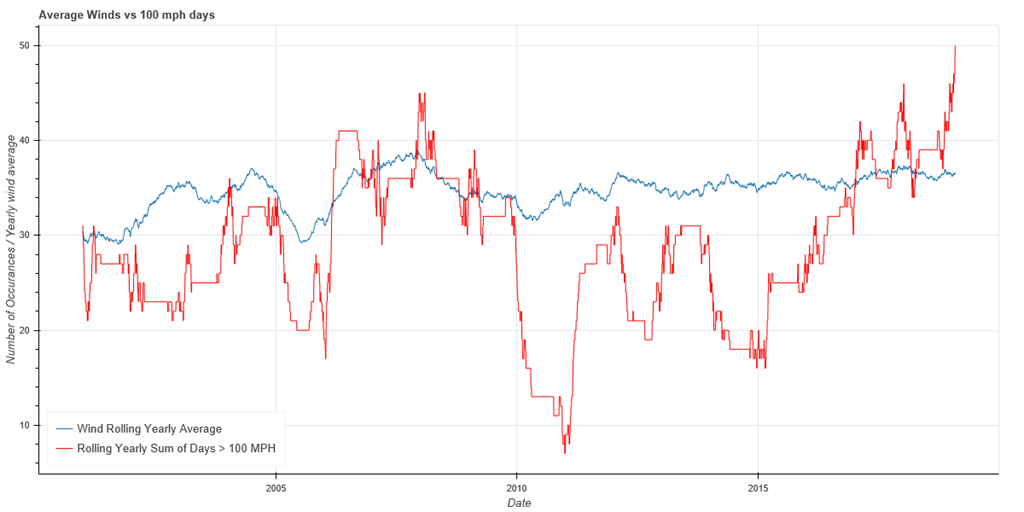 The last 20 years of wind data.
Zooming in on the last few years there even is a slight downward trend of the wind speed average. One of the things that could be a cause of so may 100+ mph days is the storm track this year. It seems that many storms are taking optimal tracks that are giving us high winds for several days in a row then high pressure builds in leading to a couple of quiet days keeping our wind speed average, well, average.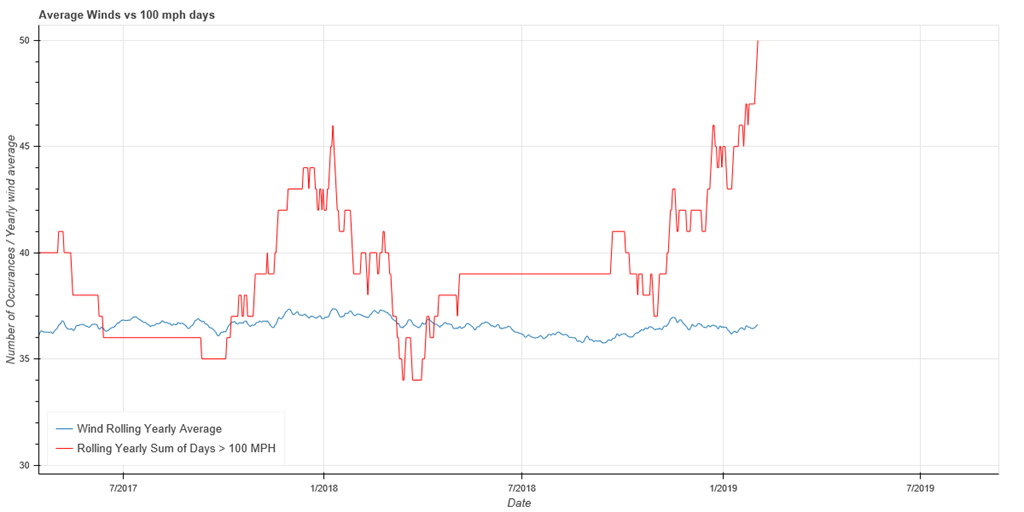 Zooming in on the last year and a half
Now breaking the data down into seasons with a rolling 90 day sum and average we can see how many hundred mph days occurred in each winter and fall season. It is interesting to note that the highest seasonal average in 2007 had only the 4th highest about of 100 mph days in the season. It is also really cool to see that this year is already in 3rd place in the last 20 years and we still have a bit of winter to go!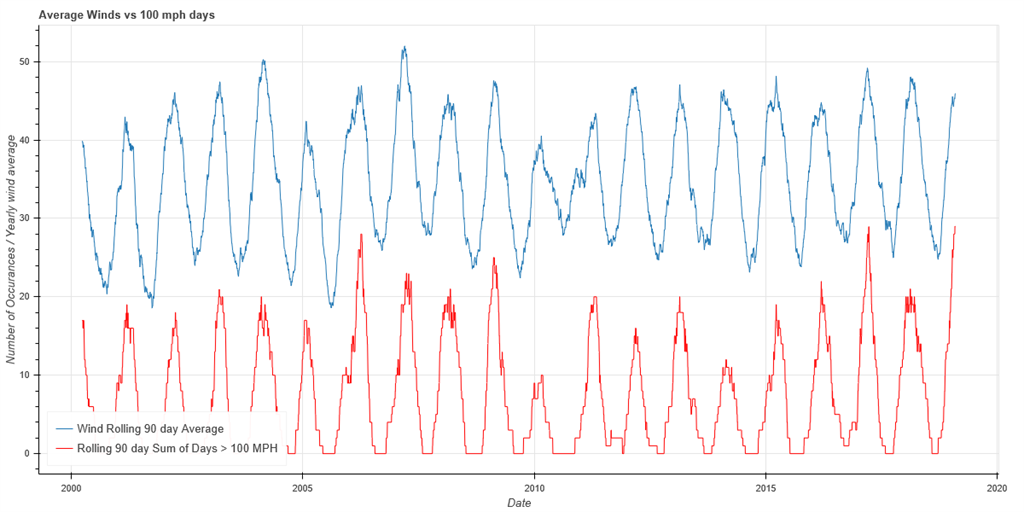 A seasonal look at wind averages vs how many days have exceeded 100 mph.
Zooming in on the last 3 years again, it is cool to see the variation in 100 mph days, especially having been up here for those three winters. 2016-2017 was slow early on but picked up in January with both January 2017 and January 2019 having 11 days reaching 100 plus. Last year the 100 mph winds were more evenly split between all the months, consistently getting 6-7 days over 100 per month. So with the 90 day rolling sum, you don't see a peak but more of a plateau. This year has been fairly exceptional so far with 9 days over 100 in November and December then 11 in January! This month we have already seen two 100 mph days and looking ahead we will have several more chances of seeing 100 mph or more so its looking like another big month.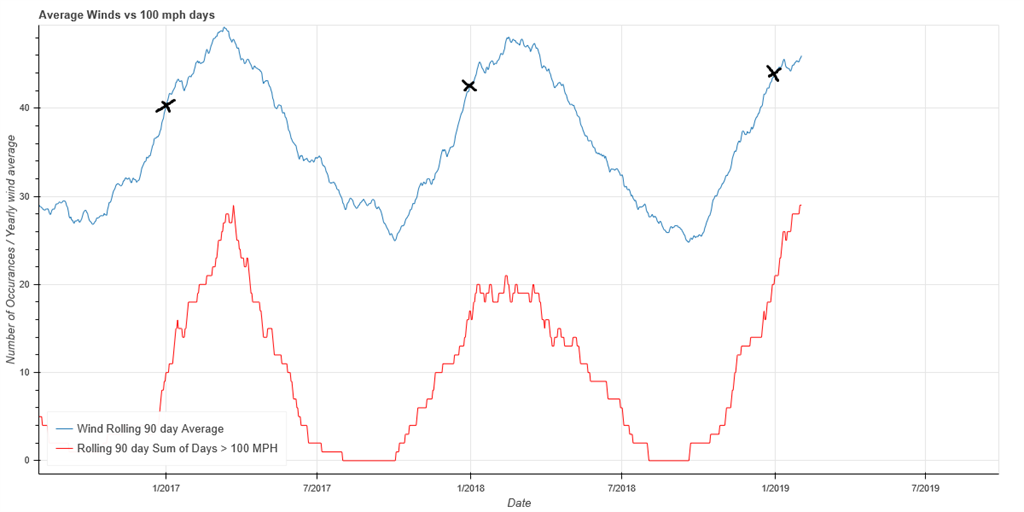 Zooming in to the last 3 years. The 3 X's represent January 1st for the last 3 years. It is a good indicator that there is a small increase in the average wind!
Here is a link to the Python code I used to create these graphs
Adam Gill, Weather Observer/IT Specialist
Ellen Estabrook
Adjusting to Life on the Summit By Charlie Peachey Working on the summit of Mount Washington is not your average job. There aren't too many other places where the employees work and live together for
Ellen Estabrook
A Surprise Aurora By Francis Tarasiewicz After 17 months of working at New England's highest peak, it finally happened. On the night of November 12th, 2023, I was lucky enough to view the famous and
Ellen Estabrook
A Glimpse at METAR Reports By Alexis George, Weather Observer & Meteorologist METAR observations are submitted every hour of every day at Mount Washington Observatory. METAR is a format for reporting weather information that gets